Kenyan runners dominate Rexona Run 2012; Olympian Herrera returns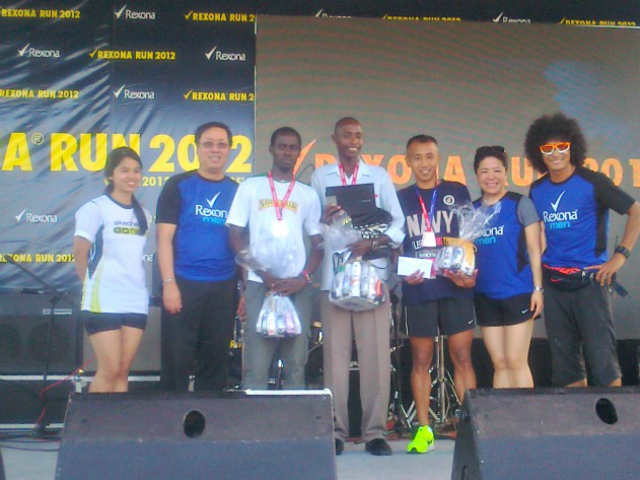 Olympian Rene Herrera (third from right) was greeted by the crowd with a round of applause after placing third in the 5k event.
PERRY LEGASPI
Kenyan runners topped the men's and women's 21-kilometer race of the Rexona Run 2012, which started and ended inside the SM Mall of Asia grounds on Sunday, a month after the event was postponed due to the onslaught of rains spawned by the monsoon rains or "habagat."
Jackson Chirchir, who topped this year's Condura Skyway Marathon held last May and the 21K event of the 2012 Run United 3 last week, showed his compatriots that he is the one to beat in half-marathon races, as he posted a time of one hour, nine minutes and 25 seconds to bag the title and the P7,000 cash prize and trophy.
Chirchir's clocking was better than the 1:10:14 he posted in the Run United 3 race, which was likewise dominated by visiting Kenyans.
Following Chirchir to the finish line were compatriots Musa Bett (1:09:39) and defending champion Benjamin Kipkazi (1:11:25), to complete an all-Kenyan podium finish that showed their mastery over local elite runners.
Kipkazi placed second to Chirchir during the Run United 3 run.
Bett pocketed the P5,500 second place cash prize and trophy while Kipkazi bagged the P4,000 third place cash prize and the trophy.
In the male 5k event, Kenyans Willie Rotich (0:14:55) and Philip Ronoh (0:15:14) relegated Filipino Olympian Rene Herrera (0:15:25) to third place. Despite a third place finish, Herrera was welcomed by his compatriots with a thunderous round of applause.
Jessa Mangsat (0:19:55) finished at the top of the female's 5k event while lovely Gemeroy (0:20:38) took the second spot and Annaleah Cierva (0:24:48) landed in third place.
The winners in the 5K event received P4,000 while the second placers pocketed P3,000 and the third placers P2,000.
Female 21k results
Jakline Nzino, also from Kenya, would follow the path of Chirchir with her clocking of 1:24:25, relegating the top Filipino runners, Cebu-based Mary Grace Delos Santos (1:25:37) and defending champion Nhea Ann Barcena (1:32:00), to second and third place finishes, respectively.
Nzino's triumph gave her the P7,000 cash prize while Delos Santos pocketed P5,500 and Barcena went home P4,000 richer. All three runners received trophies.
In the 21K relays, the pair of Flordeliza Donos and Jho-ann Banayag (1:25:23) won the all-female category. Placing second were Cristabel Martes and Jolly Ann Ballester (1:28:35) and salvaging a third place finish were Victorina Carmen and Dalyn Carmen (1:33:22).
Rafael Poliquit Jr. and Richard Salano (1:10:21) topped the all-male division to relegate the Kenyan pair of Samuel Tarus and Julius Kipkalam (1:11:35) to second place. Raquin Irinio and Michael Villamor (1:12:15) placed third.
Lowemar Strella & Michelle Tibagacay (1:26:23) won the mixed relay event while Merlyn Lumagbas and Ryan Maranan (1:33:22) finished at the second spot, followed by third placers Magic Lazo and Miguel Lazo (1:39:52).
All top finishers in the 21K relays received P5,000 cash prizes while the second placers pocketed P4,000 and the third finishers went home with P3,000.
- AMD, GMA News