UAAP
:

Projecting Season 75's MVP and Mythical Five
(Updated 2:50pm)
With the elimination round of the 75th UAAP men's seniors division basketball tournament in the books, there's a little matter of individual excellence to settle first, before turning our thoughts to the Final Four.
The league's Most Valuable Player award and seats in the Mythical Five are based on regular season or elimination round performances, and involves the use of a formula to determine one's statistical points (SPs). The player with the most SPs gets the MVP plume, while the next four, along with the MVP, usually comprise the Mythical squad.
While we won't formally know the UAAP's selections until perhaps the Finals, there's nothing stopping us from doing some math and figuring out who the most likely candidates are.
Below is the SPs formula:

Perhaps the biggest difficulty in computing for SPs is figuring out whether or not players were charged unsportsmanlike fouls. They're not found in the stats sheets, so they could be an x-factor, at least for the purpose of this article.
So just to make it clear, these are all projections and are not official tallies, nor do they claim to be. But with that reminded out of the way, let's figure out who the MVP is:
MVP and Mythical Five guard:
Bobby Ray Parks of the National University Bulldogs
Stats:
299 points / 101 rebounds / 62 assists / 21 steals / 18 blocks / 55 turnovers
Extras:
0 penalty points / 135 point won game bonus
Total SPs:
77.2857
This was a close one.
Entering their replay against the FEU Tamaraws Sunday, Parks was behind UST's Karim Abdul, the other major MVP candidate, by 0.1374 statistical points. The Bulldogs had to come up with a big-time stop in regulation to force overtime, and then overcome a quick six-point hole with Parks scoring his side's last five points to get the win and clinch his Most Valuable status. When the dust settled, Parks come out on top by 1.0715 SPs.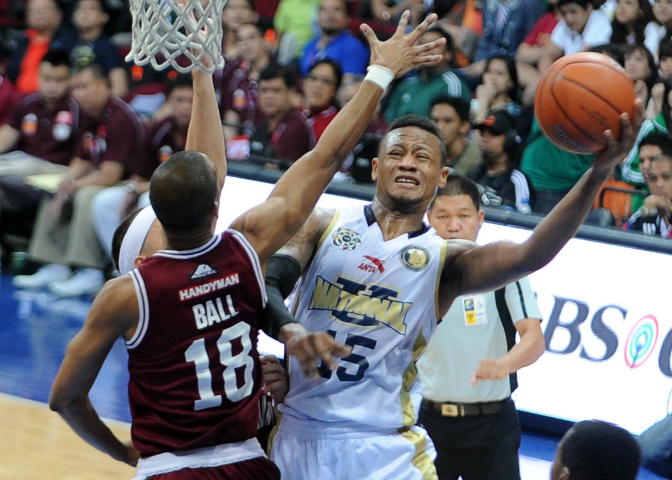 Bobby Ray Parks is in line for back-to-back MVP awards.
KC Cruz
Assists turned out to be the key stat for Parks this season. While his other categories are similar to his Season 74 campaign, his extra passes jumped up from 40 to 62 to push him over the top. And unlike last season, when there was controversy over whether he should have won the award without making the Final Four, the NU Bulldogs were able to snap an 11-year absence in the post-season, thanks largely to him.
Interestingly enough, Parks would have lost to Abdul had FEU won in regulation. His 0-point fourth quarter performance would have given him just 75.0714 SPs, behind Abdul's total. Also, if the UAAP board had denied NU's appeal, Parks would have still won MVP because his numbers in the game that was wiped out were better, although by a smaller margin. Had that happened, he would have finished with a total of 76.8571 SPs.
Mythical Five forward:
Karim Abdul of the University of Santo Tomas Growling Tigers
Stats:
237 points / 171 rebounds / 26 assists / 21 steals / 28 blocks / 44 turnovers
Extras:
5 penalty points / 150 point won game bonus
Total SPs:
76.2143
In a two-man race for the MVP award, Abdul came up short, but it's still a great accomplishment considering his stats from last season. Back in Season 74, Abdul started slow, before exploding in the second round, but one can argue that he's been the main reason for the Tigers' success this year. Certainly, without him, they wouldn't have been able to endure missing Jeric Teng for three games.
While normally a center, the Mythical Five allows us to shift people around position-wise. The reason why will be obvious when we reveal the next choice.
Mythical Five center:
Greg Slaughter of the Ateneo De Manila University Blue Eagles
Stats:
199 points / 134 rebounds / 26 assists / 2 steals / 41 blocks / 42 turnovers
Extras:
0 penalty points / 180 point won game bonus
Total SPs:
67.2857
It's a huge gulf between Parks and Abdul, and the next player with the most SPs, and that guy happens to be Ateneo's 7'0" center Greg Slaughter. Critics will likely point out that his numbers are far away from Abdul's, despite a considerable advantage in height, but Ateneo hasn't had to rely on the graduating big man as much as UST has had to lean on Abdul. To whit, there are plenty of games when he served as decoy, while Nico Salva and Kiefer Ravena did their thing.
It must be highlighted though that the biggest leap Slaughter took this year was defensively. After norming 1.9 blocks last season for a total of 27, he's upped that to 41 swats in the same amount of games, leading the league in that particular stat.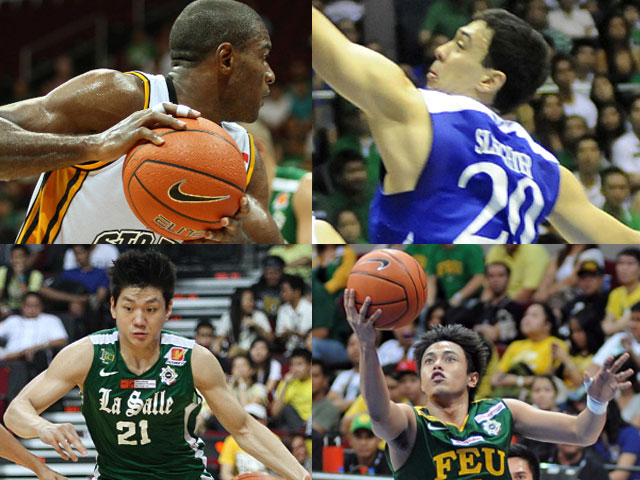 (Clockwise) Greg Slaughter, Terrence Romeo, Jeron Teng and Karim Abdul are prime candidates for selection to the Mythical Five.
Pics by KC Cruz
Mythical Five guard:
Terrence Romeo of the Far Eastern University Tamaraws
Stats:
264 points / 79 rebounds / 49 assists / 20 steals / 3 blocks / 33 turnovers
Extras:
0 penalty points / 135 point won game bonus
Total SPs:
66.5714
If there were any doubts as to whose team FEU was, Romeo's or RR Garcia's, the Mythical Five selection of Romeo ought to settle them.
True, Garcia had been hobbled by a foot injury all season long, but the numbers weren't close. Romeo had nearly 100 more points, just eight fewer assists, and five less turnovers. It might also be an understatement to say that Romeo dominated the ball too much in certain stretches, but considering the fact that the criteria doesn't take into account things like field goal percentage, the former Rookie of the Year put up some insane numbers (second to Parks in overall scoring, tops in number of field goals made, fourth in assists) and that's why he's on this list.
Mythical Five forward:
Jeron Teng of the De La Salle University Green Archers
Stats:
232 points / 97 rebounds / 37 assists / 2 steals / 6 blocks / 34 turnovers
Extras:
0 penalty points / 135 point won game bonus
Total SPs:
60.6429
Blue chip rookie Jeron Teng gave the DLSU Green Archers a much-needed shot in the arm, a go-to guy when they desperately need a score, and the result has La Salle on the cusp of a return to the Final Four.
But while the younger Teng brother's reputation is one of a cruise missile, point him towards the basket and get out of his way, he's also a underrated rebounder at his position. In fact, his 6.9 boards per game is second-best on his squad. And as he's exhibited late in the season, he's starting to pick up how to kick the ball back out to open teammates when he inevitably draws a double-team, something that's going to be huge in the seasons to come.
The one who nearly made it:
Roi Sumang of the University of the East Red Warriors
Stats:
258 points / 70 rebounds / 69 assists / 19 steals / 5 blocks / 47 turnovers
Extras:
0 penalty points / 45 point won game bonus
Total SPs:
60.0
Despite not being on a Final Four team, and thus, not having the advantage of a huge cushion of points from won games, Roi Sumang just barely missed out on cracking the Mythical Five squad, falling short of the younger Teng brother.
Sumang was more often than not, "the man" on a UE team that lacked punch beyond the starting five. While that translated to some frustrating losses, it did wonders for Sumang's stats. He finished third in scoring behind two Mythical Five selections, Parks and Romeo, but he also wound up finishing second in assists behind Jeric Fortuna of UST. He also tied for third with Romeo in steals. Next season will be something to watch if UE can amass more talent around this guy.
- CLP, GMA NewsThe breakdown: