Hackers deface PHL govt websites, urge revision of Cybercrime Law
(Updated 10 a.m. Sept. 27)
Individuals claiming to be part of the hackers' group Anonymous Philippines penetrated the cybersecurity measures of several websites including those of the Bangko Sentral ng Pilipinas (BSP) and the Metropolitan Waterworks and Sewerage System (MWSS) Wednesday.
Also defaced by apparently the same individuals were the websites of the:
Department of Environment and Natural Resources - Region III;
Smokefree Philippines of the Department of Health; and
Pilipinas Anti-Piracy Team (PAPT), an inter-agency and multisectoral task force fighting intellectual property pirates.
The website of the American Chamber of Commerce in the Philippines (Amcham) and Institute for Development and Econometric Analysis (IDEA) were also hacked and defaced.
The hackers posted on the websites a statement echoing the ongoing clamor of some sectors for the revision of the Cybercrime Prevention Act of 2012.
Those who hacked the BSP website identified themselves as "busabos", "Anonymous Butuan", "PrivateX", "#pR.is0n3r", "Lo0p th3 Lo0p", "l4stl00k", "Blackrain", and "Anonymous Manila".
A hacker who goes by the "handle" or cyberspace identity "#OccupyPhilippines" joined the same people who went into the BSP site in breaking into the MWSS website.
In a statement issued Thursday morning, BSP deputy governor for resource Juan de Zuñiga Jr. said the central bank restored public access to their website at 2 a.m. through the efforts of their internal information technology group, which was able to ensure that the website's security firewall protected the database of www.bsp.gov.ph.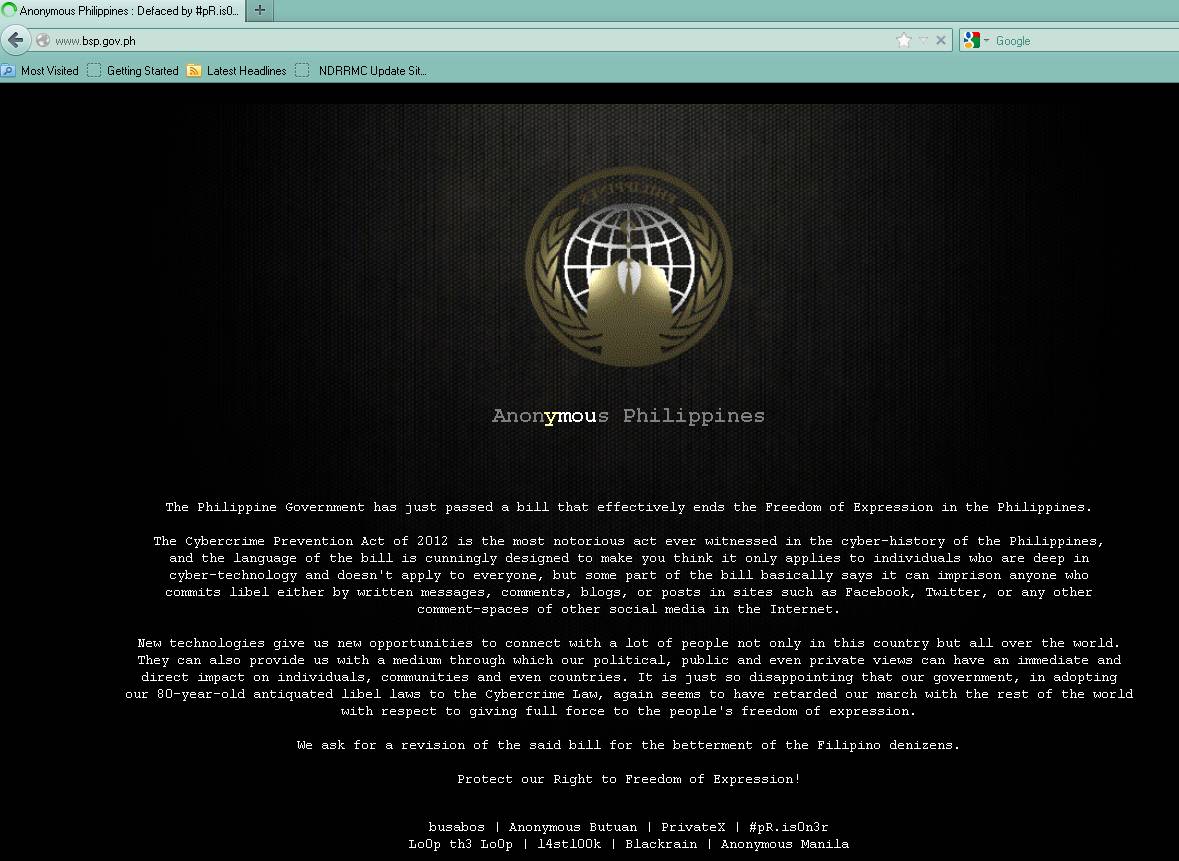 Hackers strike again, defacing several government websites, including those of the Bangko Sentral ng Pilipinas (BSP) and Metropolitan Waterworks and Sewerage System (MWSS).
In their statement on the BSP website, the hackers said the new law "effectively ends the Freedom of Expression in the Philippines." They also characterized the law as the "most notorious act ever witnessed in the cyber-history" of the country.
They assert that the law was "cunningly designed to make you think it only applies to individuals who are deep in cyber-technology and doesn't apply to everyone…"
The hackers added that "some part of the bill basically says it can imprison anyone who commits libel either by written messages, comments, blogs, or posts in sites such as Facebook, Twitter, or any other comment-spaces of other social media in the Internet."
"It is just so disappointing that our government, in adopting our 80-year-old antiquated libel laws to the Cybercrime Law, again seems to have retarded our march with the rest of the world with respect to giving full force to the people's freedom of expression," the hackers also said.
The hackers also loaded background music to the defaced websites. The song is "Freedom" by the band Rage Against the Machine released in 1994.
— ELR/DVM/RSJ, GMA News