UAAP
:

Eagles march on to face UST in the Finals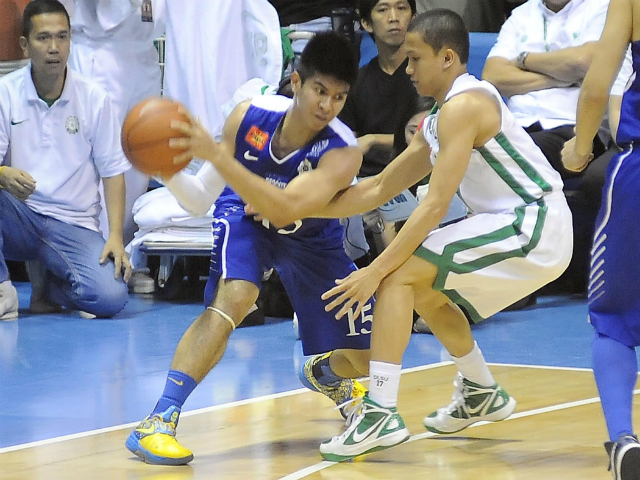 Kiefer Ravena (left) was guarded by among others, Almond Vostoros, but last season's Rookie of the Year still exploded for 16 fourth-quarter points to lead his side to the win.
KC Cruz
The Ateneo de Manila University Blue Eagles went on a 22-6 run in the fourth quarter to defeat the De La Salle Green Archers, 66-63, in the #1 versus #4 Final Four match-up of the 75th UAAP season, Saturday at the Smart Araneta Coliseum.
"The Phenom" scored 16 of his 28 points in the fourth quarter, fueling a 12-0 run to reclaim the lead for Ateneo. Ravena attacked the rim, found open teammates and made timely three-pointers to erase an eight-point deficit, turning it into a three-point win.
"Coach Jamike [Jarin] talked to me in the last six minutes," said Ravena. "Para makapasok tayo sa Finals".
As a result of the heroics of last season's Rookie of the Year, Ateneo returns to the Finals to defend their four-peat crown against the University of Santo Tomas Growling Tigers, in a rematch of their series back in 2006, which UST won in three games.
The Blue Eagles evened the game at 55 after a triple by Ravena and a floater by Tiongson, 4:27 left in the game. Another three-pointer by Ravena gave Ateneo some breathing space, helped by a rare inside shot by Slaughter that gave them a four-point lead at the 2:28 mark, 61-57.
La Salle crept back into the game, courtesy of reserve guard Almond Vosotros, who drilled in five quick points to put La Salle back on top, 62-61, 1:11 left. However, with the defences closing in on Ravena, the sophomore guard found a wide-open Ryan Buenafe who hit a triple from the right corner, giving Ateneo a 64-61 edge that they never yielded from that point on.
"I figured we'd be rusty offensively because we've been off for two weeks. I told my players to concentrate on defense this game," said Ateneo Coach Norman Black.
The impending win for the Blue Eagles hit a roadblock when Ravena was called for an unsportsmanlike after seemingly clotheslining La Salle rookie Jeron Teng. The presumptive Rookie of the Year however split his charities, to still trail by a point, 64-63, 15 seconds left.
La Salle saw a crack in Ateneo's defense after Coach Abanilla ran an isolation play, but Teng lost the handles on the ball against Buenafe's defense. Season 73's Finals MVP then made a pair of freebies, and the Archers missed out on forcing overtime when Norbert Torres' last-second shot clunked off the rim, booting them out of the playoffs.
"We have to give credit to La Salle," said Ravena, "Siyempre Final Four na, we had to suck it up and go the extra mile."
The win heralds their fifth straight finals appearance dating back to 2008, a season where the Blue Eagles played a Green Archers team bannered by the likes of JVee Casio and Rico Maierhofer and beat them for their first of four straight crowns.
The Taft-based squad displayed a potent start to their fourth quarter, with solid offensive outings from Yutien Andrada, who finished with 17 points, and a defensive demonstration care of Norbert "The Bear" Torres, who racked up two quick blocks for the green side. It was a 10-point game, 51-41, with 8:46 to go, before Ravena kick-started his side's comeback with an and-one play.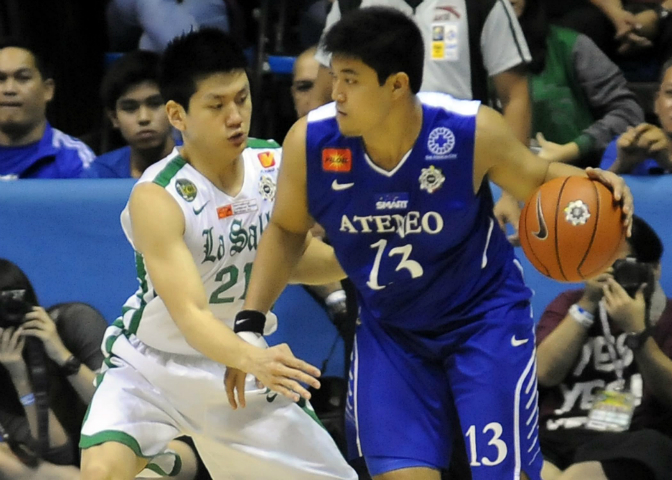 Jeron Teng (left) struggled with his shot all game, while Ryan Buenafe came up big for Ateneo late, anew.
KC Cruz
Ateneo led early, 4-0, courtesy of a pair of free throws from Buenafe and a jump shot that banked off the rim for Ravena. The green-shirts answered with three short stabs from Jeron Teng and a triple each from Thomas Torres and Almond Vosotros to go up 12-10 with 3:24 left, only for big men Nico Salva and Justin Chua to wrap up the period, ADMU up 14-12.
The Archers took back the lead early in the second quarter thanks to an inspired performance by Yutien Andrada, who provided six of a 9-4 run that had La Salle up by three, 21-18, 4:36 left. A rain of triple from both sides saw Ateneo tie the game, 26-all, and then finish strong anew, going up five, 31-26, at the intermission.
La Salle however busted the game wide open in the third period, opening the quarter with a 9-2 run. An Oping Sumalinog triple at the 4:38 mark was Ateneo's first field goal of the quarter, and it knotted the score at 36-all.
Unfortunately for the Blue Eagles, they'd manage just one more score, a jumper by Justin Chua, at the 1:54 mark, as Andrada and Vostoros continued to romp through their lines. When the dust settled, it was a 21-7 quarter for the Archers, and they were up 47-38.
Both the Blue Eagles and the Green Archers modified their lineups, as Coach Black inserted Buenafe at the small forward position while Coach Abanilla made Jed Manguera take a backseat by plugging Tampus at the two-guard spot.
Ravena led all scorers with 28 points, 12 rebounds and seven assists, followed by Salva with 12 while Buenafe had 10. Andrada paved the way for the Archers with 17 points, followed by Vosotros with 14 and Teng with 12.
Slaughter struggled throughout the game, outmuscled by La Salle's big men. He tallied only four points, 10 rebounds, and three blocks in 34 minutes of play. Teng fought to be relevant, scoring 12 points on 18 attempts.
The Blue Eagles are set to face the UST Growling Tigers in a best-of-three match-up that kicks off on Saturday, October 6.
"There's always pressure. It never goes away. We expect a tough series [against UST], so we just have to play Ateneo basketball", said Black.
– RAF/AMD, GMA News
The scores:
ADMU 66 – Ravena 28, Salva 12, Buenafe 10, Tiongson 5, Slaughter 4, Chua 4, Sumalinog 3, Pessumal 0, Gonzaga 0, Elorde 0, Golla 0
DLSU 63 – Andrada 17, Vosotros 14, Teng 12, N. Torres 6, T. Torres 5, Tampus 4, Van Opstal 3, Mendoza 2
Quarter scoring:
14-12, 31-26, 38-47, 66-63