Five-peat complete, as Ateneo sweeps UST
(Updated 6:46pm)
The Ateneo de Manila University Blue Eagles have made it five championships in a row, dispatching the University of Santo Tomas Growling Tigers, 65-62, Thursday, in the end of the Norman Black era at Ateneo. It has been one of the most storied runs in collegiate basketball history in the country.
[How did ADMU win? Review the play-by-play here]
With the win, Ateneo became the first to accomplish the five-peat feat, with the exception of the UE Red Warriors, which needed a controversial co-champion title to pull off seven titles in a row, back in 1967.
Beating UST en route to the title also allowed the Eagles and their head coach Norman Black to put to rest
the heartache of 2006
, when the Tigers overcame a first game win by Ateneo to eventually claim the crown.
It allows several key figures on the squad to exit on top. Black has said win or lose, this would be his last season with the team, as he moves on to a head coaching job with the PBA's Talk 'N Text Tropang Texters. "They worked really, really hard for it and I'm glad they won the championship," Black said. He also commended UST for putting up a worthy fight, pointing out that he called out Pido Jarencio's squad as the team to beat at the start of the season.
"Games always come down to big shots and big stops. That's what we were able to do,"
he added.
Ateneo also loses five players, namely 7'0" center Greg Slaughter,
Season 74 Finals MVP Nico Salva
, defensive stoppers Oping Sumalinog and Tonino Gonzaga, and reserve big man Justin Chua.
Sophomore star Kiefer Ravena is returning next year though to anchor a team no longer expected to be the favorite despite this season's stellar performance.
"Pinahirapan kami. [The Tigers] didn't give this championship to us. They made it difficult for us the entire year," said Ravena, last season's Rookie of the Year, who led his team with 22 points, five rebounds and three assists.
Another key exit is that of Manuel V. Pangilinan, whose support of the team ends this season
after his bitter break-up with the Ateneo
over mining and the Reproductive health bill.
Salva, for his efforts, was awarded the Finals MVP, his second, after also claiming the award during their fourth championship last season.
"I never thought I'd get five championships. I feel very blessed and grateful," said Salva after the game. "UST's a great team, they'll do so much better next year. I tip my hat to them."
"I just told myself, I just wanna win," he said. "I don't care what happens, I just wanna win."
With half a minute remaining, Kiefer Ravena buried a tough step-back jumper from the wing to put Ateneo ahead by six, 65-59. Not to be outdone, Jeric Fortuna rifled in a triple from the left corner to cut the deficit to three with 21 ticks remaining. UST fouled Juami Tiongson on the next possession, who missed both attempts from the line.
Ateneo forced a defensive stop but the Tigers kept ball possession with seven ticks to go. Making up for his earlier faux pas, Tiongson intercepted an errant inbounds and dribbled out the clock, preserving the win for the Blue Eagles.
Greg Slaughter registered a double-double with 15 points, 11 rebounds and three blocks and point guard Tiongson chipped in 10 points. Salva tallied eight points and six rebounds after his 30-point Game 1 outing.
Overall, the Tigers shot just 24-of-73, or 32.9 percent. On the other hand, Ateneo made 22 of 56 attempts, or 39.3 percent. Ateneo also took advantage of their time at the free throw line, making 18 of 25, or 72 percent. In comparison, UST struggled with a 7 for 17 clip, or 41.2 percent.
UST looked flat on offense at the start of the game, scoring sporadically on jumpers as they were hampered by turnovers and Ateneo's interior defense. Meanwhile, Kiefer Ravena and Greg Slaughter carried the Eagles ahead as they attacked the basket and scored almost at will. A trey by Ravena gave Ateneo a 13-6 lead with under four minutes to play.
Inexplicably, Ateneo began settling for shots outside the shaded area. In that same stretch, UST's Kim Lo pulled a fast one by scoring back-to-back triples, incidentally his only makes from downtown this season. Lo then scored on a driving layup with 20 ticks left in the quarter to put the Tigers in the driver's seat, 14-13, after the first period.
The Eagles quickly snatched the lead back as reserves Justin Chua and Tonino Gonzaga scored five straight for the blue and white at the 8:17 mark, 18-14. But the run was short-lived as both teams were lulled into quick shots that yielded no results.
At 4:47, Fortuna finally dismantled the Eagles' defense and scored UST's first field goal in the quarter. The basket seemed to light a fire under Ateneo however, as Ryan Buenafe's playmaking guided Ateneo and allowed Nico Salva to score six of their next eight.
The Tigers outlasted them down the stretch however as Kevin Ferrer scored five points in an 11-4 run, capped by a gutsy jumper by Karim Abdul, to lead 29-26, with 49 seconds remaining in the half.
Ateneo was held without a field goal in the last 1:34 of the second quarter. The Eagles rounded out the quarter with a combined 3-of-4 mark from the charity stripe by Ravena and Slaughter to tie the game, 29-29.
When play resumed, Juami Tiongson buried Ateneo's second make from downtown. Not to be undone, Clark Bautista, who was missing in Game 1 with a 0 for 5 clip from beyond the arc, dropped two triples as the Tigers dropped nine unanswered points, 38-32.
Eagles coach Norman Black called timeout, and consequently Ateneo cobbled together a 7-0 run, capped by a trey by Tiongson. UST got clear attempts at the basket but failed to convert during the stretch. After Aljon Mariano finally got away for a fastbreak lay-up, his first points in the game, Chua answered with consecutive layups to produce a 44-40 tally with 3:18 left on the clock.
After scoring just four points in the last six minutes, Fortuna rallied his troops and scored seven points in a 9-6 run that straddled the quarter break. The Tigers then trailed, 50-49, with half a minute into the final period.
Their efforts were rebuffed as Ateneo almost exclusively attacked the rim on each trip, resulting in free throws for the Eagles. With the Tigers in the penalty situation, Slaughter bullied his way to back-to-back baskets resulting in a 59-51 lead, their largest margin thus far, with 6:43 remaining.
Abdul drew Slaughter's fourth personal foul on a drive forcing the big man to sit. In his absence UST scored five unanswered points. Norman Black gambled and reinserted Slaughter, who drew a foul and split from the line, 60-56, with three and a half minutes to play.
Crashing the boards on both ends, the Tigers managed to get multiple looks at the board but failed to convert. Mercifully, Teng banked in a put-back play to cut into the deficit with two minutes to play, but Tiongson answers him with with a floater on the other end a minute later. Abdul and Slaughter traded attempts and split from the line, 63-59, with under a minute remaining, to set up the stage for Ravena's heroics.
Despite the losses, Black remained optimistic about Ateneo's team next year. "Kiefer's coming back and they have good recruits," he said. "The new coach is gonna have to do what I did — go out there and find players willing to study and enter our program."
- AMD/HS/OMG, GMA News
The scores:
ADMU 65: Ravena 25, Slaughter 15, Tiongson 10, Salva 8, Chua 6, Gonzaga 3, Sumalinog 1, Golla 0, Elorde 0, Buenafe 0
UST 62: Fortuna 20, Teng 9, Lo 8, Abdul 8, Ferrer 7, Bautista 6, Mariano 4, Vigil 0, Pe 0, Afuang 0
Quarter scoring:
13-14, 29-29, 47-46, 65-62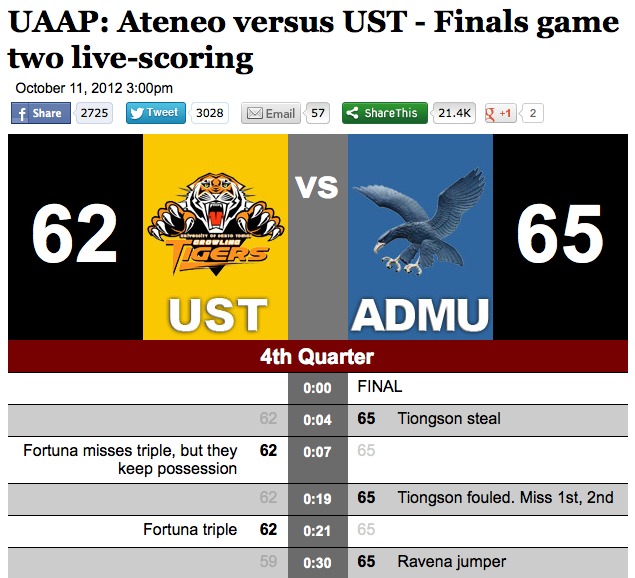 How did ADMU win? Click the picture to be taken to the play-by-play of Game 2.