PBA
:

Fresh from UAAP glory, Black wins first game with Talk n' Text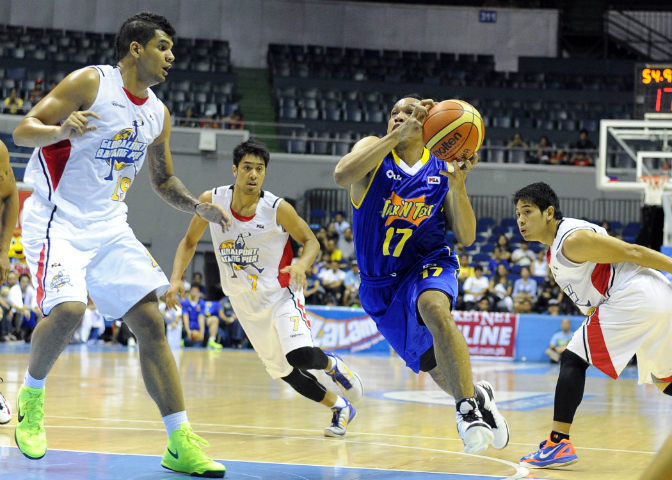 It's been a good week for Norman Black.
The Talk 'N Text Tropang Texters gave five-time UAAP champion coach Norman Black a fitting welcome present by winning against the GlobalPort Batang Pier, 108-104, at the Smart Araneta Coliseum on Friday.
"It's a work in progress. Most of my focus has been on Ateneo. Nobody noticed tonight but there was a lot of miscommunication. The players are still learning my system," said Black,
who was announced as head coach of Talk 'N Text last February
after Chot Reyes took over the National Team program. "Right now the focus is to win as many games as possible."
Black is back in the PBA after leading Ateneo to five straight championships in the UAAP. The Eagles
swept the UST Growling Tigers 2-0 in their three-game series
to end their "drive for five" Thursday.
In the big leagues, the former Detroit Piston last coached the Santa Lucia Realtors in 2002.
The two teams started the game with their sweet shooting, as Jayson Castro scored 10 of the Texters' 32 points in the first. GlobalPort was not far behind with 31, as Jondan Salvador led Batang Pier with eight while Josh Vanlandingham and Willie Miller added six apiece.
GlobalPort was one man down in the game, as star scorer Gary David sat out with a sprain he incurred in practice.
In the second quarter, Talk n' Text found another guard to lean on in Ryan Reyes, who scored 10 in the period to lead all scorers with 19 points in the first half. Out-gunning GlobalPort 25-21 in the quarter, the Tropang Texters went on to enjoy a five-point lead at the half, 57-52.
The third saw the Tropang Texters waxing hot, shooting 60 percent from the three-point area, and an even better 62.5 percent clip from inside, to outscore GlobalPort yet again, 29-22, for a 86-74 lead heading to the fourth.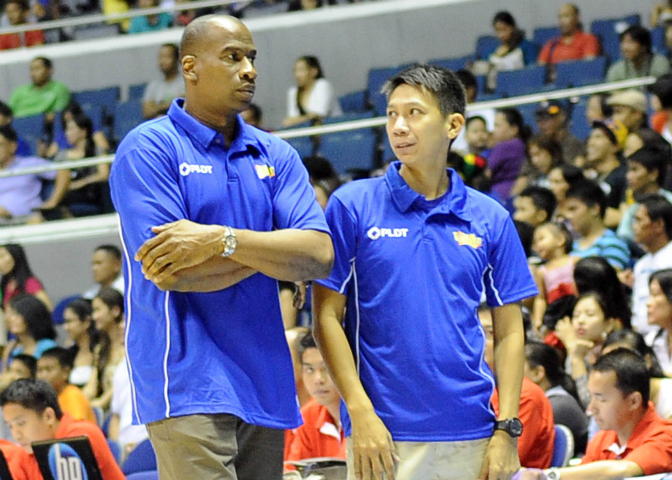 Black is back - coach Norman Black (left) has returned to the PBA. He is seen here talking with assistant Nash Racela (right).
KC Cruz
Batang Pier tried to stage a comeback in the payoff period, as a Rey Guevarra dunk and a Rabeh Al-Hussaini alley-oop cut the lead to three, 86-83. The duo then had Vic Manuel hop on to join the rally, to finally give GlobalPort the lead via a baseline jumper, 94-93, at the seven minute mark.
Glenn Capacio's struggling squad continued to hum halfway through the quarter, with Manuel and Miller giving the team a four-point advantage, 100-96.
From then on, Castro carried Talk n' Text, scoring on a drive and a jumper on rookie AJ Mandani to give the Tropang Texters a 105-104 lead.
After Larry Fonacier missed a three, GlobalPort called a timeout with 1:52 remaining, only for Manuel to lose the ball in the paint. With 54 seconds remaining, Talk n' Text then had three chances after two offensive rebounds.
In the end, the team went to Ranidel De Ocampo from beyond the arc, and the big man delivered, hitting a long bomb with 9.2 ticks remaining to give his team a four-point advantage.
Miller went for a heave from way beyond the arc at the four second mark, but the ball bounced off the rim for the final score, 108-104.
Jayson Castro was the best player of the game with 30 points and four rebounds. Ryan reyes and Larry Fonacier had 19 each while Ranidel De Ocampo and Kelly Williams added 15 and 11, respectively.
Willie Miller had an all-around game for GlobalPort with 22 points, seven boards, nine assists and two steals, while ninth overall 2012 PBA Draft pick Vic Manuel had a big game with 21 points and seven rebounds. Rabeh Al-Hussaini,
who registered a "Did Not Play" in their last outing
, made up for lost time by scoring 17 while grabbing seven rebounds in 30 minutes of play.
— KBK, GMA News
The scores:
TNT 108 - Castro 30, Reyes 19, Fonacier 19, De Ocampo 15, Williams 11, Alapag 5, Peek 4, Carey 3, Gamalinda 2, Raymundo 0, Alvarez 0.
GP 104 - Miller 22, Manuel 21, Al-Hussaini 17, Salvador 9, Vanlandingham 8, Deutchman 7, Guevarra 6, Yee 6, Mandani 4, Cruz 2, Antonio 2, Lingganay 0.
Quarter scoring:
32-31, 57-52, 86-74, 108-104