NASA debuts 'Buzz Lightyear' spacesuit
With the prototype's blue, lime green, and white color scheme, you can easily be forgiven for thinking that it's something straight out of Toy Story.
But the Buzz Lightyear-esque "Z-1 Prototype Spacesuit and Portable Life Support System (PLSS) 2.0" —the suit's official designation— will offer astronauts unprecedented mobility and flexibility for possible Mars missions in the (hopefully) not-too-distant future.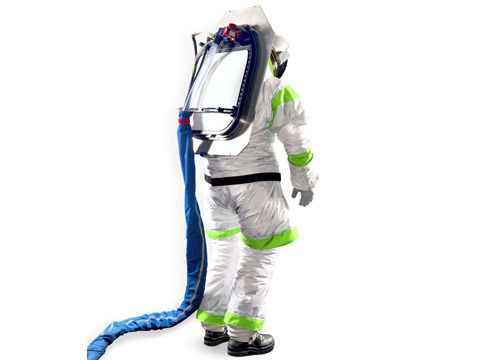 NASA's Z-1 spacesuit prototype
(Photo credit: NASA, via Popular Mechanics)

The design of the current suit used by National Aeronautics and Space Administration (NASA) astronauts is already 20 years old. Dating back to 1992, the current suit was designed primarily for use on the Space Shuttle and the International Space Station —but not necessarily for extraterrestrial landings.

What to wear?
But the problem that NASA engineers faced is that they actually can't predict exactly what conditions astronauts will face on future missions.
"It's like you're trying to go on vacation, but you don't know if you're going to Antarctica, Miami, or Buckingham Palace," Amy Ross, a spacesuit engineer at Johnson Space Center,
told Popular Mechanics
.
"We're building a lot of tools for the toolbox. Right now we're asked to be very flexible," she added.
So the Z-1 spacesuit is designed to hold up to a variety of possible conditions and scenarios —although there's still no word if it can be used on Planet Z.
Suit up!
A typical spacesuit is actually a mini space ship complete with arms and legs,
according to Gizmag
: it needs to protect and keep the wearer alive in space, even while allowing them to move around. But to do this, a spacesuit is made up of complex interconnecting systems that take about an hour to wear —and which require extensive training to put together properly.
To allow a wide range of movement, the Z-1 is made up of a combination of several components mounted on a "soft" fabric.
"The suit actually contains several hard mobility elements. The term 'soft' is intended to convey the idea that the primary structures of the suit are pliable fabrics when unpressurized," explained spacesuit engineer Kate Mitchell in an article for NASA.
The fabric itself consists of layers of urethane-coated nylon and polyester, helping to maintain pressure and protecting it from billowing.
Z-1 also boasts bearings in the waist, hips, upper legs and ankles, making it an all-terrain space suit suitable for gathering rock samples from a planet's surface.
Built-in airlock system
Perhaps one of the most innovative aspects of the Z-1 is its airlock system.
The Z-1 is a hatchback or "rear-entry space suit," which essentially means that it has its own built-in airlock that allows it to latch onto a spacecraft's exterior so that the wearer can just climb in from the ship.
The airlock cuts down on the need for "prebreathing" —the time-consuming process of adapting to the lower pressure exerted on the body when an astronaut leaves the spacecraft.
Because Z-1 operates with the same pressure as the spacecraft, the wearer can get in and out much faster, saving both air and time.
The Evolution of the Spacesuit
Ever since Alan Shepard became the first American in space in 1961 —he was beaten to the record for the first ever man in space by Russian Yuri Gagarin by a few months— NASA has designed
over a dozen spacesuits
for use by the men and women of the agency's continually-evolving space program.
— TJD, GMA News