Filpino runners dominate 2012 King of the Road Southeast Asian championship
Filipino runners Eduardo Buenavista and Mary Grace Delos Santos crowned themselves as Adidas King of the Road 2012 Southeast Asian champions by topping their respective divisions in the "closed" category of the regional championship held last October 28 in Singapore, organizers said in a press statement released late Monday night.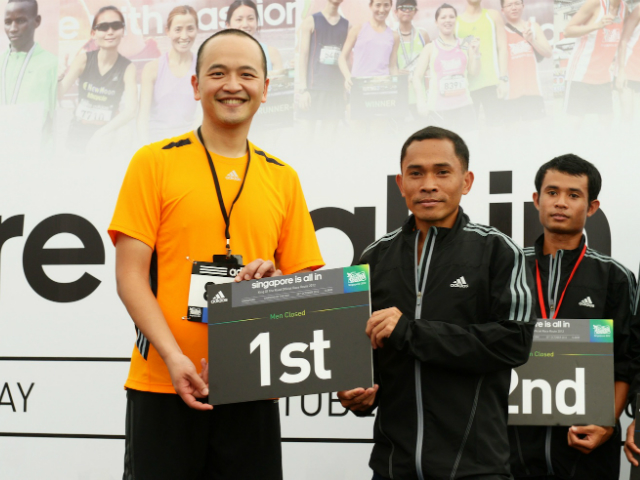 Eduardo Buenavista (right) receives his prize for coming in first. GMA News
Buenavista, who represented the Philippines in the 2004 Athens Olympics, checked in with a time of 53 minutes and 12 seconds to win the male category, while Delos Santos followed suit by clocking in at one hour, one minute and 52 seconds in the race held along the routes that covered the Gardens by the Bay.
"I'm very happy with the Adidas KOTR. It's nice to see the global leader in running bringing together passionate runners from all over the region. The 16.8km distance is distinctive from other running events, and I certainly would like to do it again," said Beunavista, who defeated Thailand's Sanchai Namkhet (55:07) for the title.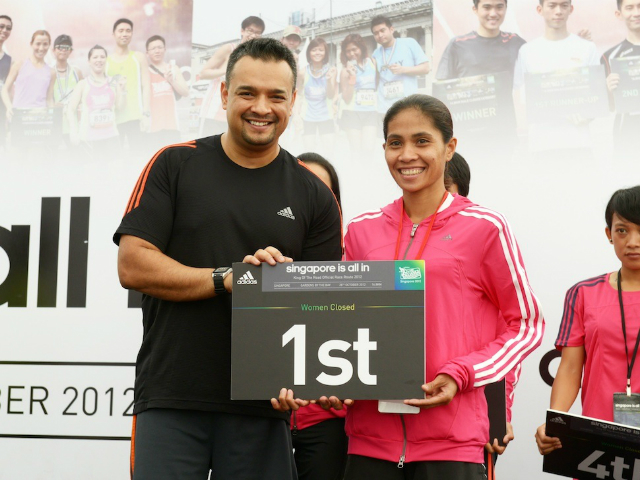 Mary Grace Delos Santos (right) is recognized for her first place finish. GMA News
Delos Santos likewise defeated a Thai, Natthaya Thanaronnawat (1:04:18), to bring home the title, in a race that drew 45,000 runners from the Southeast Asian region, including Indonesia and Malaysia.
"I'm really proud to win the Singapore championship race after coming first in the Manila's leg. I have even achieved my personal best for today's run. The Adidas KOTR races have served a great use in training for my next event, a full marathon in Manila in December. I would welcome coming back next year and competing at Adidas KOTR again," said Delos Santos, who is looking at winning the MILO Marathon anew this December.
- AMD, GMA News