Symbolic 'Impuni-tree' planted for 3rd anniversary of Maguindanao massacre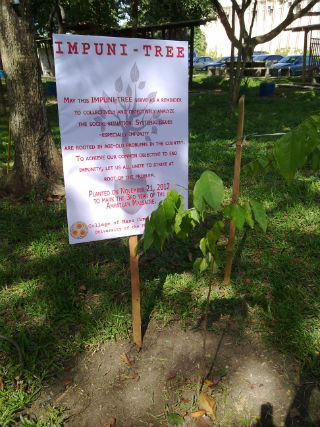 The Impuni-tree, planted at the College of Mass Communication in UP Diliman, marks the third year of the Ampatuan massacre.
Three years ago in Ampatuan town in Maguindanao, 58 people, including 32 journalists and media workers, were
massacred by about 100 armed men
in an act of brutality that shocked the world.
November 23 marks the third year of the mass killing, as well as the second year of the International Day to End Impunity. However, it seems many have already forgotten about the incident.
Roland Tolentino, Dean of the University of the Philippines College of Mass Communication, stressed the importance of commemorating the massacre, as some students today aren't even aware that it happened.
"Mahalaga itong pagdiriwang ng Ampatuan massacre para sa kolehiyo kasi malaki ang impact nito sa klase ng mass communication or media education na kailangan nating mapaunlad pa sa ating kolehiyo. Ibig sabihin hindi lang siya kailangan na kritikal o industriyal na klase ng edukasyon, pero kailangan siya ay mapagpalaya din lalo na sa kundisyon na kinahaharap lalo na ng mga peryodista at radio journalists na maaaring mapatay sa line of duty," Tolentino said during the planting of an "Impuni-tree" at the College Parking Lot on November 21.
"Siya ang magiging simbolo ng kawalan pa rin ng katarungan hinggil sa issue ng Ampatuan massacre na alam natin na naka docket ngayon ang isang damakmak at daang daang kaso sa korte," said Tolentino of the tree.
He noted that unless there is intervention from the President and other officials, there will be no resolution to the culture of impunity in the country.
In 2011, the Philippines was the
second deadliest country in the world for journalists
, next only to Iraq, according to the Committee to Protect Journalists (CPJ), a New York-based international media watchdog group.
In the first 10 months of 2012, there have been 100 cases of impunity in Southeast Asia, according to Malou Mangahas, executive director of Philippine Center for Investigative Journalism, citing a report from the regional press freedom watchdog Southeast Asian Press Alliance (SEAPA).
"The tragic story here is the Philippines remains the deadliest spot in the world for journalists. We accounted for 36 of the 100 cases monitored by SEAPA," Mangahas said during a press conference held after the planting of the Impuni-tree.
Mangahas also noted that while the trial drags on, the Ampatuans' political clout is hardly diminished, with at least 72 members of the clan running in the May 2013 election.
"We're worried na parang wala halos yatang nabago because in 2010, about 52 of them ran and around 40 won positions sa LGUs," she said. In fact, the Ampatuans were the
biggest winner
in the May 2010 elections, according to a study of 2010 election returns by GMA News Research.
"This time what's more worrisome however is nine Ampatuan members are running under the Liberal Party of President Benigno Aquino III, while over a dozen are running under the United Nationalist Alliance (UNA) Coalition of Vice President Jejomar Binay," Mangahas said.
Meanwhile, Red Batario, Executive Director of the Center for Community Journalism and Development, said it is important to ask why the structures that allow impunity are not being changed. Batario noted that despite Aquino's "daang matuwid" and his promise to support the Freedom of Information bill, things remain the same.
"Ang pag-commemorate ay hindi lamang pagtingin na tayo ay nakikiramay doon sa mga kamaganak ng mga namatay na dahil sa paglaban natin for press freedom kung hindi pagtataas din ng ating adhikain," he said, noting that Aquino had
expressed support
for the Right of Reply bill at a meeting of the Kapisanan ng mga Brodkaster sa Pilipinas in Tagaytay on November 15.
"Very revealing yung mga sinabi niya doon not only because he omitted any mention of the FOI bill that is now basically dead, yung pagsingit niya ng Right of Reply which is really a form of prior restraint on the media," Batario said.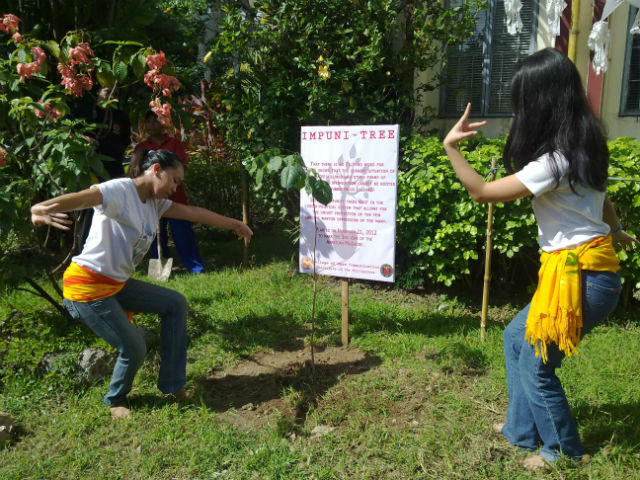 Members of Kontra-Gapi dance around the Impuni-tree after it was planted on November 21.
Former UP-CMC Dean Luis Teodoro said one of the reasons the killings continue to happen is the weakness of the justice system, and the fact that no clear steps have been taken to correct this. "Ang weakness ng justice system is based on the fact that at the local level, may mga collusion between the security forces, officials of the local government and so forth, in the killing of journalists," he said.
According to Teodoro, Aquino promised to implement five suggestions from the Freedom Fund for Filipino Journalists, including the promise to act on urgent cases.
"Mr. Aquino has made a lot of promises but has done very little, and in fact he has done the opposite... sa halip na i-push yung FOI bill, ang sinusuportahan niya yung atrocity na Right of Reply, which is a fundamental assault on press freedom," Teodoro said.
Teodoro said it is time to stop "treating the President with kid gloves." "In this third year let's hold him to account. Let's demand that he do something finally. Let's demand that he stop 'Noynoying,'" he said.
On November 23, students, press freedom advocates and activists will join journalists in a "funeral march" with 153 coffins symbolizing the media killed since 1986. The march will begin at 3:30 p.m. and will be from Welcome Rotonda to Mendiola. Rallyists are asked to wear black or red.
— BM, GMA News