Music review: At 43, J.Lo can still thrill despite vocal hiccups
Jennifer Lopez's stardom is such that she needs no qualifiers—a mere three letters from her name are enough to stir the hearts of her millions of adoring fans. Even here in the Philippines, the Latina dancer-singer-actress is everywhere—on TV, perfume ads, DVDs, magazine covers, and most recently, on concert posters and billboards announcing her show which finally happened Monday night.
J.Lo's Manila show had been hotly-anticipated by her Filipino fans since news of it broke, even more so when the ridiculously high ticket prices were announced. Costing almost P26,000 for VIP seats, and over P2,000 for General Admission, the big question on everyone's minds was, would the concert be worth it?
That Lopez is an omnipresent superstar, a celebrated triple threat, and former judge of a hit reality show besides didn't necessarily guarantee an affirmative answer.
In fact, the show was initially slightly underwhelming, starting over an hour late, and suffering from poor acoustics even as the tepid opening acts took to the stage.
And in fact, even as Lopez finally stepped on to the stage to thunderous cheer resplendent in a diamante bodysuit, promptly sweeping the audience away with her sultry energy and perfect execution of such daring choreography, her vocals left much to be desired.
Towards the end of her performance of "Get Right," which was actually a great choice for an opening song, Lopez seemed to struggle with a faulty mic that left her voice hardly audible in certain parts, even as she segued into "Love Don't Cost A Thing."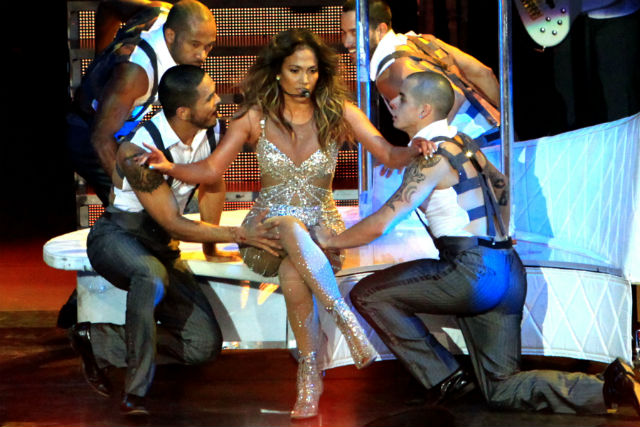 The second act began with a boxing-themed number with J. Lo emerging in a silver crop top-and-sweatpants ensemble, insisting that she was still that "simple girl from the Bronx" even as she dripped in glitter.
The star's hard-hitting moves during the second act certainly picked up the pace from the already fiery first part, and the fast-paced choreography clearly compromised Lopez's ability to belt it out, unfortunately affecting some of her most well-loved hits, "I'm Real," "Ain't it Funny," and "Jenny from the Block."
Perhaps that's why the tour is called "Dance Again,"— because while the dancing was flawless from the get-go, the vocals, particularly at the beginning of the show, were not. One certainly expected more from someone who recently starred as a judge on a reality singing show, but then again, even superstars run out of breath sometimes, and the important thing is that they catch it, which J.Lo thankfully did.
By the time J.Lo once again entered the stage in another new costume—a flowing, delicate full-length dress by Lebanese designer Zuhair Murad, who made all her clothes for the show—it was clear that she was slowing it down a bit. After asking the audience's permission to sit down, she started with an acoustic version of the song that started it all, her debut single from her first ever record, "If You Had My Love."
As Lopez sang the opening lines, it was evident that she had caught her breath once more, and the soaring voice that many of her fans fell in love with was echoing across the arena, finally, even if it took two acts into the show to do so.
Of course, Lopez didn't sing the song alone. Not even halfway through, she stopped the band and pulled out one lucky fan from the audience to finish the song with her.
What followed was another flawless vocal rendition of one of her newer songs, "Until It Beats No More," which was accompanied by a slideshow of Lopez with her kids that, while cheesy and contrived, still managed to highlight the emotion in Lopez's voice and maybe even made the entire concert more stunning because it reminded the audience of the almost unbelievable fact that the woman who a few moments ago was popping and locking with her abs on full display is actually a 43-year-old mother to twins.
Her interactions with the audience made her even more endearing and the concert more exciting. Aside from singing with a fan, she also took a photo with one of their cameras while wearing a Philippine flag that was thrown onstage around her shoulders. At one point, she asked an audience member an inaudible question, and then announced the answer for the entire arena to hear: "Mahal Kita!"
The concert picked up the pace again for the fourth act, which was preceded by a playful jazz-y number that played on the act's vintage, cabaret theme and gave the often underrated back-up dancers the time in the spotlight that they deserve.
J.Lo then came out on stage playing a solo on the conga—leaving the audience to wonder what else is there that the multi-hyphenate cannot do—before exploding into a high-octane performance of "Let's Get Loud."
And while once again she launched into another series of intense dance moves, the quality of her vocals, were, thankfully, unwavering from that point on so that it was pure fun and definitely worth the expensive tickets even through her performance of "Papi," which she dedicated to the male audience, down to her closing song, "On the Floor," all the way to the encore, which was, fittingly, her latest single "Dance Again."
Despite a rather shaky start, it would appear that the superstar really only needed to catch her breath—as the lights dimmed on stage signaling that the concert was really over, it was the audience who was left breathless as they cheered endlessly and cried out desperately for Lopez to dance again, again.
— Photo by Danny Pata/DVM, GMA News