Rapper 50 Cent and Gamboa out to change the boxing business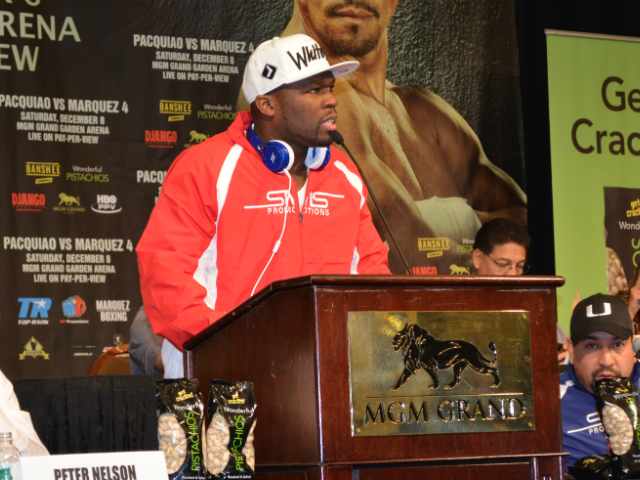 Rapper 50 Cent is living his dream - as a boxing promoter for Cuban up-and-comer Yuriorkis Gamboa. Carlo Pamintuan
LAS VEGAS - "The demographic of boxing fans falls largely in the ages 30 and above [group]. For the UFC, I think 56% of their fans fall in the 15-34 age bracket," said rapper 50 Cent, who had surprised a lot of people by venturing into the sport of boxing.
Most people believed the move was because of his friendship with Floyd Mayweather Jr. However, since the two have become estranged, the boxing world expected 50 Cent to drop his dreams of becoming promoter. Instead, it now appears that he is driven more than ever to succeed.
The first step to changing the course of boxing is to lead Cuban Yuriorkis Gamboa to superstardom. The Olympic Gold medalist will fight Filipino Michael Farenas for the interim WBA super featherweight title in the undercard of the fourth fight between Manny Pacquiao and Juan Manuel Marquez at the MGM Grand Garden Arena this Saturday (Sunday, PHL time). 50 Cent is co-promoting the fight with Bob Arum's Top Rank Promotions and Pacquiao's MP Promotions.
"I'm used to this, being in front of the media and having to talk with a microphone," 50 Cent said after noticing that most of the boxers and trainers that spoke at the press conference appeared uncomfortable having to talk in front of a lot of people. He spoke confidently and clearly about how he thinks he could help the boxing business.
"Boxing needs more marketing," he opined. "Boxing needs to do it like the WWE does it," in reference to Vince McMahon's billion dollar wrestling company's approach to promoting their pay-per-views.
50 Cent has the business savvy, the name, and the money to be successful in the boxing business, but his biggest asset by far is a fighter at the cusp of becoming the next-big-thing.
Gamboa defected from Cuba to turn pro and has since compiled a record of 21 wins with 16 knockouts without a loss or a draw. He is an exciting boxer who also has some pop in his punches. With 50 Cent's marketing capabilities and Gamboa's raw talent, success is very likely.
Another good thing going for 50 Cent is that the younger batch of fighters find it easy to relate to him and want to be seen next to him. If boxers see how good 50 Cent will promote Gamboa, expect many to flock to his SMS Promotions.
"He is a very smart man," Arum said. "His experience in the music industry will help the boxing business and I would love to keep doing business with him in the future."
Media members are used to seeing celebrities during the big fights but seeing one in a press conference where they can actually talk to them is rare. So when the rapper arrived about 20 minutes before the Pacquiao-Marquez 4 undercard press conference started, he was swarmed by the media. 50 Cent has grand plans on helping the sport in the future through SMS Promotions, but his presence alone has already caused a big change.
At his hear though, 50 Cent is an entertainer, and this Saturday (Sunday, PHL time), he plans on showing off.
"When Gamboa arrives in the ring, you're going to see an entrance like you've never seen before," said Arum. "It's going to blow your socks off."
- AMD, GMA News