Aquino declares PHL under state of national calamity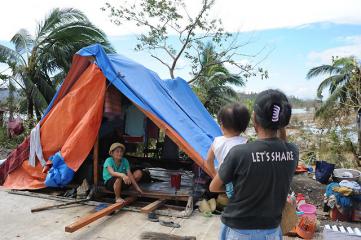 Remote Agusan del Sur town suffers heavily from 'Pablo'. As the world grieves for the victims of Typhoon Pablo (Bopha) in Compostela Valley, survivors from the remote municipality of Veruela in Agusan del Sur weep in silence. The town, located 107 kms from Butuan City (55 kms from the boundary of ComVal), was also hard hit by 'Pablo' and villagers badly need help. Six people were reported killed at the height of the typhoon. Mardy Halcon via YouScoop
President Benigno Aquino III on Saturday declared a state of national calamity due to the damage brought about by Typhoon Pablo (international name: Bopha).
In Proclamation 522, Aquino cited the devastating rain, floods and flash floods in parts of Southern Luzon, Visayas and Mindanao.
"[T]he declaration of a State of National Calamity will hasten the rescue, relief and rehabilitation efforts of the government and the private sector, including any international humanitarian assistance, and will effectively control the prices of basic goods and commodities for the affected areas," Aquino said in his
proclamation
.
The declaration also necessitates that the mechanisms for international humanitarian assistance are implemented according to to Republic Act No. 10121, the "Philippine Disaster Risk Reduction and Management Act of 2010."
He noted the severe gravity of the damage in:
Compostela Valley, Davao Oriental and Davao del Norte in Region XI;
Surigao del Sur in CARAGA Region;
Lanao del Norte, Misamis Oriental and Cagayan de Oro City in Region X;
Siquijor in Region VII, and
Palawan in Region IV-B.
"All departments and other concerned government agencies are hereby directed to implement and execute medical assistance, relief and rehabilitation work in accordance with existing operational plans and directives and orders issued in connection with the occurrence of calamities," Aquino said.
"[S]uch declaration will further afford the local government units ample latitude to utilize their respective calamity funds for the rescue, relief and rehabilitation of their constituents," he added.
Typhoon Pablo left at least 456 dead and at least 533 people missing. It also caused P4 billion in damage to agriculture and infrastructure.
Price controls
On government radio on Saturday, deputy presidential spokesperson Abigail Valte said the proclamation, signed by Aquino on Friday night, allows controls over the prices of basic goods in affected areas.
Under Section 17 of
Republic Act 10121
, a price ceiling is imposed on basic necessities and prime commodities:
Monitoring, prevention and control shall be undertaken by the Local Price Coordination Council to thwart overpricing, profiteering and hoarding of prime commodities, medicines and petroleum products.
Funds may be reprogrammed for the repair and safety upgrading of public infrastructures and facilities.
The law also mandates the granting of no-interest loans by government financing or lending institutions to the most affected section of the population through their cooperatives or people's organizations.
Republic Act 7581
said basic necessities include rice; corn; bread; fresh, dried and canned fish and other marine products, fresh pork, beef and poultry meal; fresh eggs; fresh and processed milk; fresh vegetables; root crops; coffee; sugar; cooking oil; salt; laundry soap; detergents; firewood; charcoal; candles; and drugs classified as essential by the Department of Health.
Under Sec. 16, violators of the automatic price control or mandated price ceiling face imprisonment of up to 10 years or a fine or up to P1 million or both.
- VVP, GMA News