Boxing
:

Pinoy ex-champ Malcolm Tunacao closing in on second shot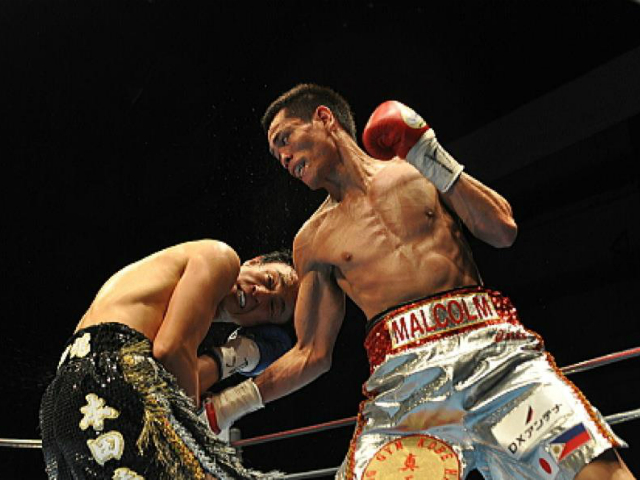 Malcolm Tunacao (R) is seeking a win over Christian Esquivel, on the path to a second world title.
KC Cruz
Though it has been 12 years since Malcolm Tunacao won his only world title, his memories of that night haven't faded in the slightest.
It was May of 2000 when the Mandaue City, Cebu native got the call to face WBC flyweight Medgoen Singsurat. Tunacao was just 23, and with only 10 pro fights to his name, would be fighting abroad for the first time in Singsurat's country of Thailand.
Singsurat had won the title by knocking out another Filipino - Manny Pacquiao, to be exact - and was unbeaten at 20-0, heading into their fight. Yet when the bell rang, Tunacao's superior speed and southpaw straights landed repeatedly, knocking out Singsurat in the seventh round to become the Philippines' only champion at the time.
"That was so unexpected, that's why when I won I cried and I felt so high," said Tunacao, now 35, whose current record is 31-2-3 (19 knockouts). "It felt so great."
His moment atop the sporting world would be brief, as less than a year later, he ceded the belt to rising contender Pongsaklek Wonjongkam via first round knockout. Wonjongkam went on to reign for another decade before ending his Hall of Fame-worthy career earlier this year. For Tunacao, the last decade has been marred by endless tune-up bouts and an unquenched desire to return to the world title picture.
Despite having lost just once since the Wonjongkam fight and being rated no. 6 by The Ring magazine in his division, Tunacao has not received a second opportunity at a world title. But should he defeat Mexico's Christian Esquivel this Saturday at Central Gym in Kobe, Japan, Tunacao will become the mandatory challenger for WBC bantamweight champion Shinsuke Yamanaka (17-0, 12 KOs).
The fight is in Japan because that's where Tunacao is based, having relocated there in 2009 after signing with influential Japanese manager Masato Yamashita. Tunacao brought along his trainer and childhood friend Eriberto Gejon, who himself was a former world title challenger.
Living in Japan means training in good company, alongside fellow former champions Hozumi Hasegawa (who will face Mexican Arturo Santos Reyes in Saturday's co-featured bout) and Nobuo Nashiro. But it has also meant time away from his two sons Dave, 13, and Malcolm Jr., 11, and 16-year-old daughter Sharalyn, all of whom still live in Cebu.
"It is very difficult to be far from my family but I'm doing this for them," said Tunacao, who hasn't seen his family in a year but will visit them to celebrate the New Year. "I really, really miss my kids."
His opponent, Esquivel (25-3, 18 KOs) of Temoaya, Mexico is no stranger to fighting in Japan, having given Yamanaka a tough fight before being stopped in the eleventh round in his quest for the then-vacant belt. Esquivel, 26, suffered two early knockout losses, but has been durable for the most part.
Tunacao was in attendance when Esquivel fought Yamanaka, scouting Esquivel, or perhaps scouting both. Esquivel was down in the sixth and eleventh rounds, but sent Yamanaka down in the seventh. What he saw left him confident going into Saturday.
"He's a good boxer but I know his style already," said Tunacao. "He has good power and defense, but I know I can manage the fight."
A win on Saturday won't return him to world championship status, but it will leave him at the threshold.
"I've waited for a very long time and this is my chance to become a world champion again," said Tunacao. "I will do my very best to win this fight."
- AMD, GMA News
Ryan Songalia is a member of the Boxing Writers Association of America (BWAA) and contributes to GMA News. He is also a member of The Ring ratings panel and can be reached at ryan@ryansongalia.com. An archive of his work can be found here. Follow him on Twitter too.