PHL is 2nd most disaster-prone country in Asia –study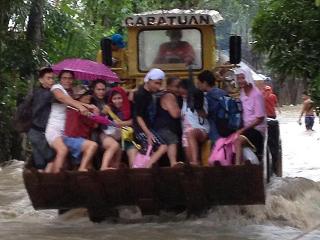 Six dead as Quinta weakens; all storm signals lifted . A bulldozer ferries stranded residents to an evacuation center as floods spawned by Tropical Depression Quinta inundate Cabatuan, Iloilo on Thursday. Quinta has left many towns in Iloilo, Leyte and Albay provinces flooded as it weakens and exits the country. At least six persons were reported to have died during Quinta's onslaught. Joshua Griñen via YouScoop
The Philippines ranked second, closely behind China, among 28 Asian countries in terms of the number of disasters reported in 2012, based on a study conducted by the United Nations Office for Disaster Risk Reduction (UNISDR), together with USAID and Belgium's Université Catholique de Louvain Center for Research on the Epidemiology of Disasters (CRED).
UNISDR took into account disaster reports from January up to October of 2012. China was visited by 18 disasters —from floods and storms to earthquakes and tsunamis— and the Philippines, 16. Next on the list was Indonesia, with 10 disasters; followed by Afghanistan, India, Pakistan, Vietnam, Bangladesh, Japan and North Korea.
At least 83 disasters, including drought, earthquakes, temperature extremes, floods, volcanic eruptions, wildfires, and storms visited Asia this year. These disasters resulted in 3,103 reported deaths and affected up to 64.5 million people —almost the same number as the entire population of Thailand. These disasters also caused US$ 15.1 billion (P621.21 billion) in damage.
From 2002 to 2011, Asia experienced an average of 136 disasters per year.
Global death toll
Worldwide, 231 disasters claimed the lives of 5,469 people, affected 87 million others, and caused US$ 44.6 billion (P1.8 trillion) in economic damage.
The disasters that hit Asia from January to October 2012, in relation to the worldwide total, accounted for 57 percent of deaths, 74 percent of affected people, and 34 percent of all economic damage.
"An early view of disaster trends in 2012 across Asia, the world's most disaster-prone region, shows that mortality from flood events continues to decline but economic losses remain a major cause of concern," UNISDR said in a statement.
The study also reported that floods were the most frequent disaster that occurred in Asia in 2012 at 44 percent, with also the highest economic and human impact. In the region, floods accounted for 54 percent of deaths, 78 percent of people affected, and 56 percent of economic damage.
"Fortunately this year, the regions did not suffer from any major disaster, such as an earthquake. Asian disaster figures are low compared to other years and this is good news," Dr. Debby Sapir, Director of CRED said during a joint press conference in Bangkok, Thailand.
"Data also suggest that some high risk countries in the region have made significant progress in controlling disaster impacts. This means that preparedness and prevention measures can be effective," Sapir added.
"The relative reduction in the number of disasters so far this year in the region is not a cause for complacency. We must still contend with the fact that risk is growing faster than wealth is being created," said Jerry Velasquez, Head of the UNISDR Asia Pacific.
"Exposure is on the rise and flooding represents a serious challenge to Asian cities as we have seen earlier this year in Beijing and Manila where these two cities were partly flooded in a couple of hours," Velasquez added.
Disasters by death toll
In the same report, the Philippines was twice included in the top ten disasters by number of deaths (including missing), particularly due to the February magnitude 6.9 earthquake in Visayas, and the torrential rains brought by the southwest monsoon in August.
But the most deaths from floods was in Pakistan, which topped the list for the third consecutive year: at least 480 people died in floods between August and October.
Not the whole story
Meanwhile, since the study only covered the months of January to October, the tallies still don't take into account the devastation wrought by Typhoon Pablo (Bopha) in the Philippines earlier this month.
As of Dec. 22
, the latest death toll from Typhoon Pablo was 1,067, with 837 still missing.
Decreasing number of deaths, increasing economic cost
On the other hand, the study indicated that deaths from weather-related disasters continue to decrease in the region.
"(T)his confirms the trend that was already observed by the 2011 Global Assessment Report on Disaster Risk Reduction and the last Asian Pacific Disaster Report, but economic losses are going up and we should be worried about it," Velasquez said during the press conference.
"Unless prevention — including climate action — takes center stage, disasters will likely block development," Director General of Independent Evaluation at the Asian Development Bank (ADB) Vinod Thomas said during the press briefing.
"Yet for too long we have thought of natural calamities as just periodic interruptions to development but this is not the case anymore, we need to invest more in preventive actions before disasters strike," Thomas added. — TJD, GMA News