Checkpoint police in Atimonan massacre not in uniform — PNP chief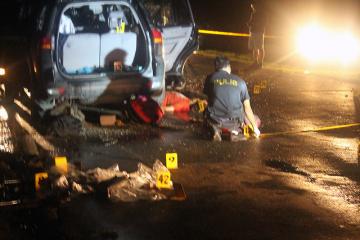 Environmentalist, lawmen among 13 killed in alleged Quezon shootout. A police investigator gathers evidence at the scene of an alleged shootout in Atimonan, Quezon on Sunday, Jan 6. Thirteen people, including an environmentalist, a police officer and alleged members of the ISAFP, were killed when the two SUVs they were riding in were fired upon by cops at a checkpoint. Police said the victims were members of a gun-for-hire group. GMA News
(Updated 11:34 a.m., Jan. 10, 2013)
Nearly all of the police personnel at the checkpoint who shot and killed 13 men in Quezon province last Sunday were not in uniform. That was just one of the violations of police procedures cited by Philippine National Police (PNP) chief Director General Alan Purisima at a press conference on Wednesday.
Quezon provincial police head Senior Superintendent Valeriano de Leon has been relieved because of the bloody incident, Interior Secretary Mar Roxas announced at the same press conference in Camp Crame.
"Sa operation na iyon, the police operational procedures were not followed," Purisima said.
"Dapat meron pong police vehicle with visible marking. The personnel at the checkpoint should be in uniform, hindi 'yung naka-civilian," he added, citing results of an initial investigation.
One of those not in uniform was the highest ranking police officer at the checkpoint, Philippine National Police Superintendent Hansel Marantan, who led the combined police and military forces that engaged the armed convoy in a shootout that led to the deaths of all 13 men in the two-vehicle convoy.

Purisima, however, said that intelligence personnel should not be manning checkpoints.
Marantan, in an interview with Sandra Aguinaldo on Wednesday, admitted that he was out of uniform, but he said it was justified since he was an intelligence officer.
According to Marantan, he received information on Saturday night that a group of 15 to 20 heavily armed men would be passing through the area. Together with Atimonan police and AFP special forces, they set up two checkpoints.

Marantan was at the second checkpoint, the report said. "I myself, I had rehearsed with the checkpoint. Nagdrive ako ng sasakyan ko, tiningnan ko kung kitang-kita 'yung checkpoint," he said in the interview.

He said the vehicles ignored the checkpoints, and were blocked by the soldiers' vehicles.

"Ako na ho 'yung nag-command na i-roll down yung windows. Ibaba ho 'yung bintana, mga pulis kami, this is a checkpoint," Marantan said. He said that they complied, but rolled the windows back up.
"At that time, I
sensed danger
already. So I, hindi lang ako, yun palang kasama ko naka sense na rin ng danger. Nagkawalaan na kami doon. I stepped back maybe three or four, and then 'yung putok dumating na. Hindi ko akalain na may mga pulis doon sa sasakyan," Marantan said.
Marantan, who was wounded in the encounter, was interviewed at a hospital where he is recuperating. Marantan said his wounds were not self-inflicted, contrary to some reports.

"Nadedemoralize ako pero, it's part of the job... but nababasa ko naman lahat, yung mga newspaper na yan. and naririnig ko yung ibang mga comments of some anchors, trying to insinuate upon me that it was a self-inflicted injury. Hindi ho ito self-inflicted injury," he said.

Marantan said they welcomed the investigation. "That's the right of every individual naman, especially the family of the victims. Kailangan nila ng investigation," he said.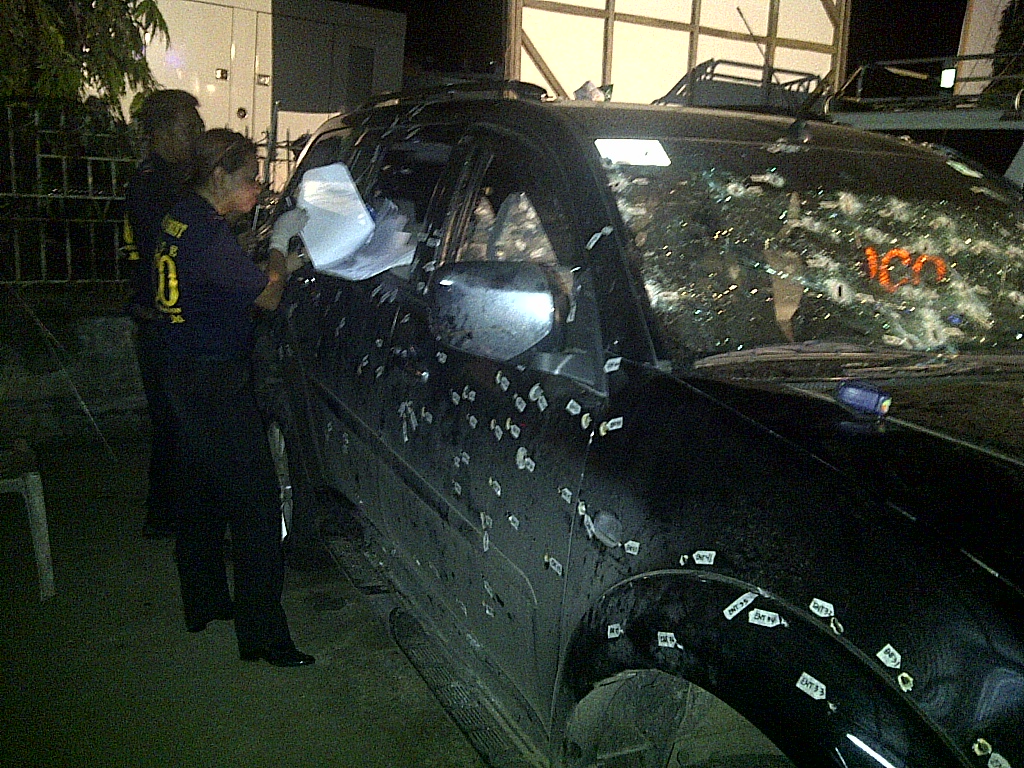 Scene of the crime operatives go over every detail of a bullet-riddled SUV from the Atimonan, Quezon shootout last Sunday.
Provincial police had earlier reported that the victims were members of a gun-for-hire group, but relatives of the slain men have denied the allegation. One of the casualties was environmentalist Jun Lontok, while at least
two others were policemen
on active duty.
The men were killed after their convoy supposedly ignored the police checkpoint along a highway in Atimonan town, prompting those manning the checkpoint to fire at them.
The PNP chief's admission contradicts earlier statements by the Quezon police and even presidential spokesperson Abigail Valte that the massacre occurred at a "legitimate checkpoint," where policemen were clearly in uniform.
Roxas said 15 PNP intelligence operatives at the checkpoint were in civilian clothes, while the rest were soldiers from the Philippine Army in their fatigue uniforms.
He said signages, manned by uniformed policemen, were set up 500 meters before and after the checkpoint asking vehicles to slow down for police inspection.
"Merong babala na may PNP checkpoint, pero doon sa checkpoint proper, walang signage na ito na nga 'yung checkpoint. Walang PNP-marked vehicle at sa halos 40 na tao na andun na nagma-man ng checkpoint, isa lang—ang chief of police ng Atimonan—ang naka-uniporme," Roxas said.
In addition to the sacked Quezon provincial director, Roxas said the other policemen involved in the supposed shootout are "deemed in restrictive custody."
"Doon lang sila sa quarters nila. Hindi sila pwedeng lumabas sa Camp Vicente Lim sa Region IV," Roxas said.
Positive in paraffin tests
The DILG chief likewise said that eight of the slain men tested positive in paraffin tests, which indicate the presence of gunpowder particles on their skins.
Roxas, however, added that the test results do not categorically prove that the slain men fired guns during the incident.
"Medyo speculation na kung kailan sila nagpaputok, pero ang assumption is sa gitna ng insidente sila nagpaputok," he said.
Roxas said 13 of the 14 guns recovered in the slain men's vehicles were licensed. Only seven of these, however, had permits-to-carry.
He added that one of the vehicles had 186 bullet holes, while the other had 50. However, he declined to comment on speculations that the bullet holes were indications of "overkill" on the part of the police.
Roxas said the PNP has until Friday to submit a complete report on the Quezon incident. The report will be forwarded to the National Bureau of Investigation, which has been tasked by President Benigno Aquino III to probe the reported shootout.
— with Carmela Lapeña/KBK/HS/RSJ/ELR/Illustration by Analyn Perez, GMA News