Movie review: Anne Hathaway and Hugh Jackman soar in 'Les Miserables'
Huddled in a corner, the (lovely) ladies of the night bear judgmental witness to Fantine's arrest, their caked-on makeup made more ghoulish by the glimmer of a waning moon. Inspector Javert's grim satisfaction at the justice he is serving is cut short by the arrival of Monsieur Madeleine, who orders the frail woman's release. As light snow begins to fall, and Madeleine removes Fantine from the scene to seek medical attention, Javert makes a silent declaration that this incident is far from over. Sooner or later, there will be a confrontation, and it will not end well.
Scenes such as this, meticulously staged and adeptly acted, characterize the film adaptation of the famed stage musical, "Les Misérables." Twenty-seven years after the play's (based on Victor Hugo's classic novel) West End debut, the film version boasts a star-studded cast that includes Hugh Jackman, Anne Hathaway, Amanda Seyfried, and Russell Crowe.
The story opens in 1815, where we are introduced to Jean Valjean (Hugh Jackman), a convict laboring under the watchful eye of Russell Crowe's Javert, a police officer with absolute belief in the letter of law. This belief places him in conflict with Valjean, who was imprisoned 19 years ago for stealing a loaf of bread to feed his sister's starving son. A kindly bishop, some parole jumping, one assumed name, and eight years later find Valjean living happily as a respected member of his community.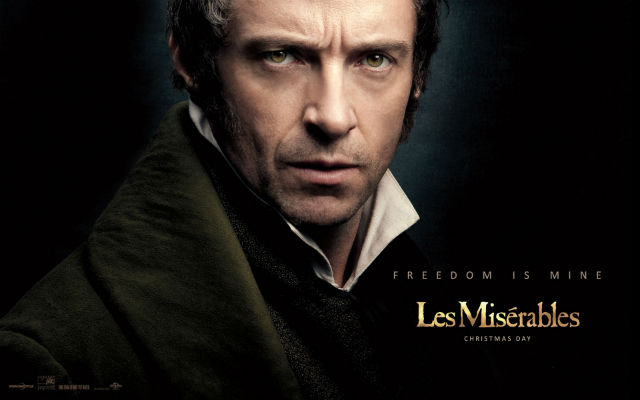 As Jean Valjean, Hugh Jackman finally breaks away from his traditional leading man image.
Valjean's second lease on life expires prematurely when he, in his new identity as Monsieur Madeleine, crosses paths with a dogged-as-ever Javert. Javert is investigating an incident involving factory worker-turned-prostitute Fantine (Anne Hathaway, in her Golden Globe-winning performance), when Valjean intervenes. Before Fantine succumbs to the rigors and injuries sustained from her time on the streets, Valjean vows to take care of her daughter, Cosette. With Javert in hot pursuit, Valjean purchases Cosette from the unscrupulous couple, the Thénardiers ("Sweeney Todd" vets Sacha Baron Cohen and Helena Bonham Carter, gleefully hamming it up), tasked with caring for the young girl.
Nine years later, on the eve of the 1832 Paris Uprising, Valjean and a now-grown Cosette (Amanda Seyfried) find their peaceful existence endangered yet again with the threat of student violence and the return of Javert. Complicating matters is Cosette's budding relationship with Marius (Eddie Redmayne, "The Other Boleyn Girl"), a young nobleman and revolutionary. As the activists and government forces hurtle headlong toward an inevitable showdown, so too do nemeses Valjean and Javert.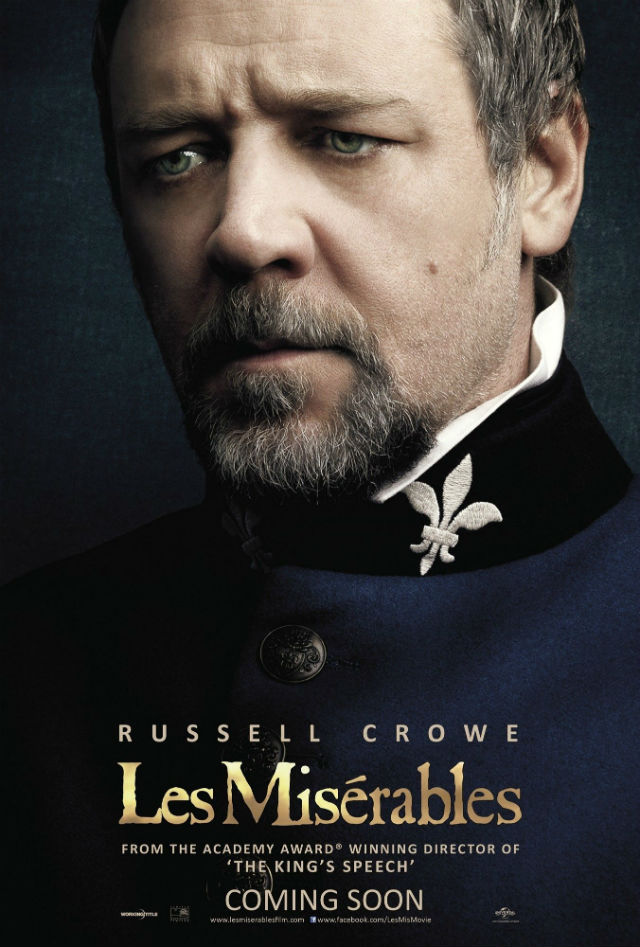 Russell Crowe makes an impressive lawman, even as his singing is anything but.
"Les Misérables" is not a movie musical in the traditional sense, nor is it a case of a stage production awkwardly grafted onto a cinematic template. What director Tom Hooper is presenting here is cinema as stage production, in the truest possible sense. This is a stage production, plain and simple, albeit one with a multimillion dollar budget and shot unlike any musical film you've ever seen.
With very few exceptions, filmed musicals are bold, lavish affairs shot with wide angles to showcase the intricate choreography and production design that went into their creation, where characters are just as liable to burst into song as pedestrians/gang members and/or construction workers are to line-dance. While all the prerequisite extravagance, big establishing shots and star power are present here, what stands out about Hooper's "Les Mis" is how intimate it all feels.
Much of this stems from Hooper's much talked about choice to have his performers sing all their songs live on set (rather than lip sync to a studio recording). While there have been other musicals shot with the actors singing live on set (1995's "The Fantasticks," for instance), never has there been one where the performers were forced to rely on the degree of sheer acting skill seen here, captured in unforgiving close-ups by cinematographer Danny Cohen for most of the major numbers. Without extras, props, choreography, or even a lip synch to hide behind, the combined effect is one that is simultaneously raw and immediate.
In "Les Mis," Hugh Jackman is able to finally able to distance himself from his blockbuster leading man image, portraying the fugitive Valjean with commendable verve and commitment. From his emaciated opening scenes to his ultimate denouement, Jackman makes full use of the Tony- and Drama Desk Award-winning chops that made him a hit on Broadway.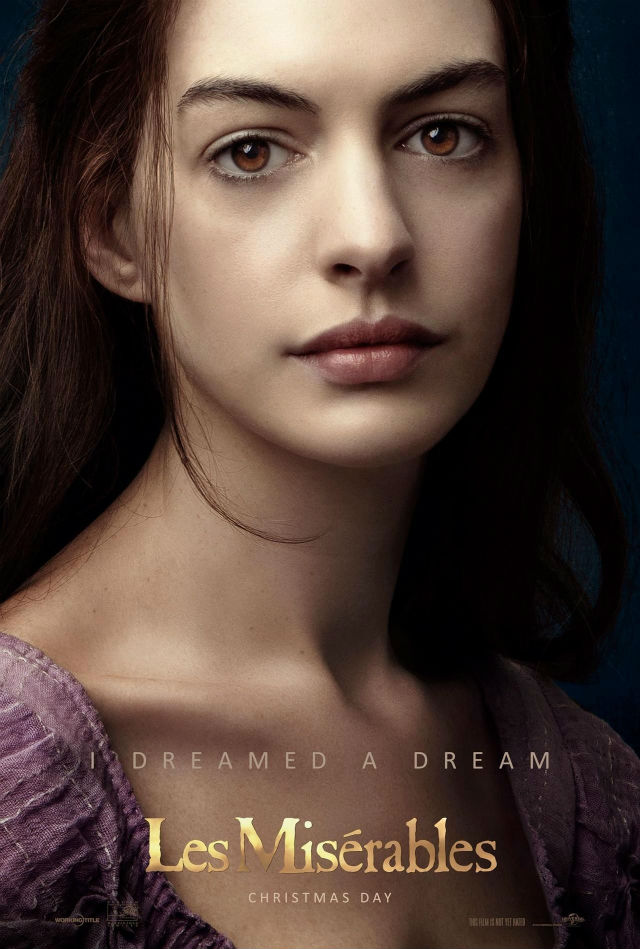 Anne Hathaway's Golden Globe-winning performance as Fantine is almost worth the price of admission.
And what of Anne Hathaway? Simply put, this is one instance where the hype is entirely justified; Hathaway is absolutely deserving of her
Best Supporting Actress Golden Globe win
(along with any other awards coming her way). If Jackman jumped headfirst into his Valjean, Hathaway
is
Fantine. Damaged in body, spirit, and dignity, Hathaway's Fantine is deadened in every way but her maternal drive to provide for Cosette, creating a performance that, for my money, ranks among the most heart-rending ever committed to film.
If there's a weak link in the cast, it would be Russell Crowe as lawman Javert. Crowe gives it his best shot, but is hampered by the fact that the hawkish nose that made him such a distinctive gladiator is also what he sings out of. Crowe cuts a striking, formidable figure in uniform, making it all the more unfortunate that his performance ends up being tear-jerking for all the wrong reasons.
Crowe aside, the supporting cast is impressive. Redmayne makes for a solid Marius – a far cry from Nick Jonas' constipated attempt in "Les Mis'" 25th anniversary concert. An alumna of that concert, Samantha Barks, holds her own as Marius' unrequited admirer, the tragically lovelorn Éponine, while Daniel Huttlestone is appropriately plucky as street-smart urchin Gavroche.
Unlike many stage-to-film adaptations, "Les Mis" had the sung-through nature of the stage version, meaning that the film contains far less actual dialogue than certain portions of the audience may be used to. For fans and patrons of musical theater, though, there is much to love about this sparkling translation of a beloved musical.
As much for longtime fans as it is for the uninitiated willing to give it a chance, "Les Misérables" is an excellent way to see this classic story, brilliantly retold.
Now that's something worth singing about.
—KG, GMA News
Photos courtesy of Solar-UIP

Mikhail Lecaros is a professional magazine editor and freelance writer. The views expressed in this article are solely his own.