Theater review: 'Katy' still works after 25 years
When rows of college students, decidedly younger than a three-hour period show they were watching, start to remind themselves to stop humming and to avoid stomping their feet, one can guess "Katy" hits a mark among the young Filipino digital natives.
No mean achievement, especially with their notorious short attention span and enchantment with foreign entertainers.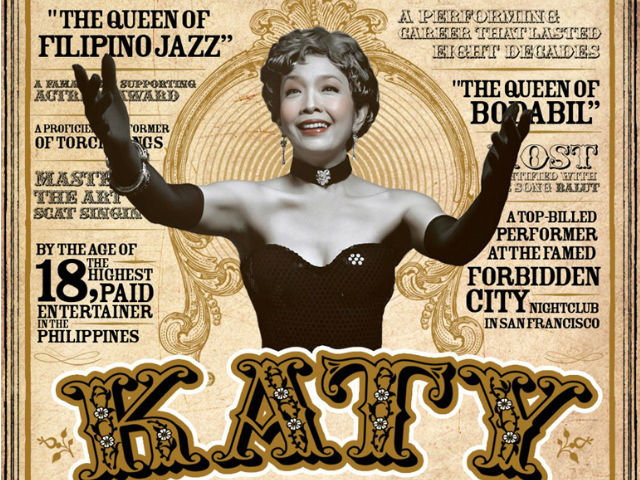 "We are at the Cultural Center of the Philippines," one teen said, to hush his friends who were becoming overexcited by the rambunctious music and songs of "Katy."
Much later, a grinning Maestro Ryan Cayabyab interrupts an interview during the "Katy" intermission to tell an awed Jose Javier Reyes that they should "collaborate more often" and that they better start working soon on the second and third projects they had vowed to do after "Katy."
"Katy," which premiered in November 1988, is a musical about the life, love, and loss of Katy de la Cruz, and is considered a landmark Filipino production, especially in the Original Pilipino Music genre.
De la Cruz, born Feb. 13, 1907 in Intramuros, is still known as the unrivaled "queen of Philippine bodabil." A torch singer, De la Cruz immortalized the song "Ang Balut," her naughty take on "A Tear Fell."
Directed by Nestor Torre, the musical "Katy" had its maiden showing at the now-demolished Rizal Theater in Makati, eventually moving to the CCP. It was an instant success. Its libretto was written by Reyes and music composed by Cayabyab.
The original cast had Mitch Valdes playing "Katy" and Celeste Legaspi as "Olivia," together with Marco Sison, Bernardo Bernardo, Pinky Marquez, Gigi Posadas, Beverly Salviejo, Lou Veloso, and backed up by the UP Jazz Ensemble.
On Jan. 17, almost 25 years after its premiere, "Katy" returned to the CCP, with Torre again directing, but with a different cast.
Isay Alvarez essays the role of the grown-up Katy, Dulce acts as Olivia, Aicelle Santos as the young Katy, Gian Magdangal as Peping, Tirso Cruz III as Tatay ni Katy, Epy Quizon as the young Dolphy and Ompong, Lou Veloso as the cranky stage director, Tricia Amper Jimenez as Hana-san, CJ Mangahis as the young Mary Walter, Yedda Lambuhon and Leana Tabunar as Batang Katy, and Allen Immanuel Ryce Salazar as Anak ni Katy.
Torre's January 2013 staging of "Katy" may elicit thoughtful debate among critics, notably for its remarkably sparse set design and frequent scene changes, which tend to derail the momentum. The CCP's Little Theater (Tanghalang Aurelio Tolentino) has its own technical limitations, further proof perhaps that funds for artistic productions are hard to find these days.
In spite of these production hitches, it must be declared that the return of "Katy" on stage to mark the production's silver anniversary is another milestone in the musical's garland of achievements.
Its executive producers, namely Robert Seña, his wife Alvarez, Jimenez, and Carl Balita, give Filipinos young and old another extraordinary chance to savor the rare gifts of librettist Reyes and composer Cayabyab. One can only wish that the music of "Katy" will soon be available in compact disc.
Alvarez, Dulce, and Cruz III more than displayed their natural musicality and vocal prowess, earning them repeated shouts of bravos and loud applause, almost every time they ended their song numbers.
As Katy's possessive father, Cruz III was a genuine revelation in this production. Although he has not appeared in a musical on a legitimate stage in over ten years, he has not lost his talent for singing and acting, which made him popular in the 1970s opposite Nora Aunor.
Magdangal, Jimenez, Fabie, Mangahis, Lambuhon, Tabunar, and Salazar did a commendable job of supporting the lead actors and actresses. The 13-member chorus cum supporting talents acting in various roles must also be acclaimed.
In her role as the young Katy, pop singer Santos revealed that she can shine on her own against the constellation of stars assembled in this production. In this staging of "Katy," Santos declared that the Filipino audience should expect more from her.
The movie-television actor Quizon, despite his initial reservations, successfully essayed his father's original role in the entertainment business, as Golay. In his tap dancing, Quizon revealed to the young members of the audience who may not have known his father as a nimble dancer that he has the legendary Dolphy's DNA.
The AMP Band, under the musical direction of the Mel Villena, provides live accompaniment in all performances of "Katy" and is another reason not to miss this show.
The 2013 mounting of "Katy" transports the audience to the lost era of bodabil, when live entertainment produced the biggest stars in the world. —KG/HS, GMA News
"Katy," a production by Spotlight Artists Centre and the Cultural Center of the Philippines, runs until Jan. 27 at the CCP Little Theater. It is one of the five original Filipino musicals set to be shown at the CCP this year. For details, call the CCP at (02) 832-1125 or Ticketworld at 891-9999.