Cameraman Egay Navarro, 62, shot history in a hurry
TV cameraman and cinematographer Egay Navarro, whose colorful career spanned six presidents, died shortly before midnight Wednesday of complications caused by a liver disorder. He was 62.
Using film, Navarro began shooting news events at the age of 19 in 1969 for the pre-Martial Law Channel 5. He would later head the Philippine operations of the international news agency UPI Television News during the heady days of the anti-Marcos protests in the 1980s, the EDSA Revolt, and the first turbulent years of the Cory Aquino administration.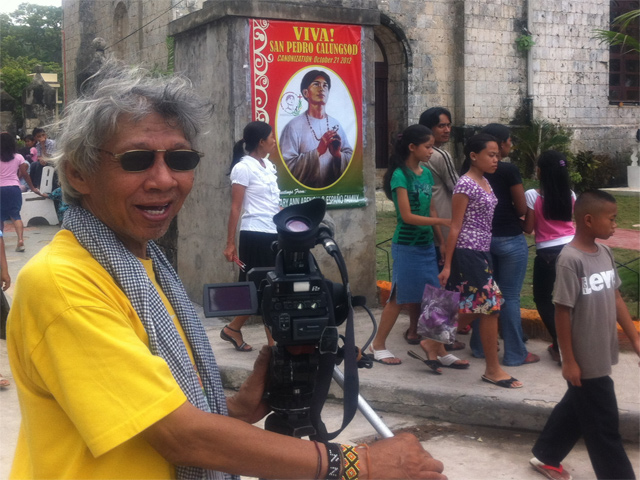 TV cameraman and cinematographer Egay Navarro, who never lost his child-like enthusiasm for work, is shown in Ginatilan, Cebu during his last shoot in October 2012.
Photo by Howie Severino
He became known as a cameraman with child-like enthusiasm and an instinct for being in the best position to shoot important events, such as the assassination attempt on Pope Paul VI in Manila in 1970.
Navarro developed a cinematic and playful style, applied on subjects as varied as tribal culture in the Cordilleras and former President Ferdinand Marcos at the height of his power.
In his 20s, Navarro was allowed to shadow Marcos on a trip to the Ilocos for the classic tongue-in-cheek propaganda film "The Real Makoy" directed by famed cartoonist Nonoy Marcelo, who included such characters as Marcos' loquacious mother and his elementary school teacher singing a nursery rhyme.
The son of filmmaker and pioneering TV cameraman Joe Navarro, Egay also did occasional independent feature films, such as the critically acclaimed Hunghong sa Yuta (Earth's Whisper) in 2008 directed by Arnel Mardoquio.
Navarro became best known for his documentary work, including over a hundred episodes of I-Witness that he shot with his long-time collaborator, journalist Howie Severino. He shot for other GMA public affairs shows such as Born to be Wild.
"He loved shooting so much he would shoot even when not on duty. He would shoot for fun and he would shoot at nearly every event he attended socially," said Severino. "He was like a reporter too because he made an effort to get to know his subjects and always had some insight into their character. Egay never lost his passion for work."
Navarro was a good friend of many artists and musicians, whose work he took pains to document through the years. In 2001, he and Severino followed around the late national artist Jose Maceda on his trip to the US where the avant-garde composer was overheard uttering in a lapel microphone, "These guys, they think they understand my work."
Aside from Maceda, Navarro had extensive footage in his archives of the work, performances and every day lives of Santi Bose, Jaime de Guzman, Pepe Smith, Pepito Bosch, Pinicpican, BenCab, Ramon Obusan, Kidlat Tahimik, Roberto Villanueva, Grace Nono, Joey Ayala, Bayang Barrios, Luis Liwanag, and many other cultural workers, performers, shamans, and personalities he met during his travels who struck him as kindred spirits.
But in a long career in news, he also documented killers, rebels, vigilantes, politicians of all stripes, and even the Ampatuans years before the massacre that now bears their name.
During field assignments, Navarro would rise before dawn so he could shoot the sunrise. Then he would explore the local market which quickly gave him a sense of the community he was in.
Like other great cinematographers, Navarro designed and built some of his own equipment, like the portable, home-made jib crane that he would take even on mountain shoots.
Navarro is survived by his partner Rica Concepcion, a filmmaker, and six children, Carlo, Nika, Agustin, Petra, Ninay, and Himalaya.
– DVM, GMA News