Transparent glass smartphones coming in 2013, researchers say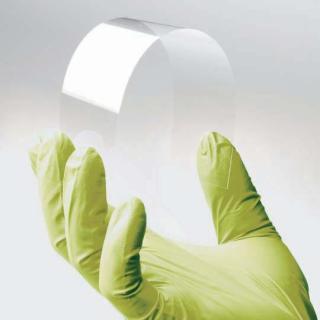 Bendable 'Willow Glass'. A new kind of highly flexible glass developed by Corning —the same makers of the high-strength Gorilla Glass found on many of smartphones— may see use in curved "smartwatch" wrist displays. Corning
Transparent glass smartphones may make their debut before the end of this year, a Taiwanese technology firm has predicted.
Polytron Technologies general manager Sam Yu made the bold prediction after his company produced initial prototypes of such a see-through device.
But PC World said the prototype phone was not functional - merely a demonstration of how the firm's technology can make part of the smartphone see-through.
Polytron is a subsidiary of US-based Polytronix, and focuses on glass technology. One of its main products is its "Polyvision Privacy Glass."
The privacy glass can toggle between transparency and a near-opaque cloudy white.
The prototype device is made from a light piece of glass, though components like the battery, camera, and memory card may remain opaque.
While Yu said he had no idea how much a transparent phone would cost buyers, he believes his technology can help make transparent electronic products a reality.
"All handset makers are looking to work with us. The technology is mature," he said.
Novel, lighter phones
Yu pointed out the patent for the technology was developed as early as four years ago.
"Current mobile phones are heavier, but with this glass you can make it much lighter," he said.
Transparent USB stick
Yu also displayed a nearly transparent USB memory stick that may be sold later this year.
He also demonstrated a speaker system embedded into a thin slate of glass. — TJD, GMA News