Donaire lands in NY, but still waits for Rigondeaux's VADA testing agreement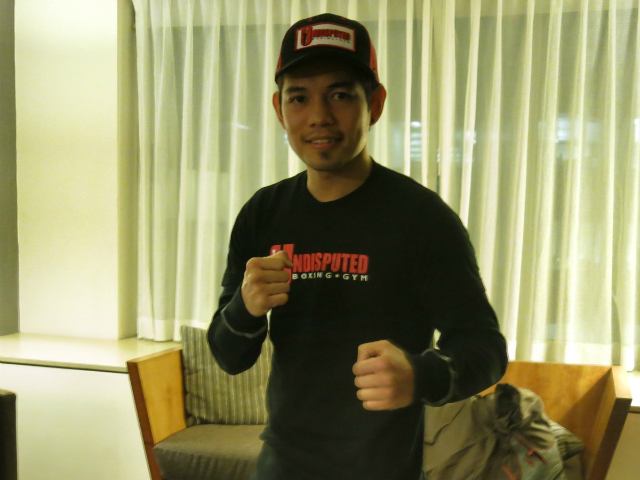 Nonito Donaire hopes Guillermo Rigondeaux is a man of his word and agrees to the doping tests of the VADA.
Ryan Songalia
NEW YORK - World junior featherweight champion Nonito Donaire Jr., has arrived in New York City ahead of Thursday's (Friday, PHL time) press conference to announce his fight with WBA 122 pound titleholder Guillermo Rigondeaux on April 13 (April 14, PHL time) at Radio City Music Hall in New York.
This despite threatening to back-out of the event yesterday if Rigondeaux didn't sign his agreement to submit to additional testing through the Voluntary Anti-Doping Association (VADA).
Donaire (31-1,20 knockouts) was adamant that he wouldn't push forward with the fight if Rigondeaux didn't sign his agreement to submit to additional testing through the Voluntary Anti-Doping Association (VADA).
"For me it's a voluntary thing, but he came out and said 'I'm gonna do this, I'm gonna do that' and then we negotiated that we both will take the test and at the last minute he plays the little game," said Donaire of San Leandro, Calif. by way of Talibon, Bohol, Philippines.
[Related: Rigondeaux to sign VADA agreement, Donaire to fly to New York]
Donaire is currently the only professional boxer undergoing random, year-round testing with VADA.
But after assurances from his manager Cameron Dunkin that Rigondeaux will sign, Donaire is ready for tomorrow's festivities. That said, he's sticking to his guns that he wants to see a signed agreement post haste.
"They should've signed it today, and if they haven't signed it tomorrow, I'm gonna make them sign it right then and there or I'm gonna pull out of the fight," said Donaire, whose record stands at 31-1 (20 knockouts). "Like I said, I don't need him. We can always get anybody out there. We already sent the papers, we sent in English and Spanish because I guess that was a problem.
"It feels like they're stalling time for me."
Rigondeaux (11-0, 8 KOs) says he has no issue submitting to the testing, citing the 2000 and 2004 Olympics in which he won gold medals at bantamweight for his native Cuba and had to submit to stringent testing. Rigondeaux's manager Gary Hyde said he would be handing in the signed document to Top Rank vice president Carl Moretti before the press conference.
"I'm going to take care of business and I'm willing to take any kind of anti-doping and it begins today," said Rigondeaux, who is reuniting with Pedro Diaz, the former Cuban national trainer who brought him Olympic glory as an amateur.
"I'm willing to take it with multiple organizations. I'm going to bring in another organization that I feel comfortable with. We're going to have two organizations so there's no excuses. I'm sure he still hasn't done any Olympic testing. I've been part of two Olympic games and I've gone through all the strenuous exams so I'm ready to go forward with any exams Nonito wants."
Last year, VADA changed the way people viewed state-regulated testing procedures in boxing when respected champions Andre Berto and Lamont Peterson failed tests administered by the independent agency.
Donaire, who had engaged in fruitless negotiations to pair up with WBC 122 pound titleholder Abner Mares, says that Rigondeaux is a tougher match-up for him stylistically than Mares.
"I think so, because he's a smarter guy," said Donaire, whose negotiations fell apart due to Mares' alignment with rival promoter Golden Boy Promotions. "Don't get me wrong, both of those guys will be tough fights and I would love to fight both guys, I want to make both fights happen. Rigondeaux is more of a boxer guy, and he thinks and has pretty good pop in his hands, but I don't think he has the ability to get me with those counters that he does with other guys.
"For the whole fights last year, Nishioka was the toughest fight because I had to use a lot of my skills, I had to use a lot of my intelligence in setting him up. It took me a long time to get him out. Mathebula, Vazquez and Arce, it looks like they were tough but it didn't give me the sense 'I have to pull out everything I have'. With Nishioka, I have to bring out all my cards. I think that's gonna be the same thing with Rigondeaux as compared to Mares, where Mares will come in and we know what to expect from him."
Donaire's trainer Robert Garcia concurred. "I think Rigondeaux is harder," Garcia said. "Talking to Nonito, he says right away, 'I'll knock him out' and I agree with him. If he catches 'Rigo,' Rigo won't be able to take his punch. I think he knocks him out, but he's a very talented, skillful kid, so you gotta be very careful."
Donaire, 30, is coming off of a career-best year in 2012, moving up to 122 pounds after winning world titles at flyweight, super flyweight and bantamweight and winning four title fights. For his efforts, Donaire was voted Fighter of the Year by the Boxing Writers Association of America (BWAA) and will be honored at a dinner event in New York on April 11, two nights before he fights.
Rigondeaux, 32, is now based in Miami, Fla. after defecting from Cuba in 2009. He will be making the third defense of the belt he won by knocking out Rico Ramos last January.
Donaire-Rigondeaux will be just the second professional boxing event to take place at New York City's iconic Radio City Music Hall. The first was in 2000, when Roy Jones Jr., who was then recognized as the best pound-for-pound boxer in the world, defended his three light heavyweight titles against David Telesco, winning by unanimous decision.
- AMD, GMA News
Ryan Songalia is a member of the Boxing Writers Association of America (BWAA) and contributes to GMA News. He is also a member of The Ring ratings panel and can be reached at ryan@ryansongalia.com. An archive of his work can be found

here. Follow him

on Twitter

too.