Furniture in the time of Facebook
There was a time when most people would think very little about furniture. A table was a table, a chair was a chair, and shopping for new furniture was far from exciting, as most stores had large "no sitting allowed" signs on their beds and sofas. Not that they were very inviting—many shops would keep their furniture tightly wrapped in plastic.
While this kept their products clean, it also kept customers from getting too involved in the process of picking out furniture for their homes. Today's consumers are very different. Not only do they want to try the furniture out, they want to customize the pieces according to how they want their space to look like.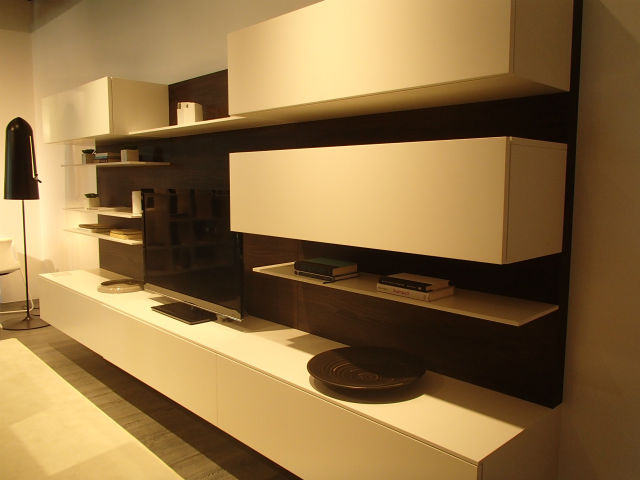 Wall-mounted units that are both decorative and functional.
Everyone wants to be a designer. Jaime Daez, who took up architecture in the early 90s, observed that people today are very involved in the design process of their homes, unlike before when most would rely on an architect or interior designer to do everything.
This is a reflection of what the Internet does, Daez added. "Everyone checks out pictures of their friends' houses. They put it on Instagram, they put it on Facebook. And because of that, everyone wants to be in some way a designer themselves, and wants to take an active part in the creation of their space," Daez said during a sneak preview of the Novamobili showroom on February 27.
Last Friday, the Italian furniture company opened its flagship store adjacent to the Bonifacio High Street branch of Fully Booked, where Daez is the managing director. Daez, who is also the managing director of Novamobili Philippines, said the company's designs are perfect for those who like to be actively involved in designing their homes.
"I think our designs, the designs of Novamobili are perfect for that market. Very current, very contemporary, very fresh and versatile," Daez said.
Although they have been in the business for decades, the company stays true to its name (which means new furniture in Italian) by working with young designers. "We believe a lot of the young people have more fresh ideas, more enthusiasm, and more positive energy," said Dario Reicherl, Novamobili director for Asia Pacific.
While constantly innovating, Novamobili also keeps the design style it is known for. "It's very Italian. You will never see here some wrong color matching with another wrong color. It's very clean," Reicherl said, explaining that the furniture for Novamobili must be integrated in the apartment, not be the protagonist of the apartment.
"All our collections and designers, the focus is to do something that is long lasting in terms of quality, but also in terms of design," he said.
Their collection ranges from large pieces for spacious homes, to multi-functional furniture for smaller spaces, such as their line called Forsingle, which features pieces that are designed for space optimization.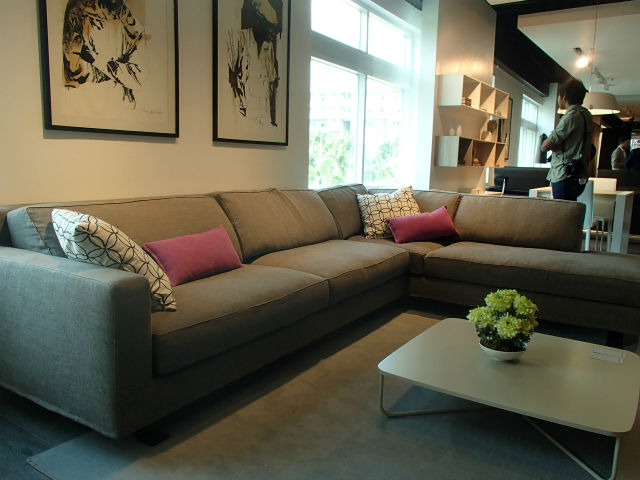 The sofa with two positions: for chatting and for watching TV
A sofa for chatting, watching TV
"When it is possible, we add different functions," he said. One example is the new trend for Novamobili's sofas, which feature two positions, one for chatting, and one for watching television.
Novamobili's designs are clean, and at first glance you might not realize how each detail is carefully thought of. Handles are rare, and doors open and close softly. A table for two easily extends to accommodate more diners, and a sofa bed unfolds almost effortlessly. The best part, as one writer observed, was that it didn't look like a sofa bed.
There were bookcases that could be adjusted for different sizes, from large design books to small paperback novels. There were sleek wardrobes with panels of blackened mirror glass, and wall-mounted units that were both decorative and functional. Pillows came in pretty fabric that could be removed easily, for no-fuss cleaning.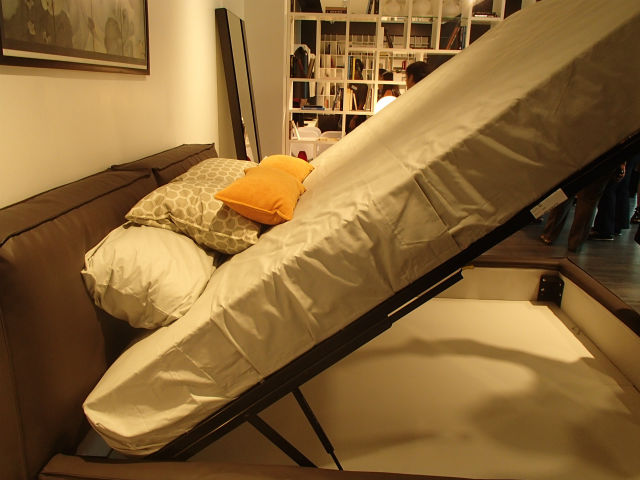 A sofa bed with plenty of space underneath for storage boxes.
As Reicherl promised, everything matched. Many of the pieces could also be customized, from the lacquer color of a table to the size of a cupboard unit. The Tempo Giorno collection, for instance, includes a wall unit that can have a different composition according to the client's wishes.
Reicherl stressed that coordination is extremely important. "You look at Italian trends and always try to match everything. It's even more important than fashion because you're going to live there every day," he said.
Novamobili's story began in 1952. A young Alfredo Battistella had learned woodworking from a master craftsman, and began to produce his own furniture in a small industrial building. Eventually, Novamobili was established in 1967, and is now headed by Alfredo's son, Mario.
Last year, they obtained the Greenguard Indoor Air Quality certification on chemical emissions. "Normal paint releases in the air chemical particles that of course you cannot smell, but they are dangerous," said Mario Battistella, explaining how the company became a pioneer in the Italian furniture industry when it began using water-based paint 15 years ago.
According to Battistella, water-based lacquer reduces atmospheric pollutant emissions by 95 percent. He added that the technology was very expensive, but in the end they were able to provide better quality than standard lacquer. Apart from using water-based paint, the company also uses materials with low emission of formaldehyde, and use recycled wood for all their furniture.
"It's not only about the environment. It's a lot about the health of our employees and our customers," he said in Italian, while Reicherl translated.
Apart from its green practices, the company takes pride in being 100 percent made in Italy. "Even the cows [for the leather] are Italian," Reicherl said. "I stress this concept because with the economy in the world that is so open, everybody can buy something from any other country, import in Italy and put a stamp," he said.
According to Reicherl, the company wants to change the perspective that Italy means expensive. "We want to change this point of view, especially in Asia... We want to give a democratic approach to the market. We have the Italian quality, Italian design with a price almost similar to locally made products," he said.
One of its most recognized products it the Reef sofa, which can be adjusted for chatting and for watching television. The sofa costs P399,000, including a glass coffee table.
This, according to Novamobili is "affordable luxury," as their prices can go down from 30 to 50 percent compared to other European brands. Daez noted that with the Philippines' booming economy, Novamobili is right for the Philippine market. "One of the things people always look for here are fresh current designs to reflect the contemporary market," Daez said. —KG, GMA News