Kiram followers should lay down arms unconditionally, Malaysian PM tells PNoy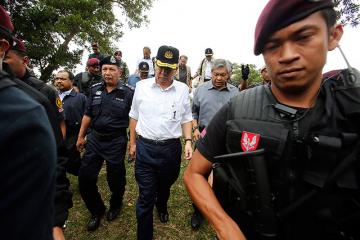 Malaysian PM visits Sabah clash site. Malaysian PM Najib Razak (center), along with Defense Minister Zahid Hamidi (2nd right) and police chief Ismail Omar (3rd left), arrive in Felda Sahabat near Kampung Tanduo on Thursday. Malaysian troops stormed the alleged camp of an armed Filipino group in Lahad Datu, Sabah on Wednesday. Malaysian security forces found 13 bodies of suspected Filipino gunmen as they expanded their hunt for the elusive armed group. Reuters/Bazuki Muhammad
(Updated 8:49 a.m.) - Malaysian Prime Minister Datuk Seri Najib Tun Razak has spoken to Philippine President Benigno Aquino III and told him the followers of Sulu Sultan Jamalul Kiram III who landed in Sabah last month in a bid to reclaim the territory will have to surrender their firearms in order to resolve the conflict there.
A
report
on Malaysia's The Star Online on Friday quoted Najib as saying Aquino called him up Thursday to ask him about how Malaysians felt about Kiram's offer of a unilateral ceasefire.
"I told him that they will have to lay down their weapons unconditionally," Najib was quoted in the report as saying in response to Aquino.
The Malaysian government has given Kiram's followers an ultimatum to lay down their arms or be "eliminated," after launching an air and ground assault on their hiding place in Lahad Datu district and establishing a defense line on the east coast of Sabah.
Najib asserted that the Malaysian military and police would hunt down Kiram's followers if they refused to give up, adding the operations will go on indefinitely.
"These operations will continue for as long as it takes," he said. So far, he was satisfied with the efforts of the Malaysian military and police forces, he added.
Malaysian forces said Thursday that
at least 31 Filipino gunmen were killed
in overnight clashes in eastern Sabah, bringing the death toll in the violence that erupted a week ago to at least 60 people, according to a report from Reuters.
The month-old confrontation in Sabah was sparked when the armed group numbering about 200, led by Kiram's brother, arrived from the nearby southern Philippines to press an old claim to the resource-rich region.
But Najib said the issue should not have arisen at all because Sabah "is a part of Malaysia and in the Cobbold Commission, more than two-thirds of the people in the state voiced their intention to be part of this nation (in 1963)."
"So the question about Sabah being part of Malaysia cannot be disputed by anyone inside or outside this country. And we will defend this position," he added.
Kiram's group is demanding recognition and an increased payment from Malaysia for their claim as the rightful owners of Sabah, part of Borneo island leased by the sultanate to British colonialists in the 19th century.
— with a report from Reuters/KG/YA, GMA News