Sulu Sultan's daughter, Princess Jacel, goes online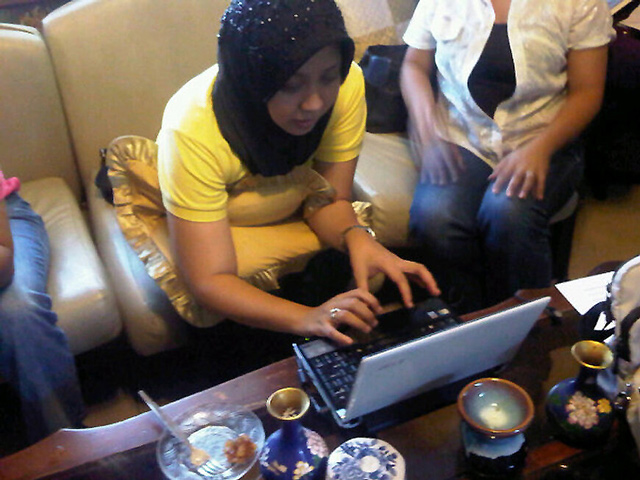 Sulu Princess Dayang Dayang Jacel Kiram checks her newly-created Twitter account @jacelkiram at her home in Taguig City on Wednesday.
Sherrie Ann Torres

The Sulu sultanate on Wednesday gained a presence in cyberspace as Sulu Sultan Jamalul Kiram III's daughter, Princess Jacel Kiram, created her own account on Twitter.
In her first two tweets, Princess Jacel affirmed that the account @jacelkiram is her official account, along with a greeting of peace:
Salam! This is my official twitter account.

— Princess Jacel Kiram (@jacelkiram) March 13, 2013



Long Live the Sultanate of Sulu!

— Princess Jacel Kiram (@jacelkiram) March 13, 2013



As of 6:00 p.m. Wednesday, she was following at least four tweeps and was being followed by 190 followers, many of them journalists.
Sulu Sultan Jamalul Kiram II's brother, Raja Muda Azzimudie Kiram, is presently in Sabah leading a group of armed Filipinos in a bid to supposedly reclaim the peninsula for the sultanate. They are now being hunted down by Malaysian security forces.
Malaysian security forces have been conducting offensives in Sabah to flush out Kiram's followers, following deadly clashes that started March 1.
The sultan offered a unilateral ceasefire, but Malaysia has rejected it and instead insisted on the unconditional surrender of Kiram's followers.
"For those who are asking, yes @jacelkiram is the official twitter account of Sulu Princess Jacel Kiram,"
GMA News' Torres tweeted
.
— TJD, GMA News