PUP studies sanctions against chair-burning protesters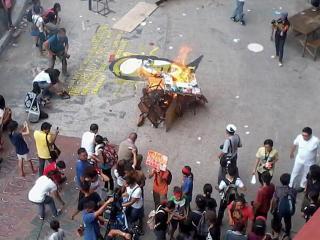 PUP students burn chairs in protest vs tuition hikes. Students of the Polytechnic University of the Philippines in Manila burn chairs during a protest action against tuition hike on Monday. The suicide of UP Manila student Kristel Tejada due to her family's failure to pay her tuition has sparked protests in UP Manila, UP Diliman, and other schools. Abigail Joy Liquiran via YouScoop
Two days after chairs were burned in its main campus in protest of a supposed tuition fee hike, the Polytechnic University of the Philippines was considering sanctions against students involved in the protest.
PUP president Emmanuel de Guzman said the sanctions being considered include suspension and expulsion, radio dzBB's Carlo Mateo reported Wednesday.
De Guzman also said the PUP administration will have the students involved pay for the damage.
He said they have identified many of those involved through video footage of the incident.
Last Monday, some students burned chairs during a protest against a supposed plan to raise tuition fees at the PUP.
The incident occurred at the PUP's main campus in Manila's Sta. Mesa district.
A separate report on Radyo Mo Nationwide said that while no one was reported injured in Monday's incident, at least one PUP employee was nearly hit by a thrown chair and suffered high blood pressure.
Monday's incident came in the wake of the suicide of a University of the Philippines Manila freshman who allegedly could not afford to pay her tuition.
But the incident was not the first time that some PUP students burned chairs and school facilities to protest tuition hikes.
In March 2010, PUP students walked out of their classes and burned "dilapidated" armchairs, according to an
article
on Bulatlat.
— DVM, GMA News