Brunei officially out of Challenge Cup qualifiers; Azkals ready to go
The AFC Challenge Cup Qualifiers for Group E's tournament has been reduced to three nations. This after Brunei Darussalam officially withdrew from the competition due to "unavoidable circumstances."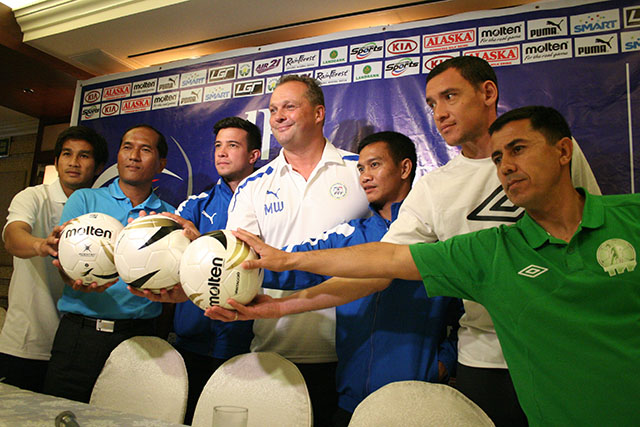 The AFC Challenge Cup Qualifiers' Group E has become a three-team tourney with the withdrawal of Brunei from the competition. Now Cambodia, Philippines, and Turkmenistan have fewer but harder matches to play. Roehl Niño Bautista

Philippine Football Federation General Secretary Atty. Edwin Gatanes stated that the PFF was only officially informed by the Brunei Federation today through the AFC match commissioners at noon today. Official communication from the AFC is still forthcoming as of press time.
Brunei's withdrawal came as a surprise to everyone. "They even asked for early arrival," said Atty. Gatanes, "and the Philippines as host obliged and made arrangements."
The Philippines, which was scheduled to play the Brunei side on March 22, Friday, at 7:30 PM, now has two more days to prepare for their match versus Cambodia. "That is two extra days for our Europe-based players to adjust to the heat," Weiss said, also noting the difference in temperature from the countries where the other Azkals are based.
Cambodia head coach Prak Sovannara said Brunei's withdrawal does not affect their preparation. Turkmenistan's Coach Ýazguly Hojageldyýew simply stated that their target is simply to qualify to the Maldives, the next step in the Challenge Cup. Turkmenistan have been training since January in preparation for this tournament.
In comparison, the Philippines has only had five or six days of training together, along with two or three "mini camps" in the past month. Weiss remarked that this was because of the ongoing United Football League tournament. Of course, the fact that the Azkals have many Europe-based players is also a big factor in this.
The German Coach also briefly complained of the "below standard" pitches in the country, and general lack of football infrastructure.
However, Weiss also added that he feels more excitement than pressured for this tournament.
As far as the rest of the tournament is concerned, the games will go on as scheduled. Cambodia will play their two games on Friday and Sunday. The Philippines will play their two games on Sunday and Tuesday. Turkmenistan will have a four-day break between their games on Friday and Tuesday.
Turkmenistan are most favored in the Group, having been in the Finals of the Challenge Cup twice before.
Patino Impressive
Javier Patiño, the Philippines' newest Azkal slated to make his debut in the Challenge Cup Qualifiers received all praises from Coach Weiss and teammates Rob Gier and Chieffy Caligdong.
"He's got good quality, which is good for us and good for the team," Gier said, also noting that Patino's former team Cordoba FC was able to play versus Spanish powerhouse Barcelona last year. "We're happy to have him," added Caligdong.
"He's committed," remarked Coach Weiss, telling the press how Patiño came back to the Philippines twice in a month to ensure that all his documents were in order. Patino has also since moved to Buriram United a team in Thailand's Football League, which brings him closer to the Philippines.
The Philippines' first game in the Challenge Cup Qualifiers will be on Sunday, March 24, 2013, against Cambodia at 7:30 PM. Games will be held at Rizal Memorial Stadium. - CLP, GMA News