2013 Comm. Cup Quarterfinals: #3 Petron Blaze Boosters vs #6 Talk 'N Text Tropang Texters
Elimination round record:
Petron 8-6
Talk N' Text 7-7
Elimination round matches:
March 22, 2013 TNT def. Petron 93-85 (OT)
April 17, 2013 Petron def. TNT 89-76
How they got here
Petron and Talk N' Text took similar routes to the playoffs. Arguably the two deepest teams in the league, both squad had difficulty winning consistently because of issues they've had to deal with in the middle of the season.
The Boosters were playing without Alex Cabagnot and Chris Lutz early in the season, but thankfully, Denok Miranda and Ronald Tubid ably stepped into the starting roles.
With import Renaldo Balkman's all-around game and tough defense from the locals, Petron zoomed out to a five-game win streak. Then the Balkman "incident" happened, and the Boosters had a tough time trying to find a replacement for the NBA first-rounder forcing them to absorb several losses to end the elimination round.
[Related: Petron Blaze Boosters vs Talk 'N Text Tropang Texters infographic]
The Texters on the other hand, had to deal with losses to their front court rotation as Ali Peek and Kelly Williams missed a huge chunk of the season due to injuries. They also had import troubles, swapping out Keith Benson for last season's choice, Donnell Harvey, who would then leave for personal reasons.
With their line-up in a state of flux for most of the elimination round, the Texters have been more inconsistent than dominant.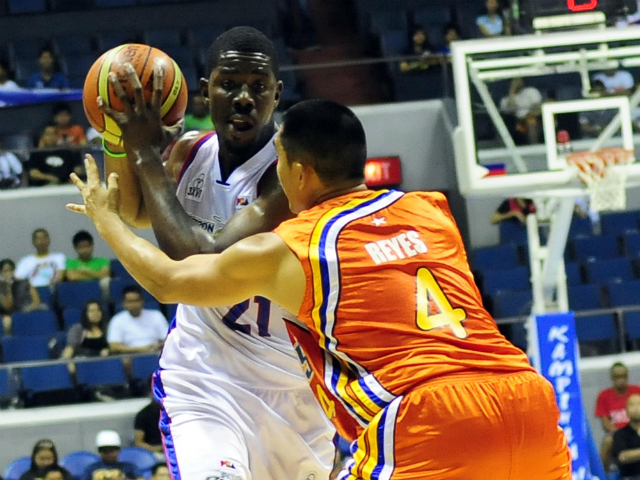 Petron import Henry Sims (L) has big shoes to fill, after an early dominant stretch by Renaldo Balkman.
KC Cruz
Import showdown
Henry Sims and Jerome Jordan are both late additions to their respective teams. Sims was a big name in the NBA Developmental League who's taking his fluid game to Petron. He's got a solid 15-footer to go with nice post-up skills.
Jordan on the other hand, is a big, strong import with a solid back-to-the-basket game. In terms of production, this is a stalemate as both imports average around the same numbers. Sims looks like a better fit for Petron though. He complements the inside game of Junemar Fajardo and has shown the ability to find the open shooter when doubled. Jordan has a knack for hijacking possessions which is a big mistake in the "share the ball" system of TNT.
In this series, Sims and Jordan cancel each other out. TNT and Petron are two loaded rosters with several weapons they can use. As long as neither Sims nor Jordan bomb in the quarters, the real match-ups that will dictate the series will be the local players of each team.
[Related: from the Stands episode 52 - previewing the quarterfinals]
The X-factor
The Boosters and Texters have a deep roster which makes for an interesting chess match between Petron's mentor Olsen Racela and his TNT counterpart Norman Black.
The Texters have the definite advantage in the back court. They have two of the best point guards in the league in Jimmy Alapag and Jayson Castro, specialists Larry Fonacier and Ryan Reyes and wild card Jared Dillinger. TNT leads the league in three-point shooting percentage and is one of the top teams in assists per game. Their wing play dictates the flow of their matches and it will be interesting to see how Petron will counter the TNT backcourt attack.
If TNT has a spit-fire backcourt, then Petron has a big and imposing front court. They boast of a steadily improving June Mar Fajardo, the 2012 number one overall pick, to man the paint, with the always-productive Arwind Santos. Off the bench is a dangerous scorer in Jay Washington and old reliable Dorian Peña. In the last game between these two teams, Petron's bigs dominated their TNT counterparts. Expect the Boosters to take advantage of their inside presence and repeatedly pound the ball into the paint.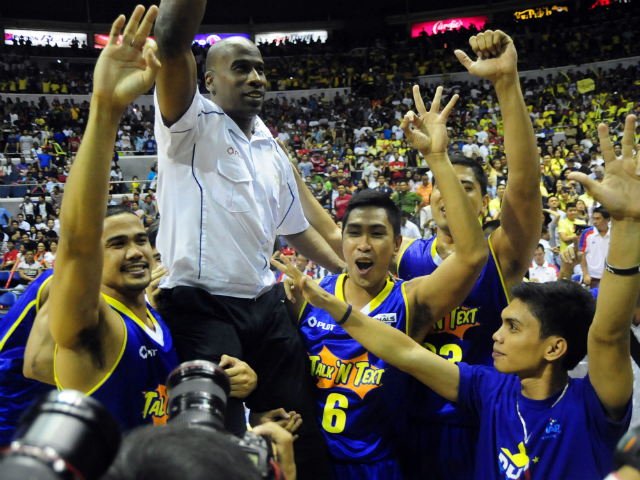 The Commissioner's Cup has been more of a struggle for TNT head coach Norman Black, but he's out to make it two titles in a row.
KC Cruz
The prediction
Out of all of the quarterfinals series, this is the one everyone should be paying attention to. Petron and Talk N' Text are two of the most evenly matched teams, stacked to the brim with talent. They both have players that are capable of stepping-up and leading their teams to win as well.
You can expect this series to be a defensive slugfest. It won't be pretty but it will be damn competitive.
Norman Black has seen his team struggle all season, but he's always been known to be the master of adjusting his game plan and rotation to coax the best out of each and everyone of his players. On the flip side, Olsen Racela has finally taken control of his team and looks comfortable with his game plan and rotation. Both coaches will look to exploit the mismatches and the weaknesses of their opponents.
It's a tough call and it's hard to bet against the championship experience of TNT but Petron looks healthier and peaking at the right time. They're going to win this series in three games. Three very tough, grueling games.
- AMD, GMA News