Mother of Sen. Guingona injured, 2 killed in NPA attack at Misamis checkpoint
(Updated 8:11 p.m.)
The mother of Sen. Teofisto Guingona III survived an attack by New People's Army guerrillas Saturday night, but her driver and another employee were killed.
"Last night, my mother, Ruthie de Lara-Guingona, who is in her 70s and concluding a third term in office as mayor of Gingoog City, was ambushed," her son Sen. Guingona tweeted on Sunday afternoon.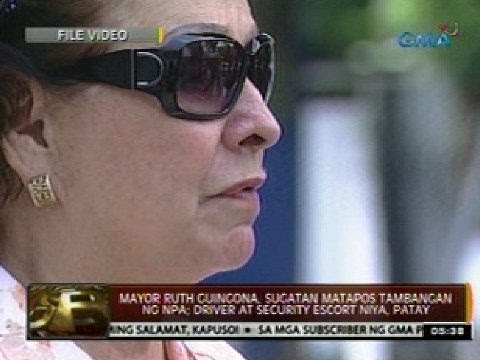 According to the Army's 4th Infantry Division spokesman Maj. Leo Bongosia, Gingoog City, Misamis Oriental Mayor Guingona was on her way to the city proper from a barangay fiesta coronation night when her four-vehicle convoy was attacked by the rebels at Capitulangan village around 10:45 p.m.
Bongosia said the rebels fired at the mayor's vehicle, killing driver Tomas Velasco and his brother, Nestor, who was an alternate driver.
Injured was one of police escorts, PO3 Rolando Benemirito. "The mayor sustained abrasions," said Bongosia.

NPA checkpoint operations

The military has called it an ambush, while the NPA insists that it was a checkpoint operation gone awry.

The Philippine Daily Inquirer quoted National Democratic Front (NDF) Mindanao spokesman Jorge Madlos as confirming the firefight but denying it was an ambush.

"There was a makeshift roadblock but somebody in their convoy ordered to run it over and fire at the NPA, who were forced to return fire," Madlos told the Inquirer by phone Sunday. "It is our heartfelt request to ask forgiveness from the family of Guingona. We did not expect this."

The NPA guerrillas supposedly only wanted to talk to the mayor, who has been campaigning for her daughter Marie, a candidate for mayor to replace her mother. According to Madlos, the Guingonas had not sought permission to campaign in areas the NPA considers under their control.

A report in Business Week Mindanao quoted Madlos as saying the NPA put up a checkpoint in Barangay Alegatan, 15 km southwest of Gingoog City, after getting reports politicians with armed escorts were campaigning in the area.

In a statement issued Sunday, the NPA apologized for the incident, but said it will continue its checkpoint operations in Mindanao.

"Despite this incident, the NPA will continue to put up checkpoints in the implementation of revolutionary policies and to ensure the peaceful conduct of election campaign in guerilla zones," it said.

"We wish to reiterate our warning to all candidates who are campaigning in guerilla zones to avoid carrying firearms or armed escorts to avoid the occurrence of similar incident in the future."

As for the civilian casualties, the NPA said it "will exhaust all efforts to contact their families to extend our indemnification and lend needed medical assistance to the wounded."

The NPA also denied that the encounter was an ambush, saying that the Guingona convoy's escort fired first and that its "Red fighters" fired back in self-defense.

However, provincial police director Senior Superintendent Nilo Cabog insisted that the NPA staged an ambush and not a checkpoint.

Armed Forces of the Philippines spokesman Col. Arnulfo Marcelo Burgos said the mayor and Benemirito were brought to the Gingoog Sanitarium and Hospital for initial treatment. The mayor was then flown by a military helicopter Sunday to Cagayan de Oro City.

He added, "We sent troops to the area less than 30 minutes later for clearing and pursuit operations…As of now, the pursuit operations are ongoing."

According to a report on MindaNews, Guingona will complete her third term as mayor on June 30. Her daughter, Marie, is running for the post under the administration's Liberal Party.

Her son, Sen. Guingona, ran for senator and won under the LP in 2010. He is eligible to run for another term when his current term ends in 2016.

Guingona's husband, Teofisto Jr., served as Vice President under President Gloria Macapagal Arroyo from 2001 to 2004.

Palace condemns attack

Malacañang on Sunday condemned the ambush on Sen. Guingona's mother.

Deputy presidential spokesperson Abigail Valte said there is no place for violence on any official, even during the run-up to the May 13 elections.

"Kinukundena natin ang atake kay Mayor Guingona... Kahit anong dahilan, walang lugar itong bayolenteng pagkilos kahit sinong opisyal o kandidato," Valte said on government-run dzRB radio.

When asked if the perpetrators had been identified, she said not yet, since the operatives "are concentrating on pursuit."

Valte also said the Palace condoles with the families of the two aides of the mayor who were killed in the ambush.

Vice President Jejomar Binay also condemned the ambush in a statement on his Facebook account. "Violence should never be tolerated. I trust that our law enforcement officers will be able to capture the perpetrators soon so that justice will be served," he said.

He also offered his condolences to the family of her driver and security aide, who were killed in the attack.

"I pray God will give them strength in this trying time," he said.

For his part, Presidential Communications Development and Strategic Planning Office head Ramon Carandang tweeted to Sen. Guingona his sympathies to the Velasco family and relief that Mayor Guingona is safe.

"The attack on your mom was an act of cowardice by a group of morally bankrupt people," he added.

Rescued at dawn

In a series of tweets on Sunday, Sen. Guingona condemned the attacks and offered condolences to the families of the other victims:

"She was wounded but her driver and security escort did not make it. Nestor & Bartolome Velasco were loyal employees of long standing in our family's home in Mindanao. My heart grieves for them & their families.

"Wounded and trapped inside the vehicle that fell on its side due to grenade explosions, my mother was rescued at dawn today.

"The New People's Army has fired upon an elderly and innocent woman who is already bowing out of politics.

"They alleged that they fired upon my mother for breaching policy of bringing arms in their checkpoint. The persons carrying the arms are PNP.

"We would like to remind everyone in this country that there is only one government of the Republic of the Philippines.

"There is only one President in charge of executing the laws of this land. No one else has the right to usurp the laws of this country.

"Thank you for all your prayers for my mother. For now, I am relieved that she is safe and in stable condition."

Out of danger

A report on government radio dzRB said Mayor Guingona was out of danger as of Sunday noon.

A separate report by radio dzBB's Allan Gatus said Mayor Guingona was wounded in the lower right knee while Benemirito was wounded in the face.

The dzBB report quoted local police as saying the area where the ambush occurred was considered "red territory," or under threat by the communist New People's Army.

On the other hand, the dzBB report said it is possible Mayor Guingona may be airlifted to a Metro Manila hospital for further treatment. — LBG/BM/HS, GMA News