Agriculture: The decline of the poor man's sector
(Updated 10:18 p.m., 7 May 2013)
Among the three main sectors of the Philippine economy, agriculture is the most neglected in terms of investments and development. Its contribution to the gross domestic product (GDP) has declined to 11 percent last year from 20 to 30 percent in the 23 years to 1969.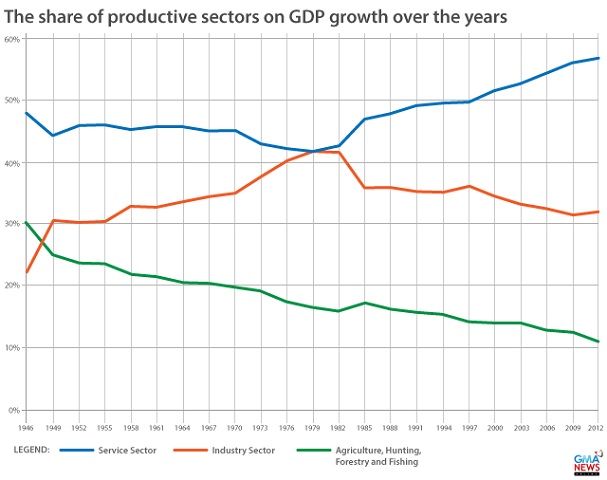 Data from the National Statistical Coordination Board
As such, it is no wonder that farmers and fisherfolk are among the poorest people in the country.
Take for example Benjamin Duqe, a 43-year-old farmer who has been working in Hacienda Luisita for nine years.
Without a tractor of his own, he rented one for P3,000 for every hectare's worth of work. But since his income was unable to sustain its use, Duqe had to borrow P35,000 from a bank to buy a carabao and an old-fashioned plow.
And not once during those nine years did he see any government support so that he could buy his own tractor, Duqe lamented.
"Wala pang binibigay ang gobyerno 'dun. Nakikiusap nga kami sa gobyerno kung maaari sana bigyan kami ng suporta. (Ngayon), wala pa nga," said Duqe, who belongs to the United Luisita Workers' Union.
Duqe claimed he was able to make do without any farming equipment through "banat buto." "Sariling pambubungkal na lang ginagawa namin," he said.
Duqe is one of millions of Filipinos who make a living generating most of the country's food supply.
Agriculture, after all, is one of the "real" sectors to which the society's poorest belong, said Professor Rene Ofreneo of the UP School of Labor and Industrial Relations.
Despite this, agriculture contributes the least to economic growth, leading experts to believe that progress may be long in coming for the country's "poorest majority."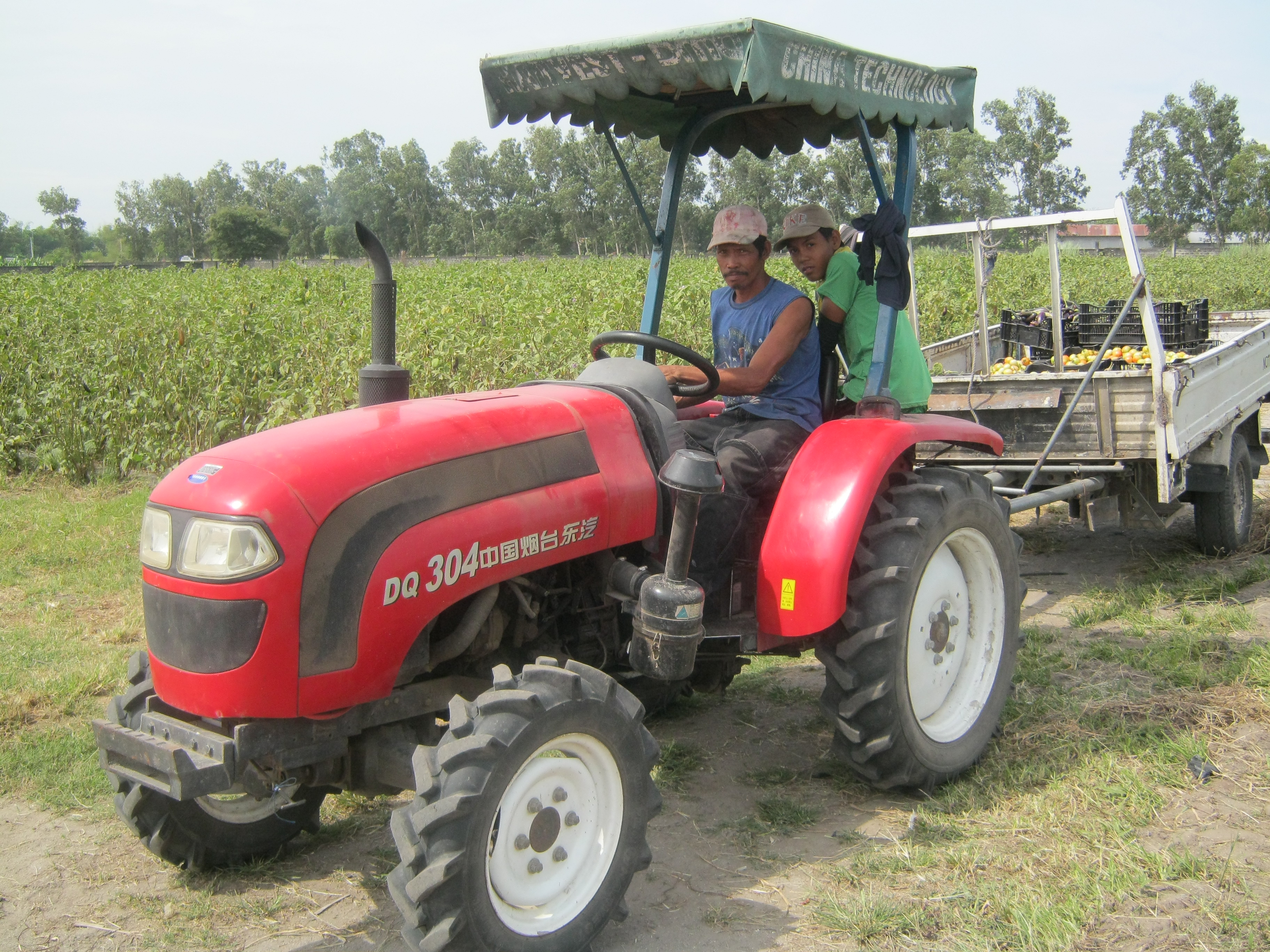 Uneven share of the pie
A country's economic growth, quantified as GDP, is supported by three sectors of production: services, industry, and agriculture. GDP is also calculated in terms of expenditures as measured through household and government consumption, investments, and net exports. In short, it is the sum of all goods and services produced by a country in a given period.
More than 60 years ago, all three sectors of GDP contributed a relatively even share to economic growth.
From 1946 to 1969, agriculture accounted for 20 to 30 percent of GDP, services 42 to 47 percent, and industry 22 to 35 percent.
But these days, the sectors' respective contributions to economic growth seem to have turned lopsided.
In the particular case of agriculture, its GDP share since 1970 has never gone beyond 20 percent, while services and industry have come to account for 41 to 56 percent and 35 to 40 percent of output, respectively, according to government data.
Meanwhile, agriculture's contribution to the economy has continued to dwindle, down to 11.06 percent of GDP last year.
'Neglected sector'
Economists believe that the widening gap is a result of unequal distribution of investments. This is especially true for agriculture, experts say.
"It's a neglected sector," UP's Ofreneo told GMA News Online. "'Yung government naman natin... walang nalalaan sa productivity."
For economist Bernie Villegas, a professor at the University of Asia and the Pacific, agriculture is a sector "that has been neglected for 30 years."
"The biggest mistake of the Philippines is to ignore the countryside and agricultural development for the last 30 years," the economist noted.
"If small farmers are not eating anything, don't be surprised that agriculture is not contributing much to GDP," Villegas added.
Even the Department of Agriculture can't deny the neglect the sector has suffered through the years. It noted, however, that the government is now investing heavily in agriculture.
"Ang problema lang, ang ating agrikultura for a long time, hindi masyadong nabigyan ng karapat-dapat na investment at tugon sa kanyang pangangailangan," Agriculture Assistant Secretary Dante Delima told GMA News Online in a separate interview.
Pattern of development?
But this apparent decline in agriculture's share in the national output is no cause for alarm —or so the National Economic and Development Authority (NEDA) believes.
NEDA chief Arsenio Balisacan, in another interview with GMA News Online, said that agricultural-based countries like the Philippines go through such patterns of growth on the road to development.
"Every country that is initially agriculturally-based goes through that pattern that their economic growth's importance... of agriculture into GDP... decreases," he said.
The demand for agriculture is income-elastic, Balisacan explained, clarifying that the term simply means that the demand for agriculture does not increase with income.
"The demand for industrial goods and services grow faster with income than with the case of agricultural produce," he said.
Meanwhile, technological advancements in the industrial and services sectors have pulled up their profits at a faster rate than agriculture. Relatively, agriculture is thought to be a riskier investment.
"Those combinations—the technological change and the faster growth in demand for agricultural growth—mean that share of agriculture in GDP will decrease over time as per capita income of population increases," Balisacan said.
However, Leonina Mendoza Morillo from NEDA's Office of the Secretary for Socio-economic Planning added that "as household income rises, there is an increase in demand for goods and services."
On the contrary, "staples and other ... agriculture-based products are relatively less income elastic compared to industry products," she said in an e-mail to GMA News Online last Saturday.
Morillo however clarified that it is the "share of agriculture in GDP, and not the demand for agriculture per se, which declines as income per capita increases."
"To make this easier to grasp, when a person's income rises, that person can only consume as much food and other staples while a wide array of manufactured goods and other services become more available to him/her," she said.
Employment and poverty
Agriculture remains a main generator of employment.
"Despite 'yung lumiliit 'yung share sa GDP, 'yung contribution of agriculture sa employment, mataas pa rin. It's almost 30 percent pa rin," Balisacan said.
In its
latest Labor Force Survey
, the National Statistics Office noted that over 1.15 million Filipinos were employed in agriculture in January of this year alone, the second largest number of people employed in a sector next to the 2.05 million employed in services.
But people who make a living from agriculture are among the poorest in country, according to latest figures from the National Statistical Coordination Board.
Poverty incidence among the fisherfolk is highest at 41.4 percent in 2009
, followed by farmers at 37.2 percent.
"The incidence of poverty is very high in agriculture because of its low productivity," Balisacan explained.
Morillo added that "the incidence of poverty is very high in agriculture because of its relatively slow growth."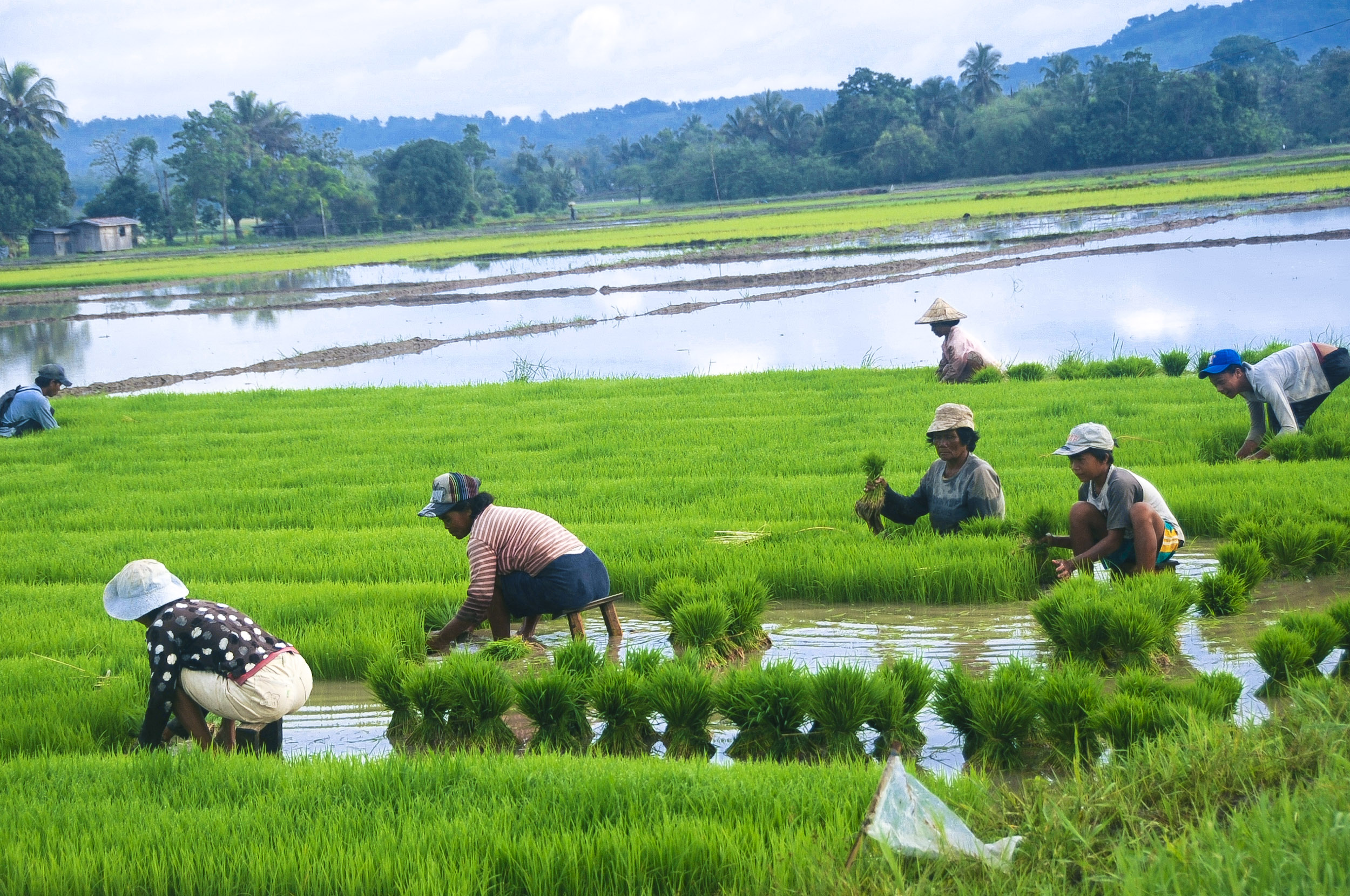 Need for investments
To address this problem, the government should invest in human resource development, infrastructure, and productivity, experts say.
"Dapat tinututukan 'yung mga tao talaga," Ofreneo said.
"What you truly need if you want to address poverty (is) to increase productivity for agriculture to increase the income of the household," Balisacan said.
Land reform is also crucial so that farmers can achieve a higher standard of living, said Sonny Africa, executive director of progressive think-tank IBON Foundation.
"There is no secret to agricultural development, which starts from rapid and genuine distribution of land to farmers and then giving them the means to make this productive," he said.
Access to credit and markets
Constraints, however, are a bane to developing the agriculture sector, including access to markets and credit, according to the NEDA chief.
"Ang pinakaconstraint sa agriculture 'yung connectivity (ng) farmers to markets. Which means we need to have good infrastructures in the rural areas," Balisacan said.
"'Yung access to credit sa technology is also very low in agriculture," he added, noting that banks tend to invest in industry because agriculture is seen as more "risky and costly."
Banks even impose higher interest rates on farmers than on businesses, Delima noted.
"Dapat fair ang treatment ng magsasaka at ibang negosyante. Bakit ang mga negosyante, nakakakuha ng 6 to 8 percent interest. Bakit ang mga magsasaka, 20 percent pataas?" he added.
Growth?
Even as Duqe continues to till his land in Hacienda Luisita —ironically enough, owned by President Benigno Aquino III's relatives— the country has been boasting of
record performances in the stock market, an investment grade credit rating, and a robust GDP growth
.
After all, the
Philippine Stock Exchange has set 27 record highs on the benchmark PSEi so far this year
and is expected to climb even higher. And global debt watcher Fitch Ratings gave the country investment grade rating, which could mean more funds flowing into the financial markets.
But what do all these economic achievements mean for farmers like Duqe?
"Hindi ko masasagot ang tanong mo dahil wala pa akong nakikitang paglago ng ekonomiya," he replies simply. —
VS/TJD/BM, GMA News