Mayon Volcano spews ash, smoke; Phivolcs says no cause for panic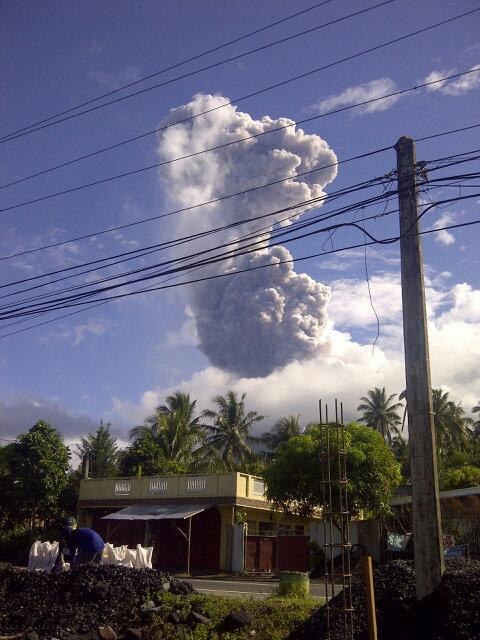 Mayon Volcano spews ash. Photo by misterohnard on Twitter.
(Updated 12:03 p.m.)
- After months of relative quiet, Mayon Volcano spewed ash and smoke early Tuesday, startling residents in Albay province in Bicol.
Residents saw an ash column coming from the volcano, according to a report by radio dzBB's Carlo Mateo.
"We were starting our prayer and somebody spotted it. It was really beautiful," Sister Mary Rafael of the Monastery of the Most Holy Redeemer, who was in Legazpi City in Albay and who saw the phreatic (steam-driven) eruption, said in an interview on dzBB radio.
She said she saw the smoke shortly after 8 a.m.
But as of 8:36 a.m., she said the "mushroom effect" had "dispersed."
"Nagbubuga pa rin maraming clouds pero hindi na tulad kanina na mushroom na maganda tingnan," she said.
Rafael said the people near the convent did not appear to panic. "It's part of our life in the Bicol area," she said.
GMA TV reporter Lia Mañalac del Castillo posted on her Twitter account a
photo showing thick smoke from the volcano
.
The Philippine Institute of Volcanology and Seismology in November 2012
had lowered the alert level of Mayon from Alert Level 1 (Abnormal) to Alert Level 0 (Normal)
.
At least five climbers died and seven were injured
as the volcano spewed ash, however.
No cause for panic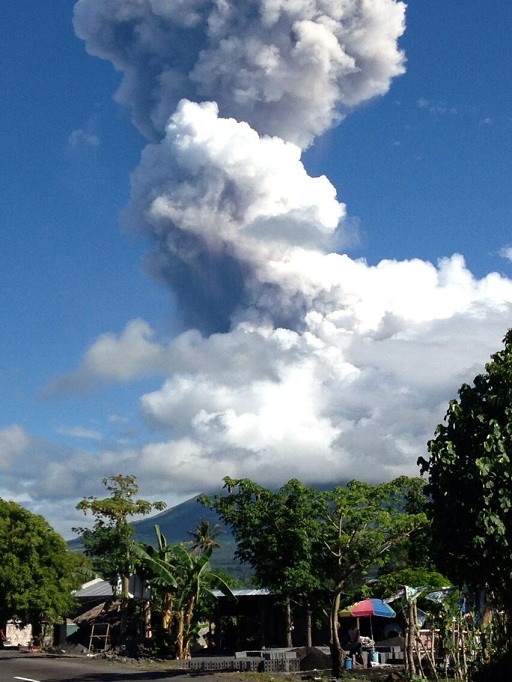 After months of relative quiet, Mayon Volcano spewed ash and smoke early Tuesday, startling residents in Albay province in Bicol. Photo by GMA News reporter Lia Mañalac-Del Castillo
Phivolcs director Renato Solidum Jr. said there is no cause for panic as such "steam-driven explosions" can happen even when Mayon is at Alert Level 0.
In an interview on dzBB, Solidum cited initial information indicating the explosion occurred at 8 a.m.
But he reminded the public not to venture near the six-kilometer permanent danger zone around the volcano.
He also said they will continue monitoring the volcano to see if there is a need to raise the alert level.
"Titingnan natin ano susunod na mangyayari sa susunod na araw," he said when asked if Phivolcs will raise the alert level.
'Ash puff'
Phivolcs said on Tuesday that the stirring of the Mayon volcano was just a "regular" occurrence.
"[This is a] very small phreatic event. This is regular," Phivolcs Science Research Specialist Espie Del Mundo told GMA News Online in a phone interview on Tuesday morning.
Del Mundo said that the phreatic event, which is not to be mistaken as an eruption, is actually more of an 'ash puff.'

It occurred at 8 a.m.
She said that as of past 8 a.m., there was no damage due to the ash puff. There were also no earthquakes recorded.
"As of the past 24 hours there were no recorded volcanic quakes," Del Mundo said adding that "Hindi need mag-issue ng evacuation."
But she reiterated that to assure the public's safety, people should stay away from the permanent danger zones established on the perimeter of the volcano.
The ash puff was caused by pressure buildup which has been brewing for several years, according to Del Mundo.
She noted that the last ash puff spewed by Mayon Volcano was in 2010.
'Not the worst'
Phivolcs said that the "most destructive eruption" of Mayon on record was on Feb. 1, 1814, when it erupted with "plinian, pyroclastic flows" and "volcanic lightning and lahar."
Phivolcs lists Mayon as one of at least 23 active volcanoes in the Philippines, along with Mounts Pinatubo (Central Luzon) and Taal (Batangas).
—With a report from Andrei Medina/KG, GMA News