Widespread blackout hits Luzon due to outage in five power plants
(Updated 11:15 p.m.)
A widespread power outage hit Metro Manila and other parts of Luzon early Wednesday afternoon, compelling office workers to toil by candlelight and raising concerns about possible disruption on election day next week.
Shortly after the outage, the
LRT went on code red at about 2 p.m. – all trains on hold position, no entry in all stations - for both Lines 1 and 2
, LRTA spokesman Hernando Cabrera said on Twitter.
LRT-1 resumed full line operations at around 5:55 p.m., according to the latest tweet from Cabrera.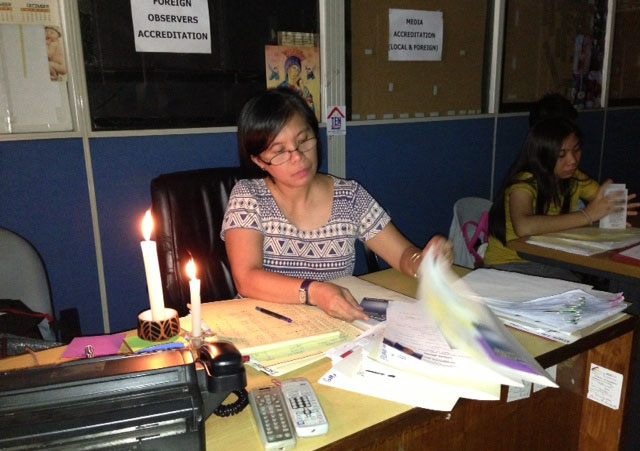 A Comelec employee at the main office in Intramuros, Manila, on Wednesday continues with her work with the help of candles as a power outage hit the National Capital Region.
Amita O. Legaspi
The blackout was caused by a sudden
outage in five plants supplying power to the Luzon grid
, the National Grid Corp. of the Philippines (NGCP) said.
In a statement posted on its Twitter account, the NGCP said a total of 3,700 megawatts went offline, and it had no timetable when power would be restored.
"(But the) NGCP assures the public that its transmission lines are secure and fully functional. It will dispatch available capacities once the power plants are restored and online," it said.
Power outages were reported as far north as the Ilocos region and as far south as Bicol in the main island of Luzon.
NGCP spokesperson Atty. Cynthia Alabanza said five power plants in Luzon, which has an average energy requirement of 8,000 megawatts, went on emergency shutdown at the same time for still unexplained reasons.
The cause of the major power disruption was still unknown an hour after it started and photos of candlelit Comelec workers began to be shared via Twitter, prompting nervous jokes about rehearsing for election scenarios on May 13.
Meralco franchise
Meralco said on its Twitter account: "At 1:51 p.m., a widespread power outage occurred within the franchise area of Meralco. Cause is still being checked."
The company's spokesperson Dina Lomotan said Meralco has resorted to load dropping in some areas, and making sure critical facilities like Malacañang and the LRT are spared from the effects of the outage. However, power was cut in both areas anyway.
In an interview with GMA News Online, Meralco Spokesperson Joe Zaldarriaga said the power outage was caused by a sudden supply deficiency, but he said they are confirming the exact causes of the outage.
"What I can say is around three thousand megawatts ang nawala sa grid," Zaldarriaga said.
A tweet from Meralco later said,
"Several transmission lines tripped out due to still undetermined cause, resulting in the isolation of Sta. Rita, San Lorenzo, Calaca, Ilijan, QPPL [Quezon Power Plant Philippines, Ltd.] and Sual 1 power plants. Meralco is closely coordinating with NGCP on the matter."
External factors
A statement from the First Gas Power Corporation on the widespread blackout said: "At around 1351H all 6 Units of Santa Rita and San Lorenzo simultaneously tripped caused by external grid event. The units are being prepared using emergency backup power supply of plant and ready for startup awaiting backfeed power from grid."
A separate advisory from Team Energy, which runs the Sual coal-fired plant in Pangasinan, also attributed the outage in the facility "to external factors."
The statement added: "The drop in grid frequency caused by the trip of other plants resulted in an automatic trip of Sual unit 1. This is a protective system meant to prevent major damage to our facility. We are currently trying to start up the plant. Barring any complications, It should be ready to provide electricity to the grid in 1-2 hours."
Likewise, Kepco Philippines, operator of the Ilijan power plant located in Batangas City, also blamed external factors for causing the power outage in one of its operational blocks.
"Ang disturbance [ay] galing sa labas. [Then] nag-operate 'yung breaker to activate protection," Patrick Dy Echo, Ilijan power plant's plant reliability department manager, told GMA News Online.
Of its 1,200 MW capacity, about half or 600 MW was temporarily deactivated. But operations were back to normal by 7:50 p.m.
As of posting time, GMA News Online was unable to reach representatives of Quezon Power Philippines Ltd. in Mauban, Quezon, and DMCI Power Corp., operator of Calaca power plant in Batangas
Power slowly restored
The National Grid Corporation of the Philippines estimated that Luzon's power supply would be back to normal before 12 midnight, according to a report aired on GMA News TV's "State of the Nation with Jessica Soho" Wednesday night.
As of 9 p.m., 89 percent of Meralco's (Manila Electric Company) franchise area had its power restored, while the Luzon grid had 77 percent of its power back.
"We're slowly restoring as the power is coming in," Meralco's Zaldarriaga said, adding that full restoration is expected in affected areas in Metro Manila, Bulacan, Rizal, Cavite and Laguna within the day.
In Camarines Sur, GMA News' Naga bureau reported that power had been restored by 5 p.m.
Election day
The Department of Energy immediately allayed fears of sabotage, with one week to go before the May 13 elections.
DOE Secretary Jericho Petilla said they are undertaking preventive measures to make sure such a massive blackout will not be repeated on election day, radio dzBB reported.
Mylene Capongcol, Director of the DOE's Electric Power Industry Management Bureau, said they are taking steps to minimize the chances of a repeat of the widespread outage.
"Posible yan, kaya yan tinitingnan ng DOE para hindi mangyari," she said in an interview on dzBB radio, when asked if a similar blackout could occur during election day.
— with reports from Patricia Denise Chiu, Gian Geronimo & Rouchelle Dinglasan/LBG/HS/YA, GMA News