Comelec: No proclamation of winning senatorial bets Wednesday evening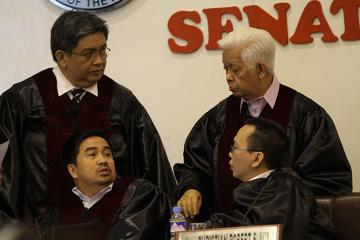 Comelec as NBOC starts canvassing of votes at PICC. Commission on Elections Chairman Sixto Brillantes Jr. (right, standing) talks to his colleagues before the start of the canvassing of votes in the May 13 elections. The poll body, which is sitting as the National Board of Canvassers, is expected to proclaim the 12 winning senators on Wednesday night. Danny Pata
(Updated 10:31 p.m.)
The Commisson on Elections has canceled the proclamation of winners in the senatorial race scheduled for Wednedsay evening, Elections chairman Sixto Brillantes Jr. said.
"We are going to cancel [the] proclamation tonight. There is no agreement as to when the proclamation will be, but most probably tomorrow," Brillantes said in a press briefing.
"We are still analyzing what is happening on the field," he added.

Brillantes, on Tuesday, had projected that they would be able to proclaim all the 12 winners by Wednesday night. But the low turnout of certificates of canvass prevented them from doing so.
He said they have yet to decide if Thursday's planned proclamation would be partial or would involve the complete list of winning senatorial candidates.
As of posting time, the Comelec, sitting as the National Board of Canvassers, has canvassed 54 out of the 304 total certificates of canvass. But of those canvassed only 21 have been included in the official tally.
Brillantes said they can proclaim at least two winners Wednesday but the en banc "would rather wait for a more substantial number."
"We already called the first and second (winners) and told them they will not be expecting any proclamation tonight. They most probably will be proclaimed tomorrow together with several others," he said.
In 2010, the NBOC proclaimed nine of the 12 winning senatorial candidates five days after the May 10 elections. The remaining three were proclaimed three days later. .
— Amita Legaspi and Marc Jayson Cayabyab/RSJ, GMA News