PBA
:

The Alaska Aces won it the right way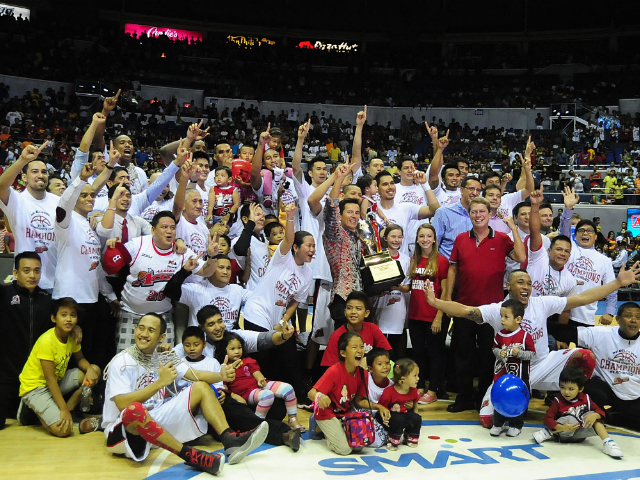 Team building - Alaska looked for pieces that fit rather than big names.
KC Cruz
We've seen it too many times in the past. Big market teams take talents from smaller market teams. Powerhouse ball clubs clean out the roster of a franchise on its way out of the PBA. We've seen up-and-coming talents traded for journeymen. We've seen potentially good rookies uprooted from the teams that drafted them.
We've also seen those teams winning championship after championship. But with the Alaska Aces' sweep of Barangay Ginebra San Miguel in the 2013 PBA Commissioner's Cup Finals, we've also seen that one-sided trades and blockbuster deals are not the only paths to a championship.
Mired in mediocrity
The Alaska Aces had not won a title since the Fiesta Conference of the 2009-2010 season.
Once a proud franchise, Alaska found itself trapped in mediocrity for two solid years. In the 2010-2011 season, all Alaska had to show after their campaigns were two quarterfinals and one semifinals exits. In the 2011-2012 season, their performance was even worse, as they only had one quarterfinals appearance to show for.
Gatas Republik dwindled. Some of their lifelong fans called it quits. In that difficult span, the Aces ended their 22-year relationship with head coach Tim Cone. Erstwhile Joel Banal stepped up to fill in the void but he only managed a miserable ninth place finish in the 2011-2012 Philippine Cup.
After one more conference, the Alaska management decided that some spring cleaning was needed. Banal stepped down in favor of Luigi Trillo. The move raised a lot of eyebrows. The younger Trillo was the son of Joaqui Trillo, the manager of the Alaska Aces, so the decision was viewed as personal more than smart.
During that time, when people heard "Trillo" and "coaching" in the same sentence, "0-28" was not that far away. Trillo is infamously known as the head coach of the Adamson Falcons when they compiled their infamous back-to-back winless seasons. Even if his line-up paled in comparison with teams like UST and La Salle, the public crucified Trillo nonetheless.
The young coach found some sort of success with the Cebuana Lhuillier Gems in the PBA D-League, but the credit went to his players and not to him.
The initial reaction to Trillo's hiring was strong yet understandable. The Alaska fans are just not used to rookie coaches. Cone showed time and again that he is one of the best coaches this country has ever seen. Banal was also a champion coach, the only one in history to win a UAAP, a PBL, and a PBA championship in rapid succession. Trillo was seen as a coach who has seen too few winters. His hiring was right smack in the middle of the longest winter Alaska has ever experienced.
Few expected him to last the winter. Fewer still expected him see the next summer.
To shield from the cold, Trillo surrounded himself with people he trusted. Louie Alas for his old school. Alex Compton for his new school. Topex Robinson for his spunk. Mang Tom for his, well, let's just say his experience.
They allowed their best players to walk away, gift-wrapping LA Tenorio and sending him to Barangay Ginebra San Miguel. We watched keenly because we thought Alaska was digging a deeper hole for itself. Because we did not believe Trillo had it in him to build a championship team, all of the moves he made were met with either a raised eyebrow or shrug.
Trade Jay-R Reyes for Gabby Espinas. Shrug. Trade Eric Salamat and a second rounder for RJ Jazul. Shrug. Acquire Dondon Hontiveros along with Jvee Casio. Another shrug.
Alaska's moves barely got any attention because these were largely unsexy. PBA fans are so used to blockbuster trades that we often look at the names involved and not the reason behind it.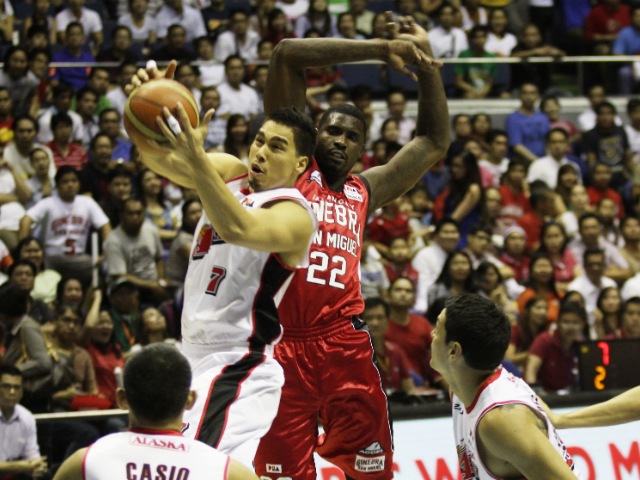 Complementary parts - Alaska found the right mix of old-school and new-school and assembled them together to form a killer defensive unit.
Jeff Venancio
Trading for fit, not flash
We argued about San Miguel's plot that got them Rabeh Al-Hussaini, Nonoy Baclao, and Rey Guevarra. We took our anger to Twitter when we heard Sol Mercado was on his way out of Meralco. Big moves. Big names. Yet these blockbuster trades have failed to yield the expected results for all concerned.
The difference for Alaska is that they traded for players who suited what they need. They didn't trade for the names printed at the back of the jersey. They traded for players who would fit perfectly with the name in front of it.
Trillo's philosophy was simple. He wanted his team to be the best defensive squad in the game. He wants to know all of his opponents' strong points and take them away. The identity of the Alaska Aces was set from day one and they moved closer to that goal every single day.
It was also simple on offense. Jvee Casio is their triple-threat point guard. Cyrus Baguio is their playground scorer. Sonny Thoss is their sure two in the post. And Calvin Abueva is their Calvin Abueva.
The unsexy trades they had? Everything worked out perfectly. Espinas ended up being Abueva's partner for the PBA's equivalent of the Bash Brothers. Jazul turned into a cold-blooded killer and a reliable defender, the perfect substitute for Casio. And Hontiveros became Alaska's security blanket. Every time they were in trouble, the younger guys knew that they could always count on Kuya Dondon to bail them out.
After dominating the elimination round, the Aces handled the Air21 Express without a problem. They then slew the monsters in their closet with a 3-1 win over the San Mig Coffee Mixers, helmed by their former coach, with Trillo finally proving he can out-coach Cone. They even saved the best for last with a dominant series over Ginebra, with Casio also proving Alaska was right in trading away Tenorio for him.
San Mig Coffee fans are still mourning. Ginebra fans more so. But we need to take a collective step back and see what Alaska accomplished. We are all fans of PBA teams, but I'd like to think that we are all, first and foremost, fans of the sport of basketball. And right now, we need to applaud the best basketball team in the land, the team that won it the right way.
- AMD, GMA News