PBA
:

GlobalPort deals Japeth Aguilar to Ginebra, acquires Jay Washington from Petron
The long-running rumor of Japeth Aguilar making his way to Barangay Ginebra San Miguel has finally turned into reality.
Approved trades as of June 11, 2013: espiritu for barako 2013 1st rd pick (acquired from tnt) bar/tnt 2013 (cont) http://t.co/ktG72jFZf1

— pbaconnect (@pbaconnect) June 11, 2013
Aguilar landed with the Commissioner's Cup finalists in a trade approved by the league on Tuesday, in exchange for Yousef Taha. At the same time, Barako Bull Energy Cola acquired forward Elmer Espiritu, also from Ginebra, while the Petron Blaze Boosters sent Jay Washington to GlobalPort, getting back Jason Deutchman in return.
After Aguilar was traded from the Talk 'N Text Tropang Texters to GlobalPort, there were already rumors that being a member of the Batang Pier would be temporary, a stopover as he was really headed to Ginebra.
However, GlobalPort stuck with Aguilar throughout the Commissioner's Cup, a disastrous campaign that saw the club finish with just two wins, before deciding to make alterations to their roster anew.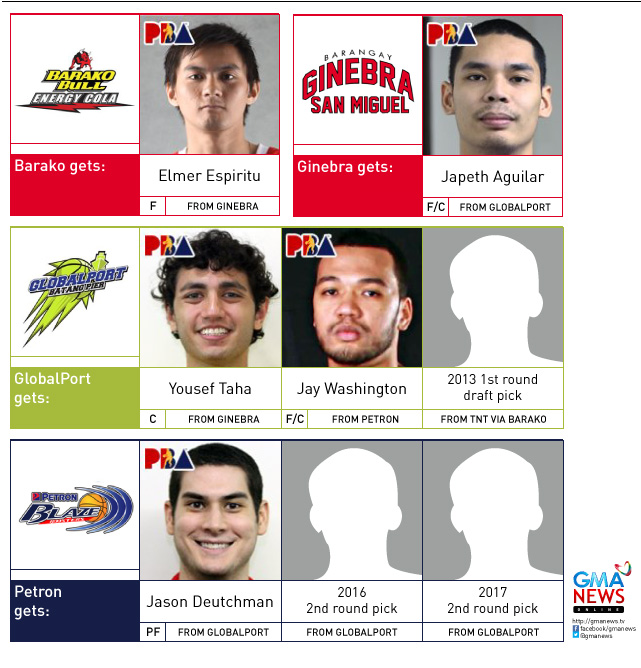 The first step of the multi-team trade involved Ginebra trading Espiritu for a 2013 first round pick (originally from Talk 'N Text) to Barako Bull Energy Cola, a team that originally had four first round picks for the 2013 PBA Draft.
Ginebra then sent this pick along with Yousef Taha to GlobalPort for Japeth Aguilar, reuniting Aguilar with former Ateneo teammate LA Tenorio. It will also form an exciting frontcourt featuring Aguilar and fellow high-flyer Chris Ellis.
In a separate deal, GlobalPort dealt rookie Jason Deutchman along with their second round picks for the 2016 and 2017 PBA Drafts to the Petron Blaze Boosters for Jay Washington.
With the trade, Petron gained a serviceable shooter, while also declogging their forward rotation which means more minutes for marquee star Arwind Santos and 2012 first overall pick June Mar Fajardo.
- AMD, GMA News