Flash flood warning up over Davao Oriental and Compostela Valley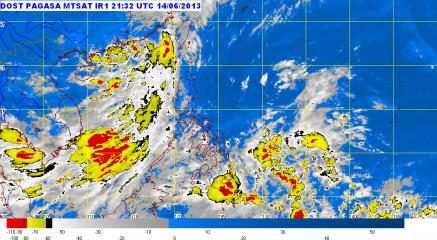 Southwest monsoon, ITCZ bring rain to PHL Saturday. "At 4:00 am today, a low pressure area (LPA) embedded along the Intertropical Convergence Zone (ITCZ) was estimated based on all available data at 345 km East of Davao City (7.0°N, 129.0°E). The southwest monsoon is affecting the western sections of Luzon and Visayas," PAGASA said in its weather bulletin for Saturday, June 15. PAGASA
Philippine state weather forecasters on Saturday issued a flash flood warning over some parts of Mindanao province as a potential cyclone build east of Davao City.
In a special weather forecast, PAGASA said: "Davao Oriental and Compostela Valley will have cloudy skies with moderate to occasionally heavy rains and thunderstorms, which may trigger flash floods Saturday and Sunday."
Also, it said the two provinces to continue experiencing cloudy skies with light to moderate rain showers and thunderstorms until Tuesday.
As of 4 a.m.,
PAGASA said a potential cyclone, a low-pressure area, was embedded along the Inter-tropical Convergence Zone, some 345 kilometers east of Davao City
.
Likewise, some parts of Luzon and Visayas can expect rain due to the southwest monsoon.
-- Rouchelle R. Dinglasan /LBG, GMA News