Romancing the Rafflesia: More fun in the Philippines!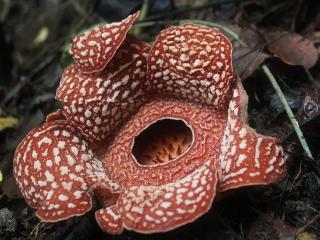 A rare Rafflesia philippensis on Mount Banahaw. The Philippines is home to ten endemic species of Rafflesia, one of the world's largest flowers capable of growing up to three feet across. Rouchelle Dinglasan
The Rafflesia flower seems like something straight out of Plants vs. Zombies:
One of the largest flowers in the world—it's a big tourist attraction in nearby Malaysia and Borneo—this strange plant is called the "corpse flower" because of its foul odor, which some say smells like rotting flesh.
This smell is for attracting flies because, unlike its sweet-smelling cousins that attract bees, flies function as the Rafflesia's pollinators.
As University of Brooklyn botanist Dr. Jeanmaire Molina explained, there's much more than meets the eye—and nose—when it comes to the Rafflesia.
Capable of achieving sizes of up to three feet in diameter, the Rafflesia is a giant among flowers and can only be found in Southeast Asia.
Only in the Philippines
Of the 28 species of Rafflesia in the world, ten are found only in the Philippines. This makes the Philippines the world's Rafflesia biodiversity hub as it has the most number of species. They can be found in the provinces of Quezon, Laguna, Antique, South Cotabato, Panay, Kalinga, and Quirino. The also thrive in the Compostela Valley and the Bicol region,
Malaysia's Rafflesia arnoldii is the biggest species of the corpse flower, which can grow up to three feet. The second largest species is Rafflesia schadenbergiana located in Mount Apo in Davao.
Of the ten known Rafflesia species endemic to the Philippines, eight have been discovered in the last decade alone—and there may be more out there.
According to Dr. Molina, another scientist is verifying if there was yet another new species of Rafflesia in Luzon.
She said that there might be many other species of Rafflesia in the Philippines given that there are still many unexplored areas in the country.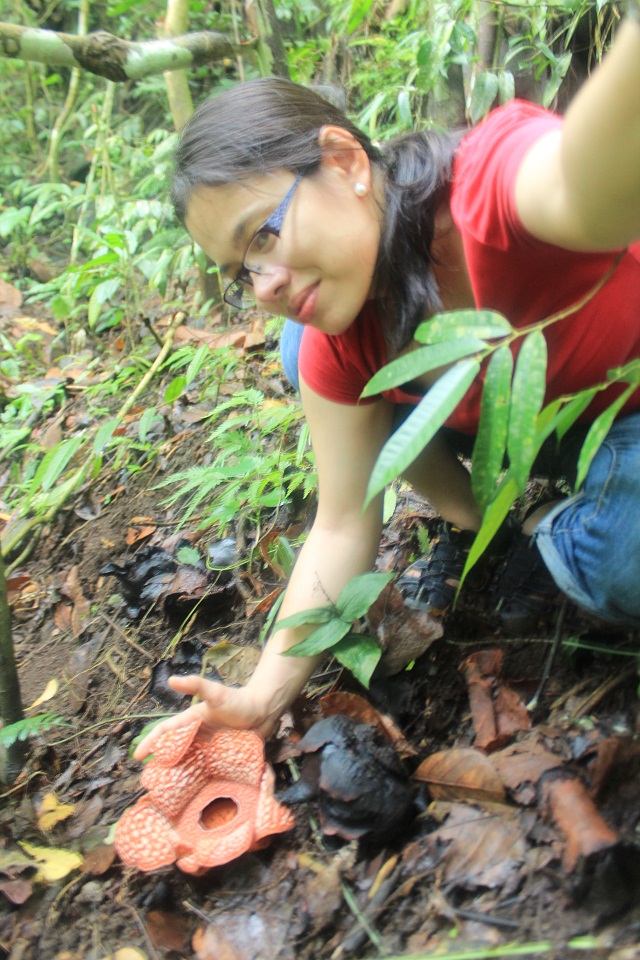 Unusual survival capability
Molina, who is the principal investigator of the Evolution Genomics of the Philippine Rafflesia study, said that this huge flower has been around since the Age of Dinosaurs some 60 million years ago. This testifies to the flower's near-heroic ability to adapt and survive.
"[It] may be the first plant not to have a chloroplast genome," Molina added. In layman's terms, this means that it may be the first plant not to use photosynthesis - it does not use sunlight to make food.
So how does this flower, without leaves, trunk or any other part of a normal flowering plant, survive?
Rafflesia has a parasitic relationship with a particular vine called Tetrastigma, which is distantly related to ordinary table grapes. And this relationship, according to Dr. Molina's research, dates back more than 100 million years.
However, Dr. Molina said that there were still many questions surrounding the life cycle of Rafflesia. For example, scientists have yet to determine how the flower seed is transferred to other parts of the forest.
Flower patches
Dr. Molina's friendly lectures for the botany-challenged was one thing. Encountering the real five-petal flower in its environment was something else entirely.
A trek up Mount Banahaw together with Dr. Molina, Mary Ann Cajano, museum technician at the University of the Philippines Los Baños' Herbarium, and local guide Mang Jerry brought the famous flower, and its infamous stink, up close and personal.
The climb up the mysterious and sacred Mt. Banahaw in Quezon province was short. It took about 30 to 45 minutes and the terrain was moderate. It had rained the night before, but the mud was dried out by the warm morning sunshine.
Eventually, a clutch of flowers of the Rafflesia philippensis varieity was located. But the flowers' location was steep. To get close required hanging onto a tree branch or leaning against a trunk.
The six-inch-diameter flowers were about two days old and not yet in full bloom. Their thick petals looked and felt like it was made out of plastic while its spots looked embossed with a rough texture.
Interestingly, the flowers live near each other. There were about eight rotten Rafflesia and two flower buds in the same area. Another spot near the first location had three adjacent flowers, which were just starting to decay.
The Rafflesia flowers that were not yet in full bloom did not yet smell. According to Cajano, Rafflesias start to smell upon maturity, when they are ready to pollinate. Usually, she said, the flower emits its odor at the same time that it starts to rot.
Rafflesia philippensis is one of the small species of Rafflesia, the smallest being Rafflesia manillana, which is also found in the island of Luzon.
If you conserve them, they will come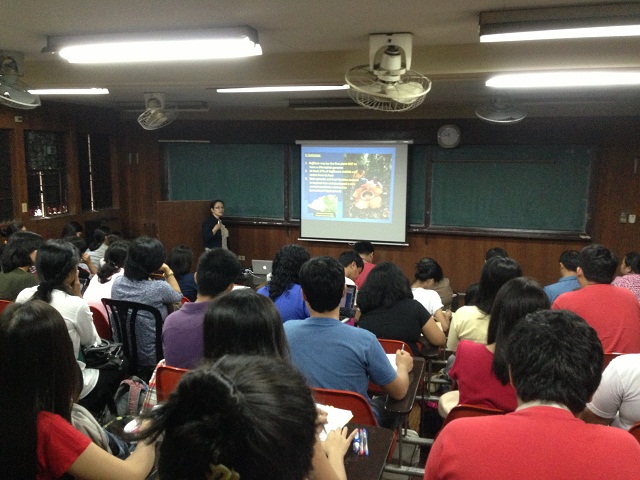 Southeast Asian countries have used the Rafflesia as an icon of plant conservation, hence, the term "panda of the plant world." The enormous flower is the state flower of Sabah in Malaysia and of Surat Thani Province in Thailand.
But unlike its neighbors, the Philippine has yet to recognize the need to conserve much less to promote Rafflesia as a tourist attraction.
According to Dr. Molina, the prospect for Rafflesia-populated areas becoming tourist attractions is huge.
"[May] lack of awareness ang mga tao kaya [minsan] pinaglalaruan lang ng mga bata… [Baka nga] hindi nila alam na tayo na ang hub ng Rafflesia diversity samantalang sa ibang bansa, in comparison, napakalaking simbolo ng conservation sa kanila ang Rafflesia," the University of Boston botanist noted.
"Hindi sikat [ang Rafflesia sa bansa] kasi lahat ng sikat sa atin mabango at saka may economic importance o 'yung mapagkakakitaan ng pera. Kasi hangga't hindi nacucultivate sa botanical garden or nalalaman as a tourist attraction, hindi siya magiging sikat dito."
Apart from awareness, developing areas as tourist attractions may also increase people's appreciation for the flower. Thus, their drive to conserve the flower will be much bigger.
"Kung mapopromote nga 'yung idea na ginagawa sa Malaysia [na tourist attraction ang Rafflesia] talagang I bet yung mga farmers na nakatira malapit sa forest ay pangangalagaan nila talaga 'yung bulaklak kasi dadayuhin sila ng mga turista para lang makita 'yun," she explained.
— DVM/TJD, GMA News