New Acer PC to run on Google Android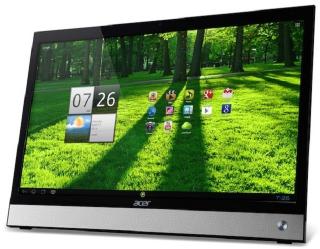 New Acer PC running on Google Android. It's got a 21.5-inch multitouch screen, it's got built-in speakers, it has a wireless keyboard and mouse, and it runs on...Google's Android? Acer
It's got a 21.5-inch multitouch screen, it's got built-in speakers, it has a wireless keyboard and mouse, and it runs on...Google's Android?
Acer's all-in-one PC, the DA220HQL AIO, may signal a new trend of desktop computers running Google's Android instead of Microsoft's Windows, said tech site CNET.
"Less Windows, more Android. Acer is about to give us a taste of this trend, as Android PCs begin to creep onto the market,"
it said.
The Android-powered Acer all-in-one also uses an ARM chip instead of one from Intel, and may cost below $500, CNET said.
Acer's offering has a display of 1,920x1,080, Android 4.0, and a Texas Instruments OMAP 4430 dual-core ARM Coretex-A9 processor, it added.
Other features include 1GB of memory, 8GB internal storage, front-facing camera, built-in speakers, and support for Wi-Fi, Micro-HDMI, and Micro USB 2.0.
But another possible major attraction of this Android-powered device over a similar machine powered by Windows 8 is its price—going for about $425, CNET said.
"And that's the appeal of Android. Systems sans Windows 8 can be priced lower and require less hardware," it said. — VC, GMA News