UAAP
:

DLSU wins rivalry match, keeps Ateneo winless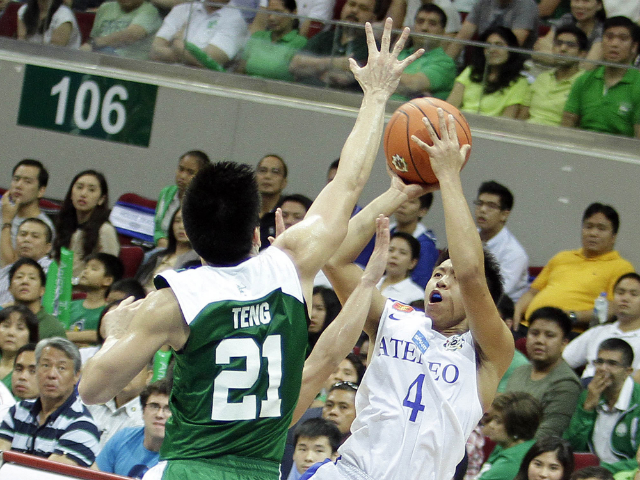 Jeron Teng (L) and the rest of the DLSU Green Archers denied Nico Elorde and the ADMU Blue Eagles their first win of the season.
KC Cruz
(Updated 6:32 pm)
The De La Salle University Green Archers bucked a hot start from their arch-rivals, to shoot down the Ateneo de Manila University Blue Eagles, 82-73, in the first elimination round of the UAAP Season 76 men's basketball tournament, Sunday, at the Mall of Asia Arena.
[Review the play-by-play of the game here]
The Archers improved to 2-1, thanks to their first win against Ateneo in the UAAP since their first-round meeting in 2010. The victory snapped a six-game losing streak to Ateneo, including a 1-12 record during the Eagles' five-peat reign.
The blue-and-white, on the other hand, sank to 0-3, tying them in the cellar with UP, and putting them a loss away from matching their 0-4 start in 1997.
La Salle asserted their front court advantage in the third frame, utilizing a 16-2 run en route to scoring 31 points in the period, giving them a 59-56 lead for the first time since the opening minutes.
And this time, it was a lead they would not relinquish.
Facing a 74-66 deficit with three minutes to play, Ateneo tried to recover as Ryan Buenafe and Chris Newsome converted going to the rim, but Luigi Dela Paz truncated the festivities with a trey from the left wing. An Eagles turnover gave the ball back to the Archers, but Nico Elorde swiped the ball back for an easy two, 77-72, with 1:17 on the clock.
La Salle called for time and set up Dela Paz for a short jumper, while Ateneo was forced to settle for a wide three-point attempt from Buenafe. Almond Vosotros added a layup off a turnover with 18 seconds to play. Ateneo was then forced to foul after coming up short, and charities from Vosotros and Thomas Torres sent the defending champions to their third straight loss.
Vosotros scored 19 points and snared nine boards. Arnold Van Opstal added 18 points and eight rebounds off the bench, while Jeron Teng tallied 13 points, 10 rebounds and five assists. Dela Paz scattered 10 markers, all in the second half.
After the game, Archers head coach Juno Sauler praised Dela Paz for his mental toughness down the stretch, saying, "Luigi's a real fighter.
"I just told them that we weren't executing in the first half, we weren't sharing the ball. I told them to stop trying to do things on their own and basically execute what we're supposed to do on offense," said Sauler. "They just have to maximize their abilities, but it'd be better though if we had more assists than turnovers," he added.
Arnold Van Opstal (L) dominated the smaller Ateneo frontline.
KC Cruz
"This is the first time I actually beat Ateneo, so Norbert [Torres] and I came into this game [thinking] that this is our time," said back-up center Arnold Van Opstal. "We came in with a lot of intensity and we really wanted it, and things worked our way, thank God. My teammates trusted me with the ball, so I paid them back."
The Archers nosed ahead in the first quarter, 9-4, courtesy of an Almond Vosotros trey and a tip-in by Norbert Torres. But things turned around when the Eagles got the duo of Chris Newsome and Ryan Buenafe going. The two forwards scored or assisted in a 16-4 run, capped by a baseline jumper by Poy Erram, 20-12.
However, La Salle recovered some ground in the final minute, as drives by Arnold Van Opstal and Norbert Torres drew contact inside, 20-16, to finish the period.
Three-point shooting kept the Eagles afloat in the second quarter, as Juami Tiongson and Buenafe chipped in from downtown, countering incursions in the paint by Van Opstal. Meanwhile Newsome continued to be a terror in the shaded area, as he sliced through the defense to make it a double-digit lead, 32-22.
Teng tried to salvage his team in the last three minutes, driving through the lane to score their last six points, countering hustle plays from Tiongson and Von Pessumal. Newsome however ensured that the margin would remain in double-digits, powering to the hoop with five seconds left to end the half with Ateneo ahead, 40-28.
The Eagles shot an impressive 17-of-36 (47.2 percent) from the field after the first 20 minutes. Newsome shot 8-of-9, converting all his seven makes from within the arc for 18 points. Meanwhile the Archers were 11-of-34 (32.4 percent), including Teng's 4-of-12 clip.
Ateneo also held a 5-10 advantage in turnovers, leading to an 18-4 spread in turnover points and 9-0 in fast break points.
Luigi Dela Paz nailed consecutive jumpers to open the second half, but the Eagles' defense prevented the Archers from finding a rhythm on offense. Instead, Buenafe took over playmaking duties and led the Eagles to a 48-34 lead, punctuated by a cutting move to the rim by Erram.
Vosotros proved to be the spark La Salle needed though, as he drilled a trey and finished a layup on the break. Meanwhile, Jason Perkin and Van Opstal took turns punishing Ateneo in the paint, resulting in a 16-2 run, tying the game at 50-50, with two minutes remaining.
Tiongson made tough baskets to stem the tide with two minutes to play, but Ateneo couldn't find any sort of cohesion offensively, nor could they halt the Archers' incursions into the lane. Worse, Erram fouled out with a minute remaining, and an and-one drive by Van Opstal with 18 ticks left gave the Archers a 59-56 lead entering the final frame.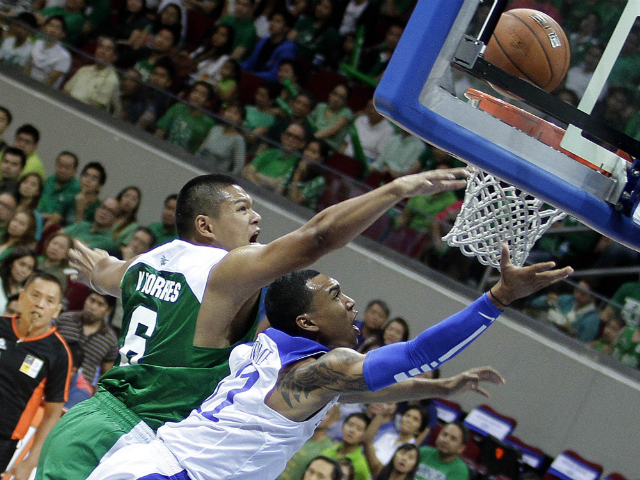 Strong play by Chris Newsome (R) was negated by DLSU's team effort.
KC Cruz
The Archers' penetration continued to give Ateneo fits in the fourth quarter, as Newsome and Buenafe picked up their fourth personal fouls, and Frank Golla his fifth, all just three minutes into the period. But the Eagles hung around thanks to Tiongson and Pessumal's scoring, trailing La Salle 66-64 after a Perkins put-back.
La Salle reaped the benefits of that weakened frontline halfway through the period as Perkins scored on a put-back, and Teng and Van Opstal contributed from the low post in an 8-2 run, 74-66.
The Archers made 18-of-34 (52.9 percent) of their field goals in the second half for a 30-of-68 (44.1 percent) mark overall. In contrast, Ateneo dipped to 12-of-31 (38.7 percent) for 29-of-67 (43.3 percent) for the game.
La Salle also held a 19-of-34 (55.9 percent) advantage from the charity stripe, while the Eagles went 12-of-15 (80 percent) from the line. They also out-rebounded Ateneo, 48-32, including 16-5 offensive, for a 10-2 margin on second-chance points.
Ateneo led in turnover points (24-18) and fast break points (15-6).
Chris Newsome led all scorers with 27 points, seven rebounds and four assists, while Juami Tiongson chipped in 14 markers. Ryan Buenafe was held to 11 points and 10 rebounds on 4-of-13 shooting, while Von Pessumal scattered 10 markers and six boards.
- CLP, GMA News
The scores:
DLSU 82: Vosotros 19, Van Opstal 18, Teng 13, Dela Paz 10, Perkins 9, T Torres 8, N Torres 5, Reyes 0, Montalbo 0, Bolick 0
ADMU 73: Newsome 27, Tiongson 14, Buenafe 11, Pessumal 10, Erram 6, Elorde 3, Golla 2, Tolentino 0, Capacio 0, Babilonia 0
Quarter scores:
14-20, 28-30, 59-56, 82-73