Justices say Supreme Court cannot settle medical issues in RH Law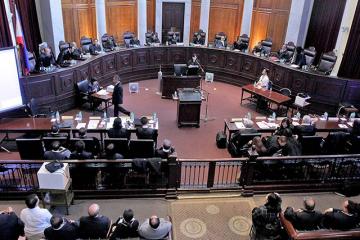 CJ Sereno, 13 justices start oral arguments on RH law. Chief Justice Maria Lourdes Sereno (far center) and other Supreme Court justices hear the oral arguments on the Reproductive Health law on Tuesday, July 9. The SC in March suspended the implementation of the RH law, pending a resolution of the 15 petitions against it. Six 'intervenors' supporting the law have been allowed by the SC to take part in the debates. Of the 15 magistrates, only Associate Justice Arturo Brion was not present during the oral arguments. Danny Pata
Several Supreme Court justices, including Chief Justice Maria Lourdes Sereno, agreed that the high court does not seem to be the right forum – at least for now – to contest the controversial Responsible Parenthood and Reproductive Health Law.
In interpellating lawyer Maria Concepcion Noche, who argued on behalf of the petitioners, Sereno went as far as saying that if she were to be asked, the high court might have no choice but to exercise "judicial restraint" on the 15 petitions assailing the law.
"Are we in a position to supplant moves of Congress on a policy decision?" Sereno asked on the first day of oral arguments on the RH Law's constitutionality. "Can we say this is a better way? We are limited. First because we are unelected and because we have already defined metes and bounds."
The Supreme Court imposed a status quo ante order on the law last March, delaying its implementation. The order expires on July 17, unless the high court decides to extend it.
"Jumped the gun"
Senior Associate Justice Antonio Carpio said the petitioners seemed to have "jumped the gun" by elevating the matter to the SC without consulting with the Food and Drug Administration (FDA), which is mandated by the law to ensure that contraceptives to be made accessible by the government are not abortifacients.
He said the petitioners have yet to present data from the FDA showing that certain contraceptives are abortifacients and others are not.
"You came here on the assumption that all of these [contraceptives] will prevent fertilized ovum from reaching the womb... You first go to the FDA and test the drugs and come here," Carpio told Noche.
"You can come to us, but not now. There's no controversy here. So why are you here?" he asked Noche.
Noche replied that the petitioners sought the SC's help because the RH law, signed by President Benigno Aquino III in December last year, contained provisions "that have created ambiguities."
Noche stressed the need to have a uniform definition of conception as starting after the union of a sperm and egg cell, and not after a fertilized ovum's implantation in a woman's womb.
Carpio, however, said the law's implied definition of "conception" was no different from Noche's definition. "The law protects the travel of ovum to the womb so there is no difference," he said.
No premature conclusions
Sereno would later clarify that the statements and questions uttered by her and the other magistrates do not necessarily reflect their conclusions yet.
"We do not prejudge. There should be no premature conclusions... We are actually enabling you to better prepare [your position on the matter]," Sereno told Noche.
To demonstrate the practical uses of the RH law for ordinary individuals, Sereno cited as an example a Supreme Court clerk who has many children but earns little from the government.
Talking to Noche, Sereno asked if she as chief justice would be committing an impeachable offense if she advises the clerk to go to a doctor and resort to family planning.
Noche answered in the affirmative.
"But what if she [the clerk] says she is not getting young and additional children are already deleterious to her health, is she violating the Constitution?" Sereno asked. "Is it the constitutional duty of the woman to expose herself to health risks as long as a fertilized ovum is not prevented from being implanted?"
Noche said there is "primacy" for the ovum to be implanted.
Sereno cited Section 12, Article II of the Constitution, which ensures that both the lives of the mother and an unborn child should be "equally protected."
Sereno also cited another example in which a woman goes to a fertility clinic and was able to have eight of her eggs fertilized artificially. She asked Noche if the woman has the constitutional duty to ensure that all eight fertilized ova are implanted in her womb.
Noche again answered in the affirmative.
"Balance right of child to life and other rights"
Sereno advised the petitioners to take a "more layered approach" in their arguments "because this court will not decide on a case apart from a very complicated context."
"Help us to balance right of child to life and other rights," she said.
Associate Justice Marvic Leonen, the youngest and most junior member of the tribunal, said the petitioners seemed to have given the SC an "awesome responsibility" to determine when life actually begins, whether during fertilization or implantation.
"That's an awesome responsibility given to some secular individuals, 15 of us, not 24 senators elected, not the 200 plus representatives, not the two of them acting together, not even the President elected by a popular vote," he said.
He added: "We are not a political organ that vetoes an act of another organ."
Noche claimed there were inconsistencies in the Implementing Rules and Regulation for the RH law, but Leonen said: "Do we declare a law unconstitutional simply because the IRR is incorrect?"
"What is so wrong about making all these [contraceptives] accessible to the public and allowing our families and churches to give their advice on whether this menu of options should be taken? Wouldn't it be more patronizing to tell the state not to provide options so that the choices of our citizens are limited?" Leonen asked.
Sereno, Carpio, and Leonen were three of the five magistrates who opposed the status quo ante order issued in March against the law's implementation.
Medical matters
Carpio, meanwhile, told Noche that the petitioners seemed to be asking the high court to decide on the "medical issue" of whether conception begins during the union of the sperm and egg cells or when a fertilized ovum is implanted into the uterus.
"Medical authorities are not even sure. They are divided. So how do you expect us to settle this?" Carpio asked Noche.
Sereno also admitted that the "complexities" of the questions involved "may go beyond the court to address."
Justice Roberto Abad, for his part, said it would seem he and his 14 other colleagues would have to "decide on our own understanding of when conception happens."
Associate Justice Diosdado Peralta admitted not seeing any "infirmity" in Section 7 of the RH law, which gives the public access to family planning.
But Noche reminded the justice that "family planning" also included "hormonal contraceptives," which she and the other petitioners oppose.
Peralta asked Noche if she thinks the public should first be consulted on "how the people understood contraception in order to arrive at a proper decision." The lawyer replied: "I don't think so."
Associate Justice Presbitero Velasco, meanwhile, asked Noche why her group is asking the entire law to be struck down when certain parts of it "can be made valid even if other parts are declared unconstitutional."
Velasco, as well as Justices Mariano del Castillo and Teresita Leonardo-De Castro, all agreed that conception starts after the union of a sperm and egg cell.
"I just thought about a seedling I planted. If it's dead and I watered it every day, I cannot do anything. So there must be a living organism [first] that's implanted for it to grow into a tree or a human being," De Castro said, adding that that seemed to be the "acceptable meaning of conception."
De Castro added when she buys livestock chicken from the market, she makes sure it is "organically raised."
"I also think about doctors advising us not to take any thing without medical supervision," she added.
— KBK/HS, GMA News