Child advocates support reshowing of indie film 'Boses'
Five years after it was first shown at Cinemalaya 2008, the indie film "Boses" about a child abuse victim remains relevant and timely.
As a result, child advocate groups UNICEF, the Council for Welfare of Children, World Vision, and the UP-PGH Child Protection Unit, among others, have rallied behind the film's reshowing this month, this time in mainstream theaters.
"Boses," a film by director Ellen Ongkeko-Marfil and starring Ricky Davao, Cherry Pie Picache, Meryll Soriano, violinist Coke Bolipata and child prodigy Julian Duque, opens in SM Cinemas nationwide on July 31.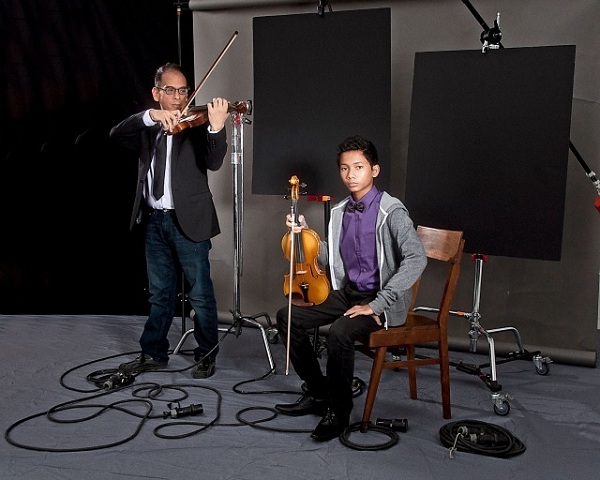 Coke Bolipata and Julian Duque play mentor and student in 'Boses'
In the film, Duque plays Onyok, a gifted child who is physically abused by his father (Ricky Davao) but finds healing through music, particularly in playing the violin. Bolipata, a renowned musician in real life, becomes his mentor in the film, and in turn finds healing for himself as well.
"The phenomenon of child violence is widespread," said UNICEF deputy representative Abdul Alim at the "Boses" press conference held in Quezon City on Wednesday.
"Ninety-five to 98 percent of children in the world face some sort of violence. Some 133 to 275 million children have seen violence between parents, which is an indirect form of abuse," he said.
"Being abused does not mean your life has ended," child psychiatrist Dr. Bernadette Madrid of the Child Protection Network Foundation and the UP-PGH Child Protection Unit said at the same press conference. "There are many ways of healing. As this movie has shown, music can reach where words cannot."
Ongkeko-Marfil told reporters on Wednesday that "'Boses' is a movie about love, the difficulty of loving between man and son, teacher and student... Love and music can help you overcome the pain and the past...The film fills a need."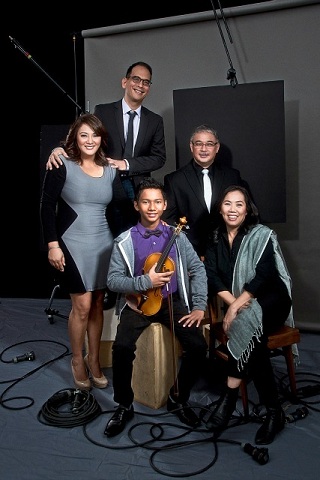 Director Ongkeko-Marfil (seated) with 'Boses' cast Cherry Pie Picache, Bolipata, Duque and Ricky Davao.
Froilan Medina, who co-wrote the screenplay with Rody Vera, said, "This story has grown from a seed to what it is now. It is a voice in the wilderness."
He added he wrote the script for Cinemalaya based on observations he had while working for a facility for abused children in the US.
Bolipata said the film "means more to me now than it did five years ago... More children are being empowered. Music is so expressive; it is love. It is a way to express and show love."
Supporting actor Joseph Valdes, who plays a boy taking violin lessons from Bolipata's character, testified to music's healing power.
"I had experienced indirect bullying... Music helped me because I was able to find something that's my own. It was something that was mine. No one could take it away from me. Music has healed me and has given me my voice," he said. Valdes began playing the violin at age nine.
On Sunday, Archbishop of Manila Cardinal Tagle endorsed the film, saying "It is not only reflective of some of the important concerns that we are facing in families, especially the plight of our children. It is also a story of redemption, of how God can use friendship, compassion and music to restore our broken hearts and spirit."
Endorsements also came in this year from the Catholic Educational Association of the Philippines, with CEAP president and NCR director Fr. Gregorio Bañaga encouraging school communities to go watch the film, as well as from the Commission on Higher Education, the Philippine Society of Child and Adolescent Psychiatry, the Department of Education, and the Catholic Bishops' Conference of the Philippines' Episcopal Commission on Youth.
— BM, GMA News
"Boses" will have a premiere night on July 23 at SM Megamall, and will be shown at the Cinemalaya film festival on July 28. The regular run begins on July 31.