If you want to fight me, leave Top Rank - Mayweather to Pacquiao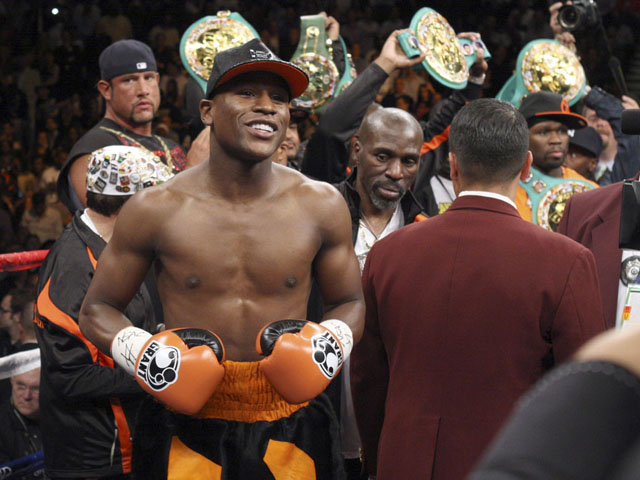 Floyd Mayweather wants Manny Pacquiao to leave Top Rank Promotions in order to get a fight with him.
R.Marsh Starks / Reuters
Undefeated Floyd Mayweather
told Kevin Iole of Yahoo Sports
that he'd fight Filipino ring icon Manny Pacquiao if the latter left Top Rank Promotions.
Mayweather had been asked who wanted to fight but hadn't yet, and the American answered, "I wanted to fight Pacquiao at one particular time, but I wanted to fight him when he was at the top. I'm not going to speak on another man's finance business, but like I said before, I left Top Rank for a reason. He's with Top Rank, so I want him to be happy with Top Rank."
"Money" Mayweather parted ways with Top Rank in 2006.
He then added that for a bout with Pacquiao to happen, the latter would also have to leave Top Rank and sign up with Mayweather's own outfit, Mayweather Promotions.
"Everybody's like, 'Aw, Pacquiao,' but I'm just letting you know he's not getting a fight with me," said Mayweather. "The only way he's getting the fight with me is if he signs with Mayweather Promotions. He's got to give me fights with Mayweather Promotions. If he don't give me no fights under Mayweather Promotions, then he's not getting the fight. That's how it is working now, because the ball is in my court. The ball has been in my court. I have been the A side."
Furthermore, Mayweather said that when he was seriously considering fighting Pacquiao in January of last year,
offering a flat $40 million fee in exchange for all the pay-per-view money,
Pacquiao adviser Michael Koncz attempted to negotiate a bout without Top Rank's knowledge, saying, "Some guy named Michael Koncz [Pacquiao's adviser] came down here. I don't know who he is. He looks like a little weasel. He came down here, was in my gym and talked to me. He said, 'If you want the Pacquiao fight, you talk to me.' I said, 'What about Top Rank?' He said, 'I run all his business.' That's what he told me. I've got everything recorded, everything on film."
Mayweather's next bout will be against Saul Alvarez on September 14, while Pacquiao will face off versus Brandon Rios on November 23.
- AMD, GMA News
TAGGED IN
floydmayweatherjr mannypacquiao

#gomanny Tweets