Steve Nash joins Inter Milan tryouts for Guinness tourney
Two-time NBA MVP Steve Nash swapped out his basketball shoes for cleats as he joined Serie A giant Inter Milan in a one-day tryout on Tuesday, to play for them in the eight-team tourney
Guinness International Champions Cup
.
"I had a blast," Nash told NBC Sports. "I grew up playing soccer. I'm a huge fan of the game."
Nash joined the team's drills and scrimmage, as they prepare to face Premiere League side Chelsea on August 1 (August 2, PHL time).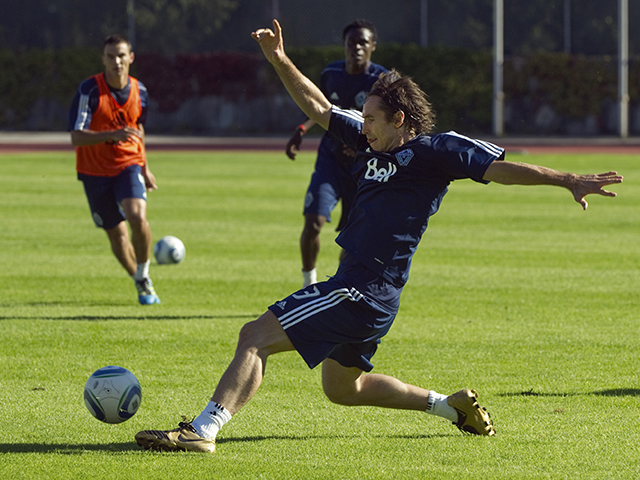 Steve Nash gets in some time with the Vancouver Whitecaps, during the NBA lockout.
Andy Clark/REUTERS
"I definitely would have played the game, I don't know if I would have been [a] professional [player]," said Nash, when asked if he could have been a pro booter. "I have passion for the game, I played it as a kid, and I'm still a big fan of the game. But for me to say or to not say that I could have been a professional soccer player if I didn't play basketball might be a bit presumptuous."
Nash follows Premiere League side Tottenham Hotspur like his dad and granddad, while his younger brother, Martin, had two goals in 38 appearances as a midfielder for Canada's national team. The younger Nash also retired as captain of the Vancouver Whitecaps, before the club joined the MLS (Major League Soccer).
The Lakers point guard thinks that soccer is catching on in the US in ways unimaginable a decade ago.
"Now, everytime there's a soccer game, there are scores on the ticker [on TV]. The MLS is doing phenomenally well." said Nash. "The game is definitely growing here."
Nash is not the only NBA player to have a special liking to football. Kobe Bryant openly supports La Liga's FC Barcelona, having slotted an easy penalty kick at halftime during the club's match with Manchester United in 2011,
and recently meeting up with Brazilian legend Ronaldinho
.
LeBron James, on the other hand,
is a minority stakeholder of the Premiere League's Liverpool club
.
- Roehl Niño Bautista/AMD, GMA News