2013 FIBA Asia Championship
:

Philippines wins opener, drubs Saudi Arabia
Ranidel De Ocampo (#9) floats one over a Saudi Arabian defender.
KC Cruz
(Updated 10:28pm)
Gilas Pilipinas won their opening assignment of the 2013 FIBA Asia Championship, a tricky 78-66 match that saw the locals pull ahead late against Saudi Arabia, Thursday at the MOA Arena
Gilas led most of the game against a streaky Saudi Arabia squad, putting up an 18-7 run spanning the latter two quarters for a 66-50. Saudi Arabia hung around though, jolting the hosts with a three-point barrage late, 66-59, but some poise and cooler heads prevailed, as the locals hung on for their first win of the tournament.
LA Tenorio and Larry Fonacier led Gilas with 12 points apiece, while issuing six and four assists, respectively. Naturalized center Marcus Douthit recovered from a flat first half to finish with 10 points, 11 rebounds, and two blocks.
"It was never supposed to be easy," said Fonacier after the game. "We didn't expect an easy time against Saudi Arabia tonight, and it's not going to be easy the rest of the way. We just have to adjust tomorrow."
"It was an ugly win, but it's still a win," added Ranidel De Ocampo, as Gilas was whistled for 30 personal fouls.
The Philippines got off to a scorching 8-0 start, as twin treys by LA Tenorio and Jeff Chan opened a 10-3 run while Saudi Arabia was left bricking from the perimeter. That forced the visitors to call timeout barely two minutes into the game, cutting Gilas' momentum.
Saudi Arabia overcame Gilas' zone when play resumed, and asserted themselves beneath the hoop. Gilas' hesitant play and buckets by Ayman Almuwallad saw the Philippines fall behind in a 10-4 run, as Saudi Arabia led on a Mohammed Almarwani jumper. Gilas nosed back on a Ranidel De Ocampo offensive carom with a minute and a half left, before charities off loose ball fouls allowed Saudi Arabia to end the first quarter up 16-14 lead.
Gilas moved the ball better in the second period, as De Ocampo and Castro teamed up for eight points while absorbing damage by Nassir Abo Jalas, 24-22.
Saudi Arabia's offense began to stagnate, as they were kept out of the paint behind Gilas' improved rotations. Meanwhile, the Philippines added transition hoops to the scoreboard, finding Japeth Aguilar and LA Tenorio on the secondary break in a 10-4 rally, 35-26, with two minutes remaining.
However, Saudi Arabia had the last say of the first half, as Ayman Almuwallad was awarded three charities with 0.7 ticks left. He made two, putting the score at 35-28 entering the intermission.
At halftime, Gilas shot 14-of-37 (38 percent) from the field, including 4-of-13 (31 percent) from long-range. In contrast, Saudi Arabia were held to one field goal in the last five minutes, shooting 6-of-29 (31 percent), counting 2-of-14 (14 percent) from beyond the arc.
Gilas also led 12-0 in points in the paint.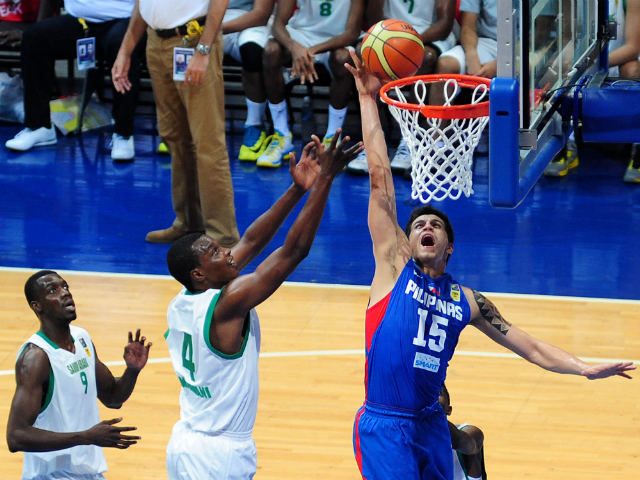 Marc Pingris (R) tips one home.
KC Cruz
Saudi Arabia cut into the lead early in the third while the locals struggled, 35-32, on a Mohammed Almarwani jumper. Castro flushed down a driving and-one, and the points came rolling from there. Marcus Douthit imposed his will on both ends of the floor with huge swats and bullish scoring, notching six in an 11-2 Gilas run, 46-35.
However, Saudi Arabia hung around once Gilas hit the penalty mark, and Marzouq Almuwallad frequently marched to the stripe. Aided by a Mustafa Alhwasawi trey, they trimmed the deficit with eight unanswered points, 46-43. But with three minutes to play, Tenorio struck from beyond the arc, while Larry Fonacier and Marc Pingris wrapped up an 11-3 counter-rally, ending the quarter ahead by double-digits, 57-46.
Fonacier opened the fourth quarter with a triple, as Gilas rattled off a 9-4 run to stake a 66-50 lead. But Saudi Arabia pounced during a mid-quarter lull, as Almuwallad and Matha Almarwani fired three straight treys, jolting Gilas with under four minutes to play, 66-59.
But Gilas kept cool as Junemar Fajardo and Douthit replied from the block, and a Gabe Norwood basket offset the ensuing charities off a Douthit technical foul. Then with just over a minute to play, Fonacier drilled a corner triple, 75-62, to give Gilas a wide enough cushion to finish the game.
"It was pretty difficult to coach while basically trying to manage minutes for tomorrow's ball game," said Gilas head coach Chot Reyes. "We're glad we came out with a victory but the real battle is tomorrow [versus Jordan].
"We got off to a good start, then we relaxed. We're not really alarmed, but disappointed," he added of his side's early reversal of fortunes.
Gilas wound up with a 32-of-76 (42 percent) shooting clip against Saudi Arabia's 17-of-64 (27 percent) mark. Saudi Arabia compensated with a 25-of-38 (66 percent) showing at the free throw line, dwarfing Gilas' 6-of-10 (60 percent) free throws.
The host team however led in points in the paint, 34-8, thanks partly to a 14-9 margin on second-chance points.
Ayman Almuwallad led all scorers with 18 points. MMohammed Almarwani added 12 points and 12 rebounds, while Mustafa Alhwasawi offered 11 points and six rebounds.
In the earlier Group A game, Chinese Taipei survived a late comeback by Jordan in the last two minutes, 91-87.
- AMD, GMA News
The scores:
PHL 78 - Tenorio 12, Fonacier 12, Douthit 10, De Ocampo 9, Pingris 8, Chan 6, Castro 6, Alapag 5, David 4, Norwood 2, Fajardo 2, Aguilar 2
KSA 66 - A. Almuwallad 18, Mo. Almarwani 12, Alhwsawi 11, Abo Jalas 9, Ma. Almarwani 8, M. Almuwallad 4, Belal 2, Kabe 2, Alsager 0
Quarter scoring:
14-16, 35-28, 57-46, 78-66