Eurythmy: Allowing the soul to sing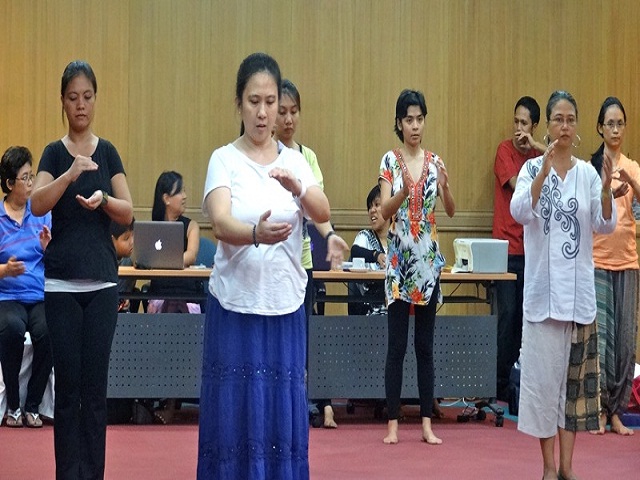 "When the limbs carry out the harmonious cosmic movements of the universe, the soul begins to sing." - Rudolf Steiner, who along with Marie von Sivers, helped develop eurythmy in 1912.
As a curious parent I have come across the art form known as eurythmy a few times, but it's one of those things that you cannot quite define in exact terms even after several casual encounters.
On the surface, it's easy to understand eurythmy as a movement art. But once you realize that it is also a form of therapy—that it is also closely linked to astrology, poetry, meditation, tai chi, spirituality, and music—then it becomes much more nebulous, evading total understanding and precise definition. Much like trying to contain quicksilver.
Yet there is where its beauty lies.
It was indeed a gift when Conscious Heart Creations brought to Manila the Philippines' only eurythmy therapist, Dr. Grace Zozobrado-Hahn. Finally, I thought to myself, I could ask her my burning question: "What is eurythmy, really?"
I sat through the second day of the Palawan-based doctor's two-day experiential workshop called "Indayog: Healing Through Movement" last July 21, 2013 in Quezon City. The session that day was all about eurythmy therapy for children. The press release read: "Can healing actually happen through movement?" And that is the charm of it: healing sans the drugs, chemicals, and intrusion.
Can one get better through dance, motion, freedom?
Connecting inner experience and outer form
Eurythmy rests on the basic premise that our feelings and thoughts have matching gestures (outer form) and even sound (language). When form, movement, and sound come together in what is known as eurythmy, then the human being is able to express herself in a way that reflects her spiritual nature. It's like drawing all the mysteries of our body and soul, together with the secrets of the universe and the physical world, and expressing them through gestures and sound—that is eurythmy.
I asked my 9-year old son these questions: "How do you feel when you make the different movements? Do you like eurythmy? Why?" Bowi Aznar, who has been learning this art form for a few years, replies: "I like it because it stretches my body and it wakes me up!" He adds, "When I do the A, I stretch outward; when I do the B, I move inward."
Zozobrado-Hahn explains that each vowel and consonant has its own characteristics. She explains that the vowel A, for instance, carries moods like awe and reverence. It also reflects the gesture of protection and may be used for children who are open to help them get in touch with themselves, and for those who are closed to open themselves up.
Or, as Aznar said, "to stretch outward."
The special meaning of sounds
The names for things were not given randomly. That is why a 'mountain' feels big when spoken, the word 'crash' actually carries with it the sound it pertains to, or that the word 'awesome' literally feels that way. Sound carries the spiritual and physical qualities of the object, name, or place it pertains to.
And this is another important foundation in eurythmy. The human voice, as well, is used as an instrument to transform inner experiences into sound, setting into motion specific gestures that belong with these audible elements.
To understand the forms that are alive in the vowels and consonants, consider the following: "Ah!" to express wonder, "Oh!" to show understanding or surprise, "Hey!" to stop someone.
The sound of B, on the other hand—as in 'baby,' 'basket,' 'bond'—expresses enclosure, cradling, or creating space for something. A student of eurythmy will discover the gestures or movements, also the feelings and emotions that are carried by the sounds present in the vowels and consonants.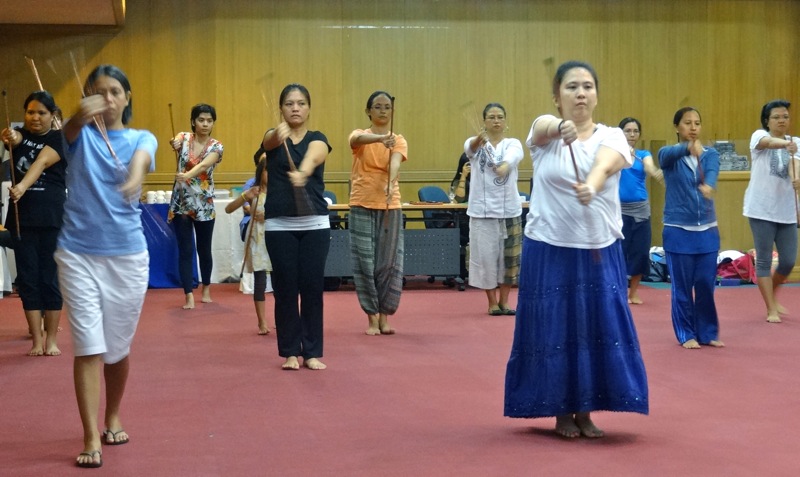 Therapeutic eurythmy makes use of tools like balls and rods to develop balance and expand the experience of space.
The practical uses of eurythmy
Zozobrado-Hahn, who studied and was certified in eurythmy in Germany, defines it as an art form composed of "spiritual movements manifested using the physical body as instrument."
Primarily used as a form of self-expression, it has metamorphosed into a healing art, as it were.
For some, eurythmy is a meditative practice. And in some countries, eurythmists are hired by private companies to help their employees work better together or to help prevent accidents in the work environment.
"It is used in team building sessions, in schools, homes for the aged, and hospitals," Zozobrado-Hahn enumerates, "It can even be used as a meditative practice to address post-conflict or post-catastrophe trauma."
As a means to heal the body, eurythmy aims to address the imbalances that cause illnesses. Therapeutic eurythmists like Zozobrado-Hahn view illness as an opportunity to fix what is wrong, leading to the individual's complete transformation. Similar to ayurveda, India's ancient healing system, and other holistic therapies, eurythmy also takes into account the whole human being: physical, emotional, and spiritual bodies.
So much remains to be discovered and understood about eurythmy. As a young art form founded only in 1912, new discoveries will definitely take it further into the hearts of more people.
In the Philippines, Zozobrado-Hahn looks forward to sharing the arena with more eurythmists and therapists, because she believes that this "very beautiful art form should be offered to more people because of its healing aspects."
— VC, GMA News