75,000 attended anti-pork protest, say Manila police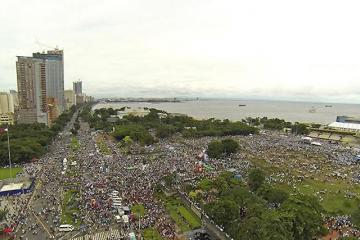 Anti-pork protesters in Luneta Park . Threat of rain and muddy grounds fails to deter anti-pork barrel protesters from flocking to the Luneta Park on Monday, August 26, to express their sentiment on the issue. Paulo Alcazaren
(Updated 1:13 a.m., 27 August 2013) Some 75,000 people attended the protest action on Monday against alleged anomalies in the use of pork barrel funds, an official of the Manila Police District (MPD) official said.
In a phone interview, Senior Supt. Joel Coronel, Manila Police District Deputy Director for Operations, said this figure included those who stayed at the grassy area in front of the Quirino Grandstand— which can hold 120,000 people—and nearby streets.
He said the attendance peaked at 10 a.m. Monday, but dwindled to 5,000 to 6,000 as the protest drew to a close at 2 p.m.
Some of those who attended still chose to stay at the Quirino Grandstand even after the protest action for a free concert.
Militant groups, meanwhile, went to the Mendiola Bridge near Malacañang Palace to continue their protest action.
Coronel likewise assessed the event as "generally peaceful." "They [The protesters] were true to their word that the rally will be peaceful," the police officer said.
Tens of thousand of Filipino taxpayers staged the social media-driven rally on Monday—
the biggest protest action under President Benigno Aquino's watch
—to demand the total scrapping of the pork barrel funds and the prosecution of lawmakers involved in the allegedly anomalous release of these funds.
'100,000 to 150,000'
Vince Lazatin of the Transparency and Accountability Network (TAN), one of the groups that organized the event, said he was "satisfied" with the turnout of the event.
He pegged the number of attendees from 100,000 to 150,000.
"I think kitang-kita na regular na tao ang umattend. Issue ito ng bawat mamamayan," Lazatin said in a phone interview.
He assessed the protest rally was very "spontaneous" and "issue-driven."
"Noong mga nakaraang EDSA, ang pinaglalaban natin noon ay palitaan sa pwesto ang isang specific na person. Ngayon, focused tayo sa isang central issue," he said.
'Clean' protest
Kenneth Montegrande, Rizal Park administrator, meanwhile estimated the total "foot traffic" at the Quirino Grandstand and the entire park grounds to be at 250,000.
He said some did not go to the actual protest venue anymore due to mud and occasional rain showers.
Montegrande added that the park management was pleased with the way protesters managed their trash during the event.
"'Yung mga kababayan natin, nakipagtulungan sa panawagan nating panatilihing malinis ang lugar. Kapag madami ang tao, usually madumi. Pero ngayon, hindi ganoon katindi ang effort namin maglinis," he said in a separate phone interview.
Some of the groups that attended the rally started leaving at about 2 p.m. The militant groups left the area to march to Mendiola Bridge near Malacañang where they continued their protest.
Roxas Boulevard was reopned to traffic at 3:30 p.m., the Metropolitan Manila Development Authority said via Twitter.
— TJD/DVM, GMA News