Movie review: 'On the Job' is a two-fisted tale of scum and villainy
In describing the range of films writer/director Erik Matti has had a hand in creating over the course of his career, the word 'eclectic' comes immediately to mind.
With a filmography that includes everything from the sexually-charged "Scorpio Nights 2" (1999) to seminal family film "Magic Temple" (1997), superhero romp "Gagamboy" (2004) and last year's blockbuster "Tiktik: The Aswang Chronicles," the man seems to be making a concerted (and successful) effort to defy categorization.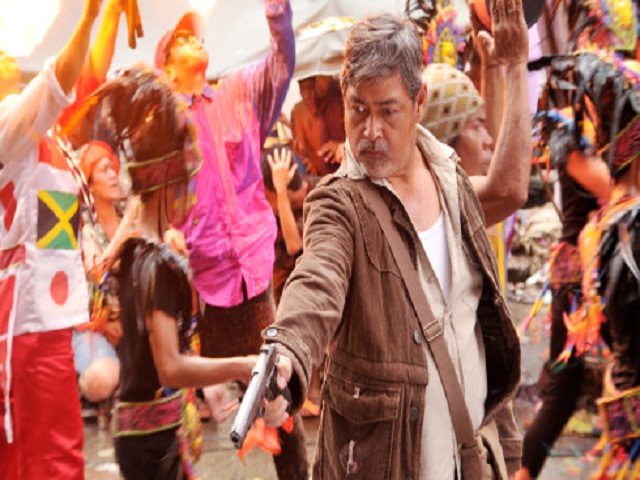 The film tells the story of Tatang (Joel Torre), an inmate in a Manila jail whose status as a prisoner is conveniently deferred whenever the odd assassination job needs to be carried out. Star Cinema
Which brings us to "On the Job," a noir-inspired crime thriller that drew rave reviews when it had its world premiere at the Cannes Film Festival earlier this year.
After nearly four months, the star-studded film has finally arrived on Philippine screens, so local audiences will have the chance to see if the wait was worth it.
Ironically, with the bulk of our national headlines currently revolving around corruption scandals at the highest strata of government, it would seem that the plot of "On the Job" is strangely relevant—if not outright prescient—in a roundabout (and slightly-less-bullet-riddled) way.

The film tells the story of Tatang (Joel Torre), an inmate in a Manila jail whose status as a prisoner is conveniently deferred whenever the odd assassination job needs to be carried out. Under his wing is Daniel (Gerald Anderson), a fellow prisoner and hitman-in-training.

Following a particularly brutal hit carried out in broad daylight, police Sgt. Acosta (Joey Marquez) is tasked with apprehending the culprits.

Assisting in the investigation is Francis Coronel (Piolo Pascual), a hotshot NBI agent officer. What Francis discovers over the course of his investigation will cause the young man to question everything he has ever believed as he is pulled deeper and deeper into a web of conspiracy, corruption, and murder.

While an engaging thriller would have been more than enough for most moviegoers, the dramatic component on display here is also laudable, mining emotion (and drama) from its parallel depiction of the relationship between fathers and sons, be it the one between Francis and his father-in-law (played by Michael De Mesa) or – by extension – Francis' interactions with Acosta, or that between Daniel and Tatang.

"On the Job" is the kind of movie that sticks with you long after you've left the cinema, as Michiko Yamamoto's ("Ang Pagdadalaga ni Maximo Oliveros") and Matti's screenplay puts traditional notions of right, wrong, family, and loyalty through the wringer—and then some!

Of course, the underlying pleasure here lies in seeing mainstream actors performing against type in a story that leaves no character unscathed. If Matti's goal was to highlight the fact that no one is innocent, he's succeeded with flying colors.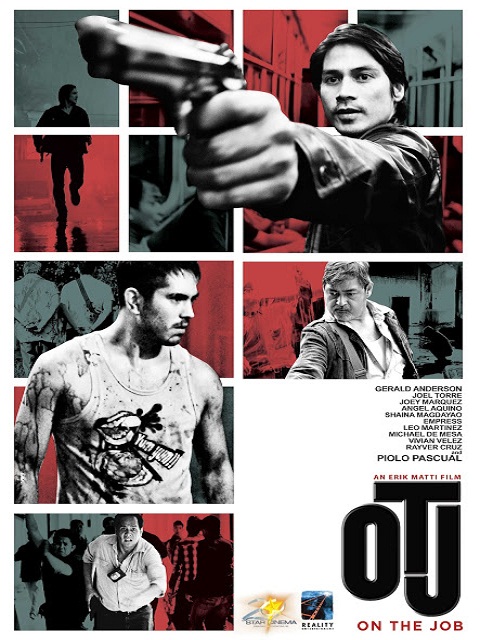 "On the Job" was screened at the 2013 Cannes Film Festival. Star Cinema
Don't let the high-profile cast dissuade you from catching this one; Pascual and Anderson—who are better known for lighter roles (and looking good)—manage to hold their own in a film that casts them decidedly against type (while still looking good).
Pascual acquits himself well as a law enforcer whose crises of faith would be right at home in a Johnnie To ("Election," "Breaking News") or Michael Mann ("Collateral," "Miami Vice") film.
Meanwhile, as Daniel, Anderson is as credibly fiery and hotheaded as the role demands, never letting his character descend into the trap of melodrama.

And, if Anderson's character is analogous to Val Kilmer's in Mann's crime classic, "Heat," then the Robert DeNiro role of world-weary criminal here is Torre's, masterfully subverting his established 'likeable guy' appeal to shine as an aging hitman.

As for the action (this is a thriller, after all), the violence here isn't of the cartoonish variety (I'm looking at you, "Manila Kingpin").

From the opening assassination to the hospital shootout to the sequence that closes the film, the action beats in "On the Job" are technically polished while simultaneously visceral—even intimate—in their brutality.
From the story to the performances to the choices in cinematography (courtesy of Francis Ricardo Buhay III, who worked on "Rigodon" and "Tiktik"), "On the Job" is that rare sort of film where everything works. Indeed, as far as changing the game in terms of the types (and quality) of stories major Philippine studios will bankroll, Matti and his cohorts have scored a homerun here.
Riding high on a wave of positive buzz sure to increase as word gets around and more audiences get to see the film, this reviewer feels he won't be alone in wanting to see what comes next.
Highly recommended. — VC, GMA News
Mikhail Lecaros is a regular contributor to GMA News Online. The views expressed in this article are the author's own.