Police block 30 MNLF members from joining comrades in Sta. Catalina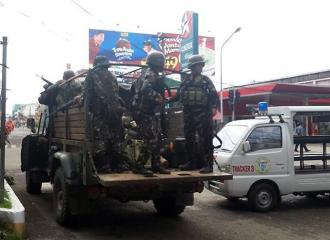 Troops set up blockades in Zambo City. Troops block city streets as they inch closer to MNLF-held Zamboanga City hospital on Monday, September 9. Earlier, a soldier was killed, while at least six others were wounded, during a clash between the armed forces and suspected MNLF gunmen before dawn in the city. Lt. Col. Ramon Zagala, head of the AFP-PIO, said the encounter occurred off the coast of Rio Hondo, a known hotspot in the city. Citing initial reports, Zagala said the encounter involved suspected MNLF fighters and the Naval Special Operations Group. Jocelyn P. Alvarez/PIA9
Police and Task Force Zamboanga personnel prevented around 30 armed members of the Moro National Liberation Front from joining their comrades on Tuesday before dawn, Zamboanga City Mayor Isabelle Climaco-Salazar said in a statement.
"At 3 a.m. today, some 30 armed MNLF tagging along civilians as human shields from Mampang were monitored proceeding to Sta. Catalina to support their comrades. However, they were blocked by police and TFZ personnel manning checkpoints in the area," Climaco said, citing a report from the police.
Security checkpoints were put in place to prevent reinforcement of the MNLF gunmen, who held positions in Barangays Sta. Catalina, Sta. Barbara, Talon-Talon, and Rio Hondo, according to Armed Forces of the Philippines spokesperson Domingo Tutaan Jr.
Four were killed and 14 were injured since the group of heavily-armed MNLF rebels launched a major attack that shut down the cityon Monday.
"Classes in all levels, both public and private institutions as well as work in all offices remain suspended today in view of the current situation," Climaco said.
On Monday afternoon, the
mayor declared an 8 p.m. to 5 a.m. curfew
, with the exemption of those working directly in the managing situation, such as those in the medical profession and those handling the evacuation and distribution of relief goods.
Climaco said the imposition of curfew was smoothly implemented, with no apprehensions or violations recorded by the police.
"Authorities are undertaking steps to resolve the crisis but would not divulge details of the operation," Climaco said, calling on people to remain calm, but vigilant and alert.
"Please keep safe by staying in your homes, limit movements outside, as we allow our authorities to do their role in ending the conflict with no damage to lives and properties. Let us all pray for the safety of our people and our beloved Zamboanga City. Vaya con Dios!" Climaco said.
She also called on people to refrain from spreading unverified text messages.
Police hotline numbers are 117 or 166 or 09063680749 (police operations) and command center —992-2385 or 992-3137.
Meanwhile, Climaco appealed to media to refrain from airing sensitive information to prevent panic and confusion.
"We thank the media for their extensive coverage of the incident but we have to speak with one voice as our common goal is the safety and protection of the Zamboangueno community," she said. —Carmela G. Lapeña/KG, GMA News