The Final Score
:

Mark Caguioa and James Yap - on weird nights, even the best get booed
With 5:46 remaining in the third quarter, Ginebra fans kept glancing at the scoreboard inside the Smart Araneta Coliseum. Disbelief. The game was more than halfway done, yet that number 2 beside number 47 refused to change. Just two points for jersey number 47. Mark Caguioa's shots weren't falling. It hurt to do this kind of math as fans counted missed shot after missed shot. It was subtraction by addition.
Another odd thing happened that night. Each time Caguioa touched the ball, San Mig Coffee fans booed him like he was Mac Cardona or Beau Belga or that number 7 dude from Kazakhstan.
Caguioa was coming off a 20-point performance in a victory over Air 21. In Ginebra's first five games, he scored in double-figures. But on a night when Ginebra and San Mig Coffee played as if first place and a Finals berth were all at stake, his outside shot took the night off. What impeccable timing. With 5:46 left in the third quarter, his streak of double-digit scoring games was in peril.
In another section of the Big Dome, San Mig Coffee fans looked up at the scoreboard as well. Relief. They saw the number 17 beside the number 18. 17 points for jersey number 18. They did the math. James was going to score at least 14 points and make at least three three-point shots in 4 straight games.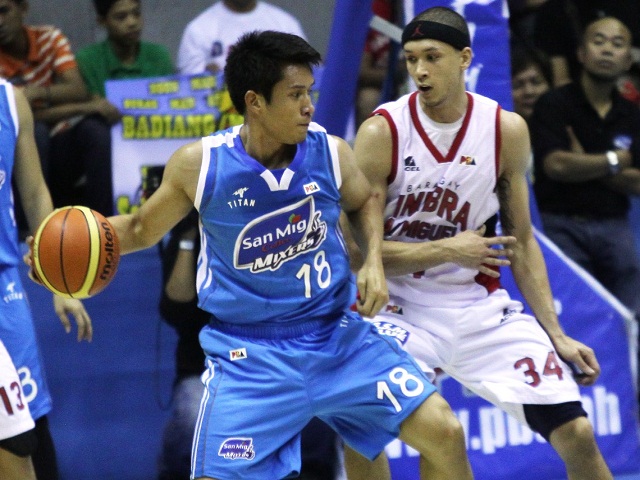 James Yap (L) had another solid outing versus Ginebra.
Jeff Venancio
Naturally, Ginebra fans countered by booing Yap whenever he had the ball. Boos for Mark. Boos for James. As the timeless saying goes: "An eye for an eye. A boo for a boo." The strangest events happen during a Manila Clasico.
Yap was averaging just five points and was 0-for-7 on three-pointers in his first two games in the PBA Governors' Cup. For Yap's fans, that number 17 on the scoreboard during San Mig Coffee's game against Ginebra provided further validation. He scored 22 in San Mig Coffee's previous game. "Hay Salamat," they must've said. "His slump must really be over."
While Mark and James tried to outdo each other, spectators witnessed other remarkable occurrences.
LA Tenorio, when he drove in the lane, looked like a speedy quarterback scrambling left and right for a first down. Even when he shook his head after he crashed into courtside seats while chasing a loose ball, he looked like a quarterback unhappy with the protection provided by his offensive linemen.
Marqus Blakely, the personification of a caffeine boost, compensated for the absence of Marc Pingris by being twice as electric. 30 points, 10 rebounds and 4 blocks. Whew. In this game against Ginebra, at least, one shot-blocking, breakaway-slam-dunking Sakuragi was enough.
Allein Maliksi made Tim Cone smile with his bravado in the second quarter. Cone says he always liked Maliksi's game (it's like San Mig Coffee got a modified JC Intal back), always thought Maliksi could help his team in a big way.
Willy Wilson continued to do one of the hardest, most thankless jobs in sports – the undersized post defender. In numerous defensive situations, Wilson often guarded the other team's strongest player. It's heroic punishment by design. Meantime, in one offensive sequence, Willy took an open jump shot, the ball slipped from his hands, and it looked like he followed through on a shot without the ball. Inadvertent comedy. The crowd chuckled. Hay Willy, ang hirap ng buhay.
Val Acuña made an appearance – he's still alive. Acuñacs rejoice.
Japeth Aguilar, still nursing an injury, had to watch the game in jeans. Tough luck for him. Tough luck for us. Japeth should be in uniform for a game like this.
I don't know why I keep on thinking of Vina Morales and Shaina Magdayao when I think of Yancy De Ocampo and Ranidel De Ocampo. I think it's because I recently watched OTJ. Go watch OTJ while it's still in theaters. It's a brilliant Pinoy-noir-crime-thriller. I loved it. You will too.
Dior Lowhorn, who looks like that legendary gym instructor who once bench-pressed a minivan, scored under the basket like Asi Taulava and flexed his muscles afterwards like Eric "Eruption" Tai. I know the name Dior doesn't strike fear the way a name like Bruno does. But Dior is huge. He finished with 29 points and 18 rebounds. Size does not lie.
I was glad to see Purefoods banners in the Upper Box A section. San Mig Coffee will always be Purefoods. It doesn't matter if you're 7, 27 or 57. Teams can change team names every season, although they shouldn't. Ginebra will always be Ginebra. Purefoods will always be Purefoods.
Eyes went back to Caguioa in the fourth quarter. He took a shot and missed. The guy next to me said, "Ayaw talaga." San Mig Coffee fans booed. Yap grabbed the rebound. Seconds later, Yap fired a jumper. Airball. Ginebra fans booed in return.
[Related: San Mig Coffee slays Ginebra sans Pingris, Devance]
Caguioa went 0-for-11 from the field. Yap finished with 19 points. Ginebra lost. San Mig Coffee won. For Mark and James, for Ginebra and San Mig Coffee, the shared goal now is to move on, the same objective in the tournament is to catch-up.
Still, no team loses big games like Ginebra because Ginebra fans will go over this loss the way only Ginebra fans can. Yung pang-kaka-break lang sa girlfriend type of anguish, tapos you're alone in the basement, downing a bottle of gin with only the haunting voice of Karen Carpenter serving as your trusted companion. Faith in Ginebra, anyway, promises its just reward somehow, someday. You just have to believe. San Mig Coffee fans, on the other hand, have little time to gloat. A tough assignment looms large. Alaska awaits. The Beast beckons.
- AMD, GMA News