Death toll from Zamboanga City crisis now at 53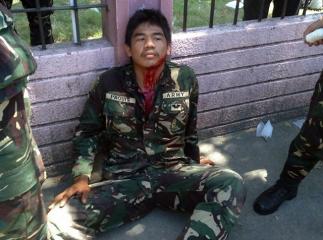 Number of casualties rises as Zambo crisis continues. A wounded Army soldier awaits evacuation as fighting between government forces and MNLF gunmen continues for the fifth day in Barangay Sta. Catalina, Zamboanga City on Friday, September 13. At least 18 people have been killed and scores have been wounded in the conflict, according to the military. Ian Cruz
The Armed Forces of the Philippines on Saturday said the death toll from hostilities between government troops and Moro National Liberation Front fighters in Zamboanga City was already at 53 and some 70 others were wounded as of Saturday afternoon.
Major Angelo Guzman, deputy chief at AFP Public Affairs Office, told reporters that so far, six government forces (three soldiers and three police officials), 43 MNLF men and four civilians have been killed as the armed confrontation entered its 6th day.
Also, he said that a total of 41 government troops and 20 civilians have been wounded since the rebels attack some part of the city before dawn Monday, and that 19 insurgents were captured during clashes on Saturday.
The latest figures provided by AFP included the firefight at about 1:04 a.m. Saturday in Brgy. Kasanyangan.
The encounter resulted in the death of four rebels and recovery of one M60 machine gun and one M16 rifle. Government forces also suffered casualties, including one soldier who was killed and five others wounded, Guzman added.
Another clash between the soldiers and rebels were recorded at 3:30 a.m., but there were no official report of casualties yet.
Last Monday, MNLF elements attacked the city and held some residents hostage, using the victims as "human shields."
Meanwhile, some
24,000 city residents have been evacuated
amid continued clashes. See
timeline
.
Vice President Jejomar Binay arrived at the military's Western Mindanao Command headquarters in Zamboanga City shortly after noon Saturday, to meet with President Benigno
Aquino, who arrived in the city on Friday
.
— Rouchelle R. Dinglasan /LBG, GMA News