PAF stages air strike on MNLF positions in Zamboanga City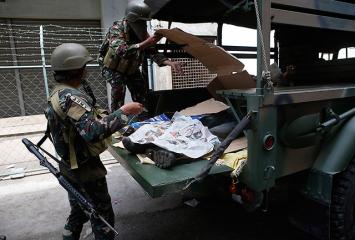 Day 8 - Zambo fighting resumes amid rising number of casualties. Government soldiers cover the bodies of MNLF gunmen killed during a firefight in Barangay Sta. Catalina in Zamboanga City on Sunday, September 15. Renewed fighting between government security forces and MNLF fighters erupted on Monday, September 16, the eighth day since the siege began on September 9. Reuters/Erik De Castro
(Updated 3:10 p.m.) The Philippine military on Monday launched a helicopter assault on Moro National Liberation Front fighters who have occupied parts of Zamboanga City, as the crisis entered its eighth day.
The Zamboanga City government's Twitter account posted at 12:38 p.m. noted that the Philippine Air Force staged a "targeted air strike" at noon Monday on MNLF positions in the beleaguered City as part of military operations in the area.
"Targeted
air strike by Phil. Air Force on going
. This is part of the calibrated military operations in the area. Pls be guided," it said.
The air strike was confirmed by 1st Infantry Division spokesperson Capt. Jefferson Somera, who said three rockets were fired from two MG520 helicopters towards an unspecified enemy stronghold between 1 to 1:30 pm on Monday.
Government troops and MNLF fighters have been engaged in a fire fight since Monday, Sept. 9. –
With Agence France-Presse and Rie Takumi/VS/RSJ, GMA News