Number of Zamboanga City evacuees climbs to 110,000 – DSWD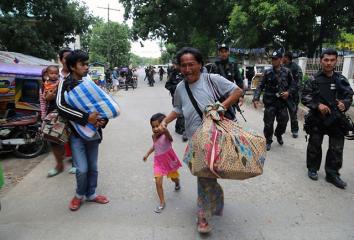 Villagers flee area where MNLF gunmen abducted Zambo police chief. A terrified woman and her daughter join villagers fleeing Barangay Mampang in Zamboanga City on Tuesday, September 17. The residents were ordered to evacuate after the city's chief of police and his escorts were abducted by suspected MNLF fighters in the area. Lt. Col. Harold Cabunoc, commander of the Army's 7th Civil Relations Group, said Senior Supt. Jose Chiquito Malayo and his escorts were taken to Tictabon Island in Zamboanga. Malayo is a member of the Philippine Military Academy Class of 1989. Chino Gaston
(Updated 12:13 p.m.) The number of residents who have been displaced by the ongoing armed conflict in Zamboanga City has risen to 110,000 as of Wednesday, a television report said, citing latest information from the Department of Social Welfare and Development.
According to Hadji Rieta's report on GMA News TV's News To Go, the evacuees were spread in 35 evacuation centers.
He noted that the number swelled as residents of Barangay Mampang in Zamboanga City were ordered to evacuate following the clash between government forces and Moro National Liberation Front gunmen in the area Tuesday.
Evacuated residents were brought to Mampang Elementary School, which is now heavily guarded by government security forces, Rieta reported.
Meanwhile, 64,000 evacuees are crowding in the 5.7-hectare Baliwasan Grandstand since the standoff started last Sept. 9 when the MNLF took civilian hostages and holed up in several parts of the city, he added.
As the number of evacuees continues to rise, residents have set up make-shift tents at the grandstand, Rieta said.
Meanwhile, Rieta reported on GMA News TV's Balitanghali that evacuees were jostling for scarce food and water rations.
He added that the local government continues to accepts donations of relief goods for the evacuated residents.
— Amanda Fernandez/RSJ, GMA News